9 day tour w/ Namobuddha, Lumbini and Maratika cave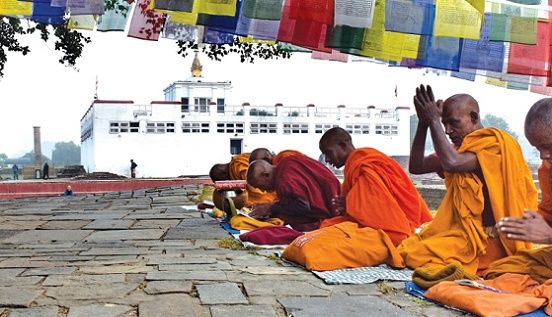 Lumbini, the birthplace of Buddha
Nepal in the Himalayan lap has always been a sacred retreat center for spiritual practices. The internal strife and invasion adversely affected dissemination of Buddhism in the place of its origin (Border of India and Nepal). The mountainous country of Nepal became a safe haven for Buddhist practices for centuries. Kathmandu and its periphery have hundreds of meditation caves, monasteries and stupas related with Bodhisattvas, Shiddhas and Buddha. Here one can find meditation caves of Guru Padmasambhava, Milarepa, Naropa and Tilopa. The Maratika cave of Halesi and Namobuddha are two most important Buddhist pilgrimage sites outside Kathmandu. Most importantly, the birth place of Lord Buddha - Lumbini falls in Nepal. Over 60 archaeological sites have been identified around Lumbini including the only surviving and unexcavated Buddha relic Stupa of Ramgram.
Buddhist tour of Nepal is a combination of a Buddhist pilgrimage and experiencing the oldest living Buddhist practices of the Himalayas.
Private vehicle for the round trip
3 standard hotel with breakfast and taxes included.
Guided tour with all entrance fees included.
What makes Nepal the best Buddhist pilgrimage destination ?
The oldest living Buddhist heritages and culture.
Home of Buddha (Lumbini) and Buddhism
Tour following the footsteps of Buddha's earlier life (Tilaurakot palace, Kudan monastery, Namobuddha Stupa and more.)
Must visit meditation caves of Buddhist masters like Nagarjuna,  Padmasambhava, Milarepa, Naropa etc.
Nepal Buddhist Tour Review
This was one of a lifetime tours! I took the Buddhist Pilgrimage Tour and I will never forget about it. Rabi is super professional and flexible to adapt to each person's needs and wishes. He has a deep knowledge of the places and I really enjoyed our philosophical discussions of Buddhism, Hinduism, life, destiny and Karma! He was always very helpful and super kind to me.

Buddhist pilgrimage tour of Nepal is the best for winter months of December, January and February. The tour just visits the tropical low land and Himalayan foothills which are mostly sunny and warm.
Buddhist tour of Nepal 9 Days
DAY 01: ARRIVE TO KATHMANDU, NEPAL
You will be received at Kathmandu airport by our representative holding your name plate. After formal meeting, you will drive to the Hotel. There is an option of familiarization walk to the old Kathmandu in the suburb of tourist center of Thamel. The old Kathmandu has some of the important Bajarayana Buddhist Stupas and monasteries.
DAY 02: BUDDHIST SITES OF KATHMANDU
Come down to the Hotel restaurant for breakfast. Your tour guide will be introduced. He will guide you through the Buddhist sites of Kathmandu. We will visit two stupas of Swyambhunath and Boudhanath, Naropa and Tilopa caves of Pashupatinath and the oldest existing Buddhist city of Patan.
DAY 3 - 4: LUMBINI BUDDHIST CIRCUIT TOUR
Lumbini and its surroundings are dotted with archeological sites related with Lord Buddha. There are over 60 excavation sites among which some of them are popular Buddhist pilgrimage sites. The legendary Lumbini garden is now developed into a sanctuary that spread over the 6 sq km area. The Mayadevi temple houses the marker stone and foundation of ancient temple resembling the exact birthplace of Lord Buddha. Monastic zone is developed into World Buddhist center with monasteries constructed by Buddhist communities from different countries.
Ruins of Tilaurakot palace has been discovered 27 km west of Lumbini.
Tilaurakot is ancient capital of Sakya kingdom (Kapilavastu) where Siddhartha lived his early 29 years as a prince. Along with other structures, one can still observe the remains of the eastern gate through which Prince Siddhartha took great renunciation.
Ramgram Stupa is the only Stupa which still retains Buddha relic in its intact form. When Buddha attained 'Mahaparinirvana', his body was cremated. The mortal relic was divided among the 8 claimants. While other Stupas were later excavated by Emperor Ashoka or distorted in conflict, the relic remained intact until the date in the Ramagram Stupa.
Kudan (Nigrodharma) has the stupa remains, where King Suddhodhana (father of Buddha) met Lord Buddha after he attained enlightenment.
Gotihawa was ancient Khemavati the birth place of Krakucchanda Buddha.
Niglihawa is the birthplace of Kanakmuni Buddha. Emperor Ashoka visited both places and erected pillars with inscriptions. The pillars are broken in both places. Sagarhawa is the place where Sakyas were massacred by King Virudhaka out of vengeance. About 70,000 Sakyas were killed in the massacre. The sakyas didn't strike back as they believed in nonviolence.
DAY 05: DRIVE OR FLY BACK TO KATHMANDU
DAY 06: BHAKTAPUR TOUR, MILAREPA CAVE & NAMOBUDDHA
After breakfast, we will drive to Bhaktapur, which is 17 km (45 mints)from Kathmandu. Bhaktapur is known as 'The Living Museum' as it still retains its medieval fragrance. Just the hill above Bhaktapur lies the cave where Milarepa meditated. It is known as Bagishwari Saraswati Sthan (Manjushree cave). Later drive to Namobuddha. The Namobuddha Stupa is believed to be erected over the relic of Bodhisattva who sacrificed himself to feed starving mother tigress and her cubs. Namobuddha at 1,700 m is also provides panoramic view of the Himalayas. Drive back and spend a night in Dhulikhel.
DAY 07: VISIT PADMASAMBHAVA'S ASURA CAVE PHARPING
Sunrise over the Himalayas from Dhulikhel is what drives hundreds of tourist in this hill staion town. After breakfast, we will drive to Pharping in the south of Kathmandu. Pharping (Yanglesho) is the place where Guru Padmasambhava attained the state of enlightenment. There are two major caves blessed by Padmasambhava. Drive back to Kathmandu and free evening for last hour packing.
OPTION : DAY 8 - 9: VISIT MARATIKA CAVE, HALESI
Maratika cave, Halesi is one of the six most important Buddhist pilgrimage site. This is where Buddha Amitabha taught eighteen Tantras of long life. The Dakini Sangwa Yeshe recorded and hid these teachings as Terma at Maratika. Later Guru Padmasambhava received the teachings. After practicing for ninety days, Buddha Amitayus appeared in the sky and gave initiations to the Guru and Mandarava. They then attained the Vidyadhara of longevity.
With the extension of highway, it is possible to take 4WD to Halesi and back. Maratika cave is located 221 km east of Kathmandu.
Day 10: Final departure
Our tour officer will come with a transportation to drive to the Kathmandu Airport for final departure.
Customize Buddhist Tour of Nepal
The Buddhist Pilgrimage Tour of Nepal could be customized for 5 day or longer. It is also possible to visit Lumbini as a day trip or take a helicopter to Maratika cave which will make the itinerary shorter.
Buddhist Tour of Nepal from India
If you are coming overland from India, it is possible to start the Buddhist tour of Nepal with pick up from the border. Lumbini is only about 25 km from the Sunauli border. If you are coming from the Kakarbhitta border, the tour starts with a visit to Maratika cave. Write to us to customize a Buddhist tour of Nepal coming from India.
---
Buddhist tour of Nepal and India
12 days tour
starts at Varanasi, India and visits Pragbodhi cave, Gidherkut (vulture peak), Jetavana monastery, Vaishali along with the four Buddhist sacred sites ending in Kathmandu, Nepal.
---
7 days tour
of 4 sacred Buddhist sites, starts from Varanasi, India and end in Kathmandu, Nepal.