Mountain Flight
One of the quick and best ways to experience Himalayan peaks is by flying closer to them. There are several fixed-wing flights, helicopter charter flights, Ultralight aircraft and paragliding in Nepal.
The most famous and cost effective flight for Himalayan sightseeing is the fixed-wing flight to Mt Everest from Kathmandu. This is well known as mountain flight or the Everest sightseeing Flight.
I was connected to Rabi and have absolutely no regrets. I told him of wanting to see the Himalayas up close and he told me about the helicopter tour where you get to actually land at Annapurna Base Camp. Without skipping a beat, he booked everything for me including a car to pick me up. All I had to do was actually show up. And wow what an experience! To see the Himalayas up close to you was amazing.
Bedoo - USA

Tour Reviews >
Everest sightseeing Flight
Daily fixed-wing
Everest sightseeing flight
100 % refund
in case of bad weather or Everest being not visible.
Duration :
1 hr - morning
Take off / Landing :
Kathmandu Airport
US $ 196 Airport transport FREE !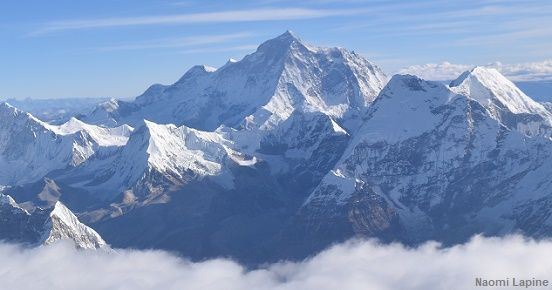 This one hour scheduled flight to Mt. Everest leaves early in the morning from Kathmandu and hovers close to the Himalayas east of Kathmandu. Passangers can see as many as 20 Himalayan peaks east of Kathmandu. As the flight lifts in the sky, peaks of Langtang, Doreje Lakpa and Sisa Pangma comes in sight. Then the flight further passes nest to Gauri Shankar, Cho You to Mt Everest. Makalu and Kanchanjunga appears at a distance.
Window seats are guaranteed in Mountain Flight. Passengers can have cockpit view of Mt Everest. The flight will takes off only after conforming visibility of Everest. In case of cancellation, 100 % refund is guaranteed.
Himalayan Sightseeing by Helicopter
Charter Helicopter flights to Himalayan mountains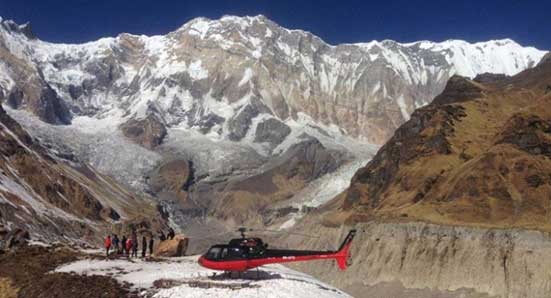 Helicopter is the most effective way of sightseeing Himalayan Mountains. Helicopters fly closer and also lands at the mountain mountain bases allowing passengers more time to take pictures and enjoy the Himalayan scenery. The most popular helicopter mountain flights are to Everest base camp and Annapurna base camp.
Helicopter tour of Everest base camp is a day trip from Kathmandu suitable for those limited with time to go on two weeks Everest base camp trek. The 3 hrs flight is most guaranteed way of exploring the Sherpa land, up close aerial view of Mt Everest, Khumbu ice fall and other Himalayan peaks east of Kathmandu. The flight takes off from Kathmandu and lands at Lukla airport. From there, follow the Dhud Koshi valley up to the Khumbu glacier. The flight circles the base camp for the 360 degree view of snow peaks and Mt Everest and lands at Kalaphatter. Fly back to Everest view hotel and enjoy the scrumptious breakfast with the breathtaking view of Everest and other snow peaks before flying back to Kathmandu.
Everest heliocopter tour
now available on sharinig basis.
Only USD 1,000
- Available Everyday
There is regular group joining helicopter flight to Annapurna base camp and back. The one hr flight from Pokhara carries 6 passengers and lands at Annapurna base camp at 4,200 m. The flight allows 15 mints ground time for passengers to walk around base camp and take pictures.
Ultralight aircraft flight
Your flying dreams come true with ultralight flights
Ultralight aircraft flight is mankind's closest achievement 'to flying on wings'. Ultralight flying is available in the lake city of Pokhara, Nepal in the arena of World's highest mountains. This is the bestever flight with the backdrop of World's highest mountains (Annapurna, Dhaulagiri, Manaslu). Safetywise, ultralight is the safest with is extraordinary aerodynamic design, It can fly for hours even with the engine shut off. Ultralight can take off and land on a field and dirt road.