Nepal - Tibet overland Tour via Everest north base camp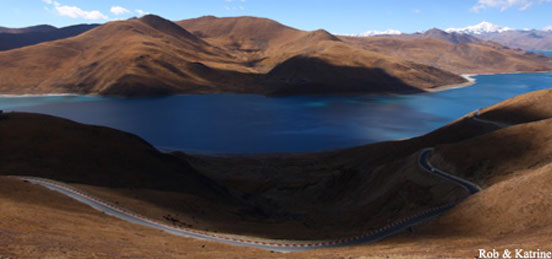 Visit the two wonderful Himalayan cities of Kathmandu and Lhasa listed as UNESCO Heritage. Traverse the Himalayas from lush southern slopes of Nepal to alpine plateaus of Tibet and drive to the Rongbuk monastery towards the northern base of Mt Everest.
This 12 days Nepal Tibet tour is the best way to experience the 'Dharma' centers and the majestic landscape of Tibet.
There are fixed departure group tours for individuals to join. The tour could also be organized privately for small group of family and friends. It is also possible to join the tour in Lhasa, Tibet and drive back to Kathmandu.
Duration : 12 days (7 nights 8 days in Tibet)
Season : Throughout the year (except in March)
Transportation Kathmandu - Everest north base camp - Lhasa by Land Cruiser / similar private vehicle, Lhasa - Kathmandu by flight or vice versa.
Join 7 nights 8 days Tibet Tour departing on 8 Oct 2018
Only USD 1,850 for 8th Oct Departure
Nepal Tibet Overland Tour Itinerary
Day 01: Kathmandu arrival (Nepal)| Transfer to Hotel
Our represent will receive you from Kathmandu airport and together you will drive to the hotel. We will discuss the tour schedules and fill up necessary documents for Lhasa, Tibet tour. There is an option of short walk through old Kathmandu to Thamel (tourist center).
Day 02 : Breakfast | Kathmandu sightseeing
We will go for a guided tour of Kathmandu after breakfast. As a famous trading center between Tibet and India, Kathmandu possesses hundreds of monuments. We will visit Kathmandu Durbar Square, Shyambhunath, Boudhanath and pashupatinath. These sites together make Kathmandu one of the four UNESCO Heritage sites in Nepal. In the evening we will handover Tibet visa and flight ticket for Lhasa.
Day 03: Kathmandu Kerung border (135 km | 8 hrs) | Guest House
We will leave early in the morning and stop for breakfast in Trishuli bazar. A scenic, 8 hrs drive north of Kathmandu will take us to Nepal - Tibet border (Kerung). After completing the necessary border formalities of both immigrations, we will drive uphill to Gyirung town.
Day 04: Nyalam- Tingri (250 km | 6 hrs) | Guest House
The landscape changes drastically from lush green southern slopes towards Nepal to barren alpine plateaus of Tibet. While driving uphill towards the Tibetan plateau, Lalung La pass (5,050 m) offers breathtaking view of Himalayan ranges including Mt. Cho Oyu (8201 m) & Mt. Xixapangma (8012 m). From Tingri, We can even see Mt. Everest (8,848 m).
Day 05: Tingri - Rongbuk (190 km / 5 hrs) | Guest House
After breakfast, we will continue driving through scenic Tibetan countryside to Rongbuk (5,050 m). Explore Rongbuk Monastery (highest monastery in the world) and also view spectacular sight of Mount Everest. You have the opportunity to explore Everest north Base Camp (5150 m.) The base camp itself is dry and barren, but the up close view of the Everest worth the walk. It truly is an awe inspiring place with the sheer north face of the highest mountain in the world towering above you. Mt Everest is one of the most revered mountains in Tibet. Overnight accommodation at a guest house.
Day 06: Everest north Base Camp exploration
Today we explore the Everest north base camp and watch sunrise on Mt. Everest. It is a truly awe inspiring place with the absolute north face of the highest mountain in the world soaring above you. You can rent a horse cart or walk to the Everest north base camp and explore around. Back to Rongbuk monastery for overnight stay.
Day 07: Rongbuk Xigatse (244 km | 7 hrs) | Hotel
We will head towards Xigatse after breakfast. Xigatse is the second largest city in Tibet and one of the important religious and cultural center. You can visit Sakya Monastery on the way. The monastery is one of the largest of Sakyapa sect of Mahayani Buddhism. Visit Tashi Lumpo monastery in the afternoon. Tashi Lumpo monastery, built in 1,447 was residence of Panchen Lama. Overnight in Hotel in Xigatse
Day 08: Xigatse - Gyantse - Lhasa (351 km | 10 hrs )
Drive to Gyantse in the morning. Being the capital of Sakyapa kings, Gyantse was heavily fortified. Visit Kumbum Stupa built in around 1,400 AD. The road further winds through two mountains passes of Karo La (5,010 m) and Kamba La (4,794 m). Karo La is wedged between two lofty peaks of Nozing Khang Sa (7,223 m) and Ralung (6,236 m). While driving you will see the scorpion lake of Yamdrok Tso (Turquoise Lake), which takes approx. 1 hour to drive around. After passing Kamba La, Lhasa valley is seen to the north. Overnight at hotel in Lhasa.
Day 09 - 10: Lhasa Tour | Hotel (twin sharing)
These days you will be engrossed with sightseeing and excursions of the Potala Palace, Jokhang Temple, Barkhor Market, Drepung Monastery and Sera Monastery. Lhasa is now a fascinating modern city. There are many wonderful things to see and do around Lhasa, which help, tell the story of Tibet's unique past and the intertwining of religion with history. Most of the holy temples retain magic and mysticism and demonstrate the absolute faith in Tibetan Buddhism so integral to the character of the Tibetan people.
Day 11: Lhasa-Kathmandu
Drive to the Gongar airport (65 km / 1 hrs) from Lhasa. Around 10:00am (Tibetan standard time) fly to Kathmandu (arriving 09:00am Nepalese time). Air China's 1 hr flight provides great views of Himalayan peaks including Mt. Kanchenjunga (8586 m), Mt. Makalu (8463 m), and Mt. Everest (8848 m).
Overnight in Hotel in Kathmandu
Day 12: Drive to the Kathmandu airport for final departure or proceed for another destination.
Package Includes :
- Tibet Visa and travel permits
- Lhasa to Kathmandu Flight
- Accommodation with breakfast (Hotel as per request)
- Guided tour with all entry fees included.
- All ground transportation by private car (4WD or Van depending upon group size)
Package Excludes :
- Lunch and Dinner
- Bottled drinks and beverages
- Photography charges at the monasteries and sightseeing spots
- Any type of insurances