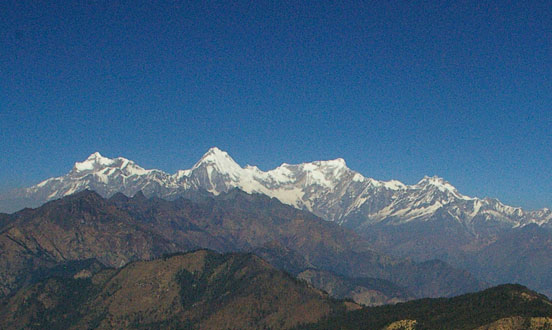 Tamangs of the region are descendent of Tibetans and lived in close proximity with Tibetans across the border (Kerung) until very recently. In earlier days, the citizenship of Nepal would not be offered to real Tibetans, so they changed their ethnicity to Tamang, which is what they still write till date.
Duration : 5 days
Activities : Hiking, Homestay, Tamang village tour and cultural show, mountain 4WD (four wheel drive) road trip (Option of Helicopter flight)
Season: April to May and September to December
Means of Transportation: 4WD (Four Wheel Drive) (Option of Helicopter)
Booking Inquiry >
'Tamang Heritage Trail' is a new homestay trekking route in Nepal, developed under TRPAP (Tourism for rural poverty elevation program). The effort resulted into a improved trail with homestay village tourism. Tamang Heritage trail has now become one of the popular short treks in Nepal with great general overview of the Himalayas and its culture in an easy access.

Tour Itinerary :
Day 01 : Kathmandu Arrival | Transfer to Hotel
Our represent receives you from the Kathmandu airport and together you will drive to the hotel. You can choose to relax or go for a familarization walk in the evening.
Day 02 : Drive to Gatlang Village | Overnight in Homestay
After breakfast, we will set out for our road trip in 4 wheel drive towards north of Kathmandu. As soon as we leave Kathmandu, road winds through scenic countryside. The mountain pass, 35 km from Kathmandu unvales breathtaking view of snowcaped peaks of Ganesh Himal and Jugal Himal. The we drive down to the Trishuli River valley and climb again to Dhunche. Here we enter into Langtang National Park. The town of Dhunche is district administration of Rauwa. We rejoin the Himalayan scenery at Dhunche. From here the road again descend down to Syabrubensi. Gatlang is just 15 km on a dirt road from Syabrubensi. Welcome by the Tamang family at Gatlang and enjoy the culture and ambiance. Overnight at Tamang village homestay
Day 03 : Explore village and the alpine lake | Overnight in Homestay
After morning breakfast from the Tamang family kitchen, we will go for a hike to the higher reaches of the village offering views. In the evening local tamang girls and boys will perform cultural show. Overnight in Homestay
Day 04 : Drive back to Kathmandu | Overnight in Hotel
Day 05 : Final departure or join further tour activities.