Nepal Tour with us:
Support local company.
Expertise over 20 years.
Cost effective Treks.
Cultural immersion experience.
High quality services.
Eco friendly & sustainable practices.
---
Kathmandu Tour Review
Must Do
Life and spirituality tour of Kathmandu was the highlight of my trip. The guide is laid back, has good energy and is easy to talk to. I was hesitating between one of those 7 unesco tours where you run around all day to see everything within a 8 hours tour. I'm so glad a didn't and picked this one instead. Much more time to enjoy, get a real feel of the place, discover little hidden gems and have meaningful discussions. I highly recommend.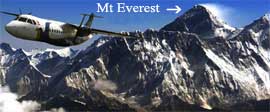 Everest sightseeing Flight
The 1 hr. fixed wing Himalayan sightseeing flight is the best way to see
Mt Everest
and other peaks east of Kathmandu.
USD 250 230 till September
Window Seat
Everest View
Airport

Dhulikhel Zipline
Enjoy the fun zipline flight in the natural setting of Dhulikhel, just 33 km from Kathmandu.
Day hike to 3 days trek
The verdant hills around Kathmandu provide good hiking. Shivapuri National Park, Nagarkot and Dhulikhel are famous for hiking in the outskirts of Kathmandu.
Everest Helicopter Tour
A helicopter flight is the best way of getting to Everest Base Camp without much effort and time. In a three hrs long flight, you can land at the Everest Base Camp or Kalapatter and have breakfast in the Everest View Hotel.
Everest Luxury lodge trek
May is best time for Everest trek as the trekking starts with flight to Lukla at 2,800 m. May temperature for Everest trek is comfortable and the sky remains clear. Everest trek could be organized from 5 days to 12 based on luxury lodges and decent lodges.
Everest cultural trek > Starting USD 1,480
Join Tiji festival - Mustang.
Drive or trek to the lost Tibetan kingdom of Mustang for
Tiji festival in May 2023
.
Tiji Festival 2023
---
Visit Lumbini for
'Buddha Jayanti or Vesak day'
on 5 May 2023.
---
Nepal trips for monsoon
Mid June - August end is best time for Nepal Tibet tour. Monsoon is peak season for Mt Kailash tour in western Tibet. Trek to trans-Himalayan region of Mustang or visit the Buddhist sites during monsoon 2023.
Nepal trips for monsoon