Khopra danda and Khair lake trek
The most scenic short unspoiled trek in Annapurna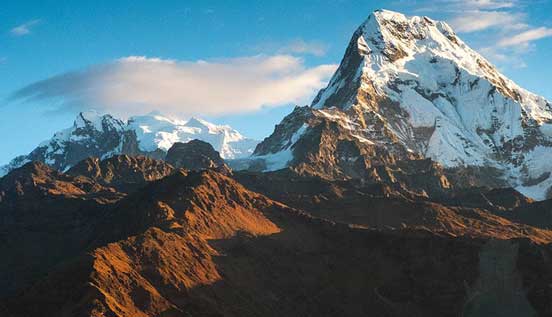 Khopra danda and Khair Lake trek is the most scenic and unspoiled short trek in the Annapurna Himalayas. The trek goes off the busy trekking trail and offers brilliant mountain scenery, wilderness, landscape and classic trekking adventure in the Himalayas. Even though the trail goes off the busy routes of Annapurna, basic community run teahouses make the trek cost effective and ethical by paying locals.
Duration: 8 days from Pokhara to Pokhara
Difficulty: Moderate to difficult ups and downs ( mostly uphill ), altitude of above 4,000 m and basic teahouse accommodation off the main villages.
Season: Mid Sept - Nov & March - Mid June
Attractions: Pristine trek, trekking in alpine zone of Annapurna, close up view of Annapurna and Dhaulagiri, Side trip of Khair Lake
Trek Itinerary
Day 1: Drive to Syauli Bazar and trek 5 hrs to Tadapani (2,590 m)
Day 2: Trek to Bayeli Kharka (3,420m) - 5 hrs
Day 3: Trek to Upper Chistibung (2,975m) - 5 hrs
Day 4: Trek to Kopra Ridge (3,660m) - 4 hrs
Day 5: Rest day at Kopra Ridge - Day hike of Khaire Lake (4,500 m / 10 hrs)
Day 6: Trek to Swanta Village (2,200m) - 6 hrs
Day 7: Trek to Ulleri (2,050m) - 6 hrs
Day 8: Trek to Nayapul, drive to Pokhara
Trek Note :
Teahouses / lodge in Khopra Danda / Khair Lake trek are basic at most of the places and caters simple food. Hot showers are available at few places and toilet is mostly common with Asian style pan. You need to buy drinking water, hot shower, toiletries, charging batteries and WIFI separately. Wet tissues or wipe towels, hand sanitizer, protein bars, books or portable games will be handy.
Other short treks in Annapurna
Mardi Himal Trek - 7 days
Mardi Himal trek is short and pristine trek that was only open for teahouse trekking in 2013. The trek could be customized within 7 days from Pokhara to Pokhara. The trail mostly follows the ridge climbing gradually to the buttresses of Mardi Himal making it relatively easier climbing and more scenic trek in Annapurna.
Mardi Himal trek details
Siklis Trek - 4 days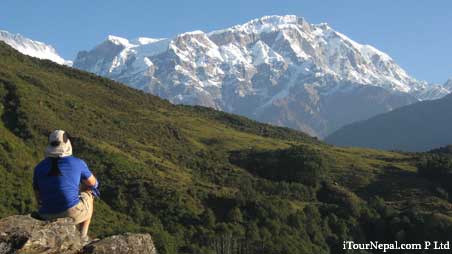 Siklis village is located in the foothills of Annapurna right north of Pokhara. The village is one of the oldest and largest Gurung settlements. Short trek of 3 – 4 days could be planned visiting the view point of 'Tara hill top' and Siklis village.
About Siklis Trek