Annapurna trek with us:
Expertise over 20 years.
Cost effective Treks.
High quality services.
Cultural immersion experience.
Eco friendly & sustainable practices.
Read about us >
Trek Map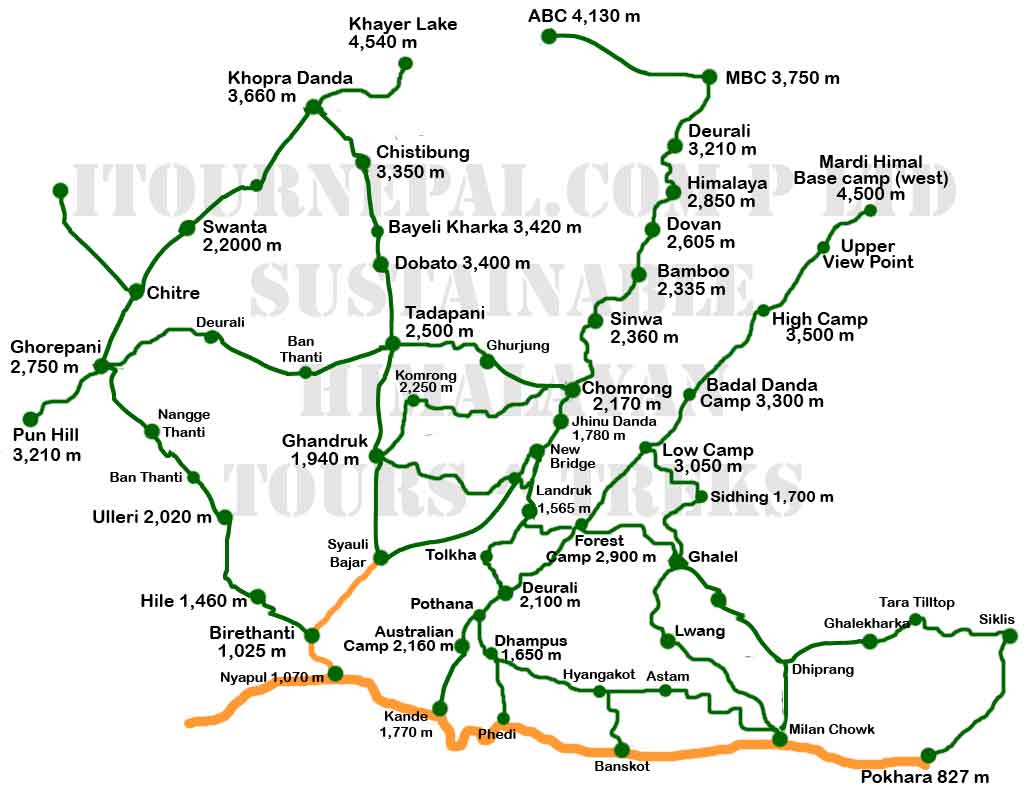 A blog about Himalayan trekking
fitness, season, packing list
and travel tips.
Teahouse trek
Teahouses are village inns run by locals. Watch the video short teahouse trek in Annapurna.
Short trek in Everest
8 days Tengboche Trek
If you are limited with time and still want to get the feel of Sherpa land, this trek is for you. A short trek of 5 days could be planned based in comfortable Hotels (luxury trek).
More >
Chitwan National Park is home to many endangered mammals including one horned rhinoceros. check
EVEREST Sightseeing Flight
The 1 hr EVEREST sightseeing flight is the best way to see Mt Everest and other 4 highest mountains in the World.
Booking Inquiry >
|
More >
Only USD 350 !
Helicopter tour of
Annapurna Base Camp
Details >
Adventure in Pokhara
Pokhara provides ground for adventure sports. Try the World's most extreme
Zip Flyer
. Accelerate down 2,000 ft with speed of 140 KMH. Make your free flying dream comes true by paragliding or get close to mysterious Himalayan peaks with Ultra light flights. All in perfect natural setting of Himalayas and turquoise lake.
More >
Short treks in Nepal
The mountainous landscape of Nepal with Himalayan frontier provides perfect ground for dreamlike trekking. Check out other short treks in the Himalayas of Nepal.
Short treks in Nepal >
Nepal walking Tour
Gentle walking holiday in Nepal with comfortable stay
Nepal walking tour is for those looking for gentle walking holiday with comfortable stay in the foothills of the Himalayas with exotic cultural experience and Himalayan scenery.
Details >
Upper Mustang
Upper Mustang is politically in Nepal but culturally and geographically in Tibet. Visit this last Tibetan Kingdom outside of Tibet, before it changes.
Check >