short trek to Gosainkunda in Langtang national park.
Gosainkunda Lake at 4380 m /14368 ft is one of spectacular trekking destination reached with short trek from Kathmandu. Group of lakes and surrounding peaks make the place surreal. View point above the lake is overlooking at the Langtang valley and the wide range of Himalayan peaks.
Gosainkunda trek begins right from Shivapuri national park in the northern rim of Kathmandu valley providing the magnificent view of the snow peaks from the first day itself. The walking is through the subtropical forest to alpine zone with Rhododendron, Oak, pine and birch finally climbing above the tree line. The trek could be combined with Surya peak (5,100 m) trekking / climbing, Langtang valley trek and Ama Yangri peak (3,771 m) climbing in Helambu.
Trek Includes :
Necessary trekking permits.
5 nights 6 days trekking package from Kathmandu to Kathmandu
Trekking with a guide and a porter.
Teahouse accommodaiton with three meals a day.
Private transportation to and from the trekking trail head - Kathmandu.
: Sept - Dec | March - June
: Teahouse
: Private Vehicle
Gosainkunda Lake Trek Itinerary
Day 1 : Kathmanud arrival | Pick up from the airport and transfer to the Hotel | Trek briefing and preparation.
DAY 2: Drive to Sundarijal | Trek 5 hrs to Chisapani (2,167 m)
Drive for about 40 mints to the Shivapuri National park entrance in the north of Kathmandu. Sundarijal is scenic recreation and picnic spot for locals from Kathmadu. Walk 2 hrs. to the Mulpani village where we will have lunch / snacks and then climb through the forest to Chisapani. Chisapani village is perched along the mountain ridge offering view of lush valleys with Himalayan backdrop.
DAY 3: Trek to Tuksang - 6 hrs / 3,180 m
The day's walk is through the lively forest and charming Tamang villages with Himalayan view. Tamang follows pre-Buddhist shamanistic and animistic practices now dominated by Buddhism. Langtang and Shivapuri national park is popular birding destination that protects several rare species of flora and fauna including the last population of 'Red Panda'.
DAY 4: Trek to Ghopte - 7 hrs / 3,340 m
TThe walking becomes more interesting through sparsely populated, deep forest. Altitude gain slows you down but the temperature and scenery is inspiring.
DAY 5: Trek to Gosaikunda - 7 hrs
Gosaikunda Lake is sacred for both Hundus and Buddhists. Shamans and other pilgrims visit the Lake during the full moon day in August. It is a complex of about 108 alpine lakes spread in the area of 1,030 ha (4 sq mi). The area is designated as Ramsar Site in 2007. The trail climbs steeply through the rocky terrain and cross the Lauribina pass (4,610 m) coming down to Gosaikunda valley.
DAY 6: Trek down to Dhunchhe - 6 hrs / 1,764 m
Day 7: Drive back to Kathmandu - 6 hrs
DAY 8:Drive to the airport for final departure.
---
Side trips / Trek Extensions
Surya peak climbing
One can climb Surya peak (5,145 m) from Gosaikunda. The climb is not technical but is challenging with scree, rockery and walking in snow or loose rocks depending upon the time of the year. It takes about 6 hrs to the Surya peak and back.
Ama Yangri Helambu
Gosaikunda trek could be combined with climb to Ama Yangri Peak (3,800 m) in Helambu. Ama Yangri is sacred peak for the local Sherpas. The peak is highest that could be reached in shortest time from Kathmandu. It offers close panorama of central and eastern Himalayan ranges including Langtang, Jugal Himal, Rolwaling and Mt Everest.
Langtang Trek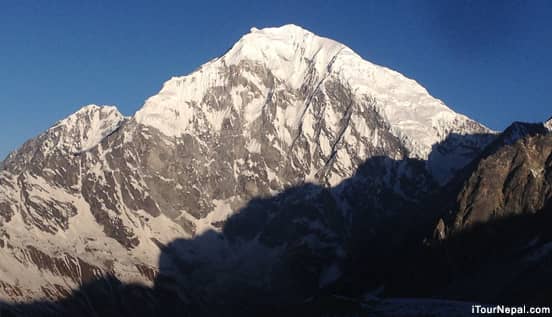 A trek to Kyanjin Gompa 3,800 m in Langtang is a beautiful short trek with pristine nature and majestic Himalayan peaks. There is also an option of hiking to Cherko Ri (4,990 m) or exploring to Langshisha Kharka for those looking for more adventure.