Accommodation : Teahouse & Hotel
Transport : Private car & Flight
Everything that could be done was done with iTour Nepal. Rabi was very educated about the landscape and had lots of stories to share about Nepal. The Porters were great and very accomodating. I would highly recommend iTour Nepal and would encourage trekking enthusiasts to enquire about the off the beaten track routes as well !
Mike Den Hartog - 29 April 2018
Ghorepani - Ghandruk trek Attractions:
Short and moderate teahouse trek in the main Annapurna Trail
Sustainble tourism practice staying in homestay / teahouse run by local family. Consumes local food and village tour.
Eco friendly trail that uses alternate fuels, and minimize use of plastics with water refilling centers and proper garbage management.
Only for Sept !! - USD 390 USD 330
Ghorepani - Poon Hill Trek Itinerary
DAY 01: Kathmandu arrival | Transfer to Hotel
DAY 02: Kathmandu sightseeing tour (Kathmandu Palace Square, Swyambhunath Stupa, Boudhanath Stupa and Pashupatinath)
DAY 03: Fly or drive to Pokhara | Transfer to Hotel | Explore Pokhara
DAY 04: Drive to Nayapul and trek to Thikedunga (4 hrs gradual climb).
DAY 05: Trek to Ghorepani (6 hrs) and stay in teahouse. Ghorepani village offers one of the best view of Annapurna and Dhaulagiri Ranges.
DAY 06: In the early morning, hike up to Poon Hill (3,200m / 1 hrs) for sunrise view over the Himalayas. Poon Hill offers undisturbed view of snow clad peaks of Annapurna and Dhaulagiri ranges. Get down to Ghorepani village for breakfast and then we trek along the ridge to Tadapani. The day's walking is interesting through the Rhododendron forest. From the clearing of tadapani, Annapurna South, Fishtail and Huinchuli appears magnificent.
DAY 07: Trek down to Ghandruk Village (1,900m / 3 hrs). This is the second biggest Gurung Village. The village is interesting as the Gurungs here maintain their age-old tradition. Animistic practice is mixed up with Buddhism. Local Museum and visitor's Center explains a lot about their culture. Villagers perform a cultural show on request.
DAY 08: Trek down to the ( Ghandruk besi ) valley basin and walk along the Modi river to get to Nayapul, from where we drive back to Pokhara.
Day 09: Drive or fly back to Kathmandu
Day 10: Drive to the airport for final departure.
---
Ghorepani Poon Hill trek Review
Unforgetable introduction to Nepal
This great family-owned company took on the challenge of taking 10 women on the Poon Hill Trail. Rabi's attention to detail and ability to adapt the trip to our needs made this one of my favourite vacations so far. I would highly recommend Itournepal and am considering using them on a subsequent family trip.
Naomi L - Nov 27 2017
Organised my trek through iTour Nepal on a short notice. Everything got organised and done very fast with flexibility. Enjoyed my trip and would recommend to anyone. Excellent help and service
John O - August 2017 - New Zealand

More Reviews >
Annapurna Community Trek
Ghorepani trek could be done through alternate route based on Community Eco-lodge. Recently Annapurna community Eco-ldoge trek have been developed to avoid the crowded main trail and the road extension. The alternate route passes through pristine villages and nature with fewer tourist and great view of the Himalayas. The trail passes through Mohare hill (Mohare Danda) at 3,300 m offering the panoramic view of snow peaks of Dhaulagiri, Annapurna and Manaslu range. The community lodges and homestay have been established along the trail to facilitate trekkers. Homestay and community lodges are simple but meet the basic standards of hygiene and comfort as alpine lodges. Mohare danda trek route is more pristine route to Ghorepani Ghandruk villages and is the best example of community based sustainable tourism.
Community Trek Itinerary
Day 01: Drive to Galeshower from Pokhara. ( 122 km ) and trek to Baskharka. 3 hrs
Day 02: Trek to Nangi. 2,300 m / 5 hrs
Day 03: Trek to Mohare Danda (Hill). 3,300 m / 7 hrs
Day 04: Trek to Deurali past Ghorepani. 5 hrs.
Day 05: Hike to Gurung Hill in the morning for another view of the Himalayas and then trek down to Ghandruk.
Day 06: Trek down to Syauli bazaar and drive back to Pokhara
Ghorepani Trek
This picturesque short trek passes through charming villages, rhododendron forest in the forefront of the giants of Annapurna and Dhaulagiri. A final high point reveals majestic views of over 15 snow peaks including 3 of the ten highest mountains in the world. The route is managed by Annapurna Conservation Area Project (ACAP) for sustainable and eco trek.
Ghorepani - Ghandruk Village
Ghorepani is the village on the way to classic salt trading route. The village is located northwest of Pokhara, in the vicinity of 'Annapurna and Dhaulagiri Range'. The mountain pass was used by caravans as a resting place after a big climb from the kaligandaki valley. Hence the place got its name after the water drinking place for horses.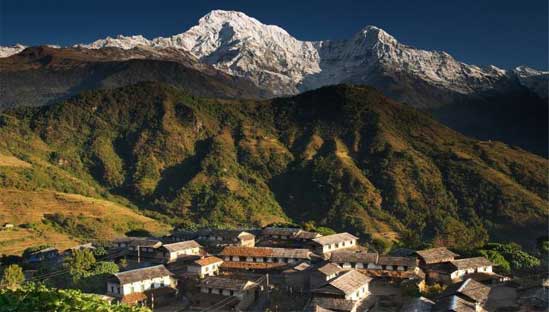 Ghandruk still retains their age-old animistic and Shamanism (Jhankri) practices. Here, the modern Tibetan Buddhism and ancient 'Bon' practices come together. Even though Ghandruk village has significant income from remittance, the village remained untouched by modern bizarre. The village is highly self-sufficient. Beside regular farming, villagers spend their leisure weaving clothes, baskets and managing their resources.