Ghorepani Poon Hill Trek
Sustainable trek supporting local community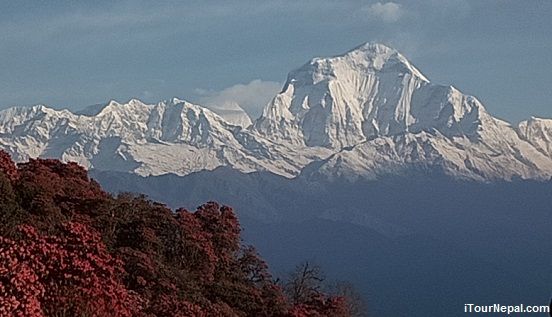 This classic short trek passes through charming villages and rhododendron forest in the forefront of the giants of Annapurna and Dhaulagiri. One can still see pristine water falls, cross streams over plank bridges, stay in teahouse run by local family and eat organic food mostly grown in their garden. A final high point reveals majestic views of over 15 snow peaks including 3 of the ten highest mountains in the world. The route is managed by Annapurna Conservation Area Project (ACAP) for sustainable and eco trek.
Ghorepani Poon Hill trek is moderate in difficulty. It involves continuous climb for about two days. The trail first climbs gradually and then steeply on 3,000 stone steps. The second part of the walking is pleasant climbing gradually through the Rhododendron forest. The trail is better than beaten trail but is still rugged at several points.
Ghorepani is the village on the way to classic salt trading route. The village is located northwest of Pokhara, in the vicinity of 'Annapurna and Dhaulagiri Range'.  The mountain pass was used by caravans as a resting place after a big climb from the kaligandaki valley. Hence the place got its name after the water drinking place for horses.
Poon Hill Ghorepani 4 days
Did the Poonhill-Ghorepani 4 day trek last week and it was such a good trek. The scenery you trek through is really nice and the views you see are amazing especially of the mountains. The lodges I stayed in during the trek were good and the hotel in Pokhara I stayed in before and after the trek was really nice. Everything was included in the price include meals which weren't limited to just 1 item which was good as trekking makes you pretty hungry. The guide basanta was a good guide and had a good knowledge of the route and the area. The trek was a good starter trek as it was the first time I done a hike that's lasts longer than a day. I only booked the trek the day before it started as I only had a limited timeframe to do it before my flight and the other company I was trying to book with weren't very slow at reply to emails. But Rabi was very quick to reply to my emails and to sort everything out such as permits. Very grateful for that as the trek was something I really wanted to do. Would definitely book with itournepal again in the future.
- Mark P - UK - 5 Nov
More reviews >
Duration :
7 days
Season :
August - May
Being in the foothills of the Annapurna, this trek could be done throughout the winter.
Difficulty :
Moderate to difficult with continuous climb of about 1,700 m within two days.
Transport : Tourist bus | Private car
Accommodation : Teahouse trek | Standard hotel in Pokhara & Kathmandu
All pick up and drop
2 nights accommodation in Kathmandu & Pokhara in three star standard hotel with breakfast and taxes included.
Kathmandu - Pokhara - Kathmandu flight
Necessary trekking permits.
4 nights 5 days trekking package from Pokhara to Pokhara
Trekking with a guide and a porter.
Teahouse accommodaiton with three meals a day.
Private transportation to and from the trekking trail head - Pokhara.
Guided sightseeing of Kathmandu with all entrance fees included.
Note:
Short trek in Annapura could be customized for 2 days or longer with Annapurna Base camp & Khopra Ridge Trek
Ghorepani Poon Hill Trek Itinerary
DAY 01: Kathmandu arrival | Transfer to Hotel
DAY 02: Fly to Pokhara, pick up and drive to Nayapul and trek to Thikedunga (4 hrs gradual climb).
DAY 03: Trek to Ghorepani (6 hrs) and stay in teahouse. Ghorepani village offers one of the best view of Annapurna and Dhaulagiri Ranges.
DAY 04: In the early morning, hike up to Poon Hill (3,200m / 1 hrs) for sunrise view over the Himalayas. Poon Hill offers undisturbed view of snow clad peaks of Annapurna and Dhaulagiri ranges. Get down to Ghorepani village for breakfast and then we trek along the ridge to Tadapani. The day's walking is interesting through the Rhododendron forest. From the clearing of tadapani, Annapurna South, Fishtail and Huinchuli appears magnificent.
DAY 05: Trek down to Ghandruk Village (1,900m / 3 hrs). This is the second biggest Gurung Village. The village is interesting as the Gurungs here maintain their age-old tradition. Animistic practice is mixed up with Buddhism. Local Museum and visitor's Center explains a lot about their culture. Villagers perform a cultural show on request.
After lunch and exploration of the Ghandruk village, we will drive back to Pokhara.
Day 06: Fly back to Kathmandu and visit Bhaktapur, Boudhanath and Pashupatinath.
Day 07: Drive to the airprot for final departure.

Annapurna Community Trek
Ghorepani trek could be done through alternate route based on Community Eco-lodge. Recently Annapurna community Eco-ldoge trek have been developed to avoid the crowded main trail and the road extension. The alternate route passes through pristine villages and nature with fewer tourist and great view of the Himalayas. The trail passes through Mohare hill (Mohare Danda) at 3,300 m offering the panoramic view of snow peaks of Dhaulagiri, Annapurna and Manaslu range. The community lodges and homestay have been established along the trail to facilitate trekkers. Homestay and community lodges are simple but meet the basic standards of hygiene and comfort as alpine lodges. Mohare danda trek route is more pristine route to Ghorepani Ghandruk villages and is the best example of community based sustainable tourism.
Community Trek Itinerary
Day 01: Drive to Galeshower from Pokhara. ( 122 km ) and trek to Baskharka. 3 hrs
Day 02: Trek to Nangi. 2,300 m / 5 hrs
Day 03: Trek to Mohare Danda (Hill). 3,300 m / 7 hrs
Day 04: Trek to Deurali past Ghorepani. 5 hrs.
Day 05: Hike to Gurung Hill in the morning for another view of the Himalayas and then trek down to Ghandruk.
Day 06: Trek down to Syauli bazaar and drive back to Pokhara
Ghandruk still retains their age-old animistic and Shamanism (Jhankri) practices. Here, the modern Tibetan Buddhism and ancient 'Bon' practices come together. Even though Ghandruk village has significant income from remittance, the village remained untouched by modern bizarre. The village is highly self-sufficient. Beside regular farming, villagers spend their leisure weaving clothes, baskets and managing their resources.