Birding in Nepal
November 2021 is the best time to go on a birdwatching tour of Nepal. Siberian birds such as the Siberian Cranes, Greater Flamingo, and Demoiselle Crane migrate to the tropical jungle of Nepal in November. The fewer tourists and pleasant weather makes November the best time for birding tours of Nepal. 15 day birding tour ›
Nepal is blessed with a vast array of exceptionally rich bird life with a total of over 850 species recorded. A diverse topography and climate has resulted in a variety of habitats within the country, which are home to over 10% of the World's total bird population.
Nepal is a paradise for the birdwatcher. From the lowland jungle of the Terai and the Koshi Tappu barrage through dense rhododendron and Oak forest of the middle hills to the windswept plateaus of the high Himalaya there is always something to keep one twitching.
.. The highlight of the trip was a day's guided bird watching in the Chitwan National Park. Our guide Shivas was knowledgeable - tiger, elephant and rhino tracks and scat - and over 60 species of birds... Read More >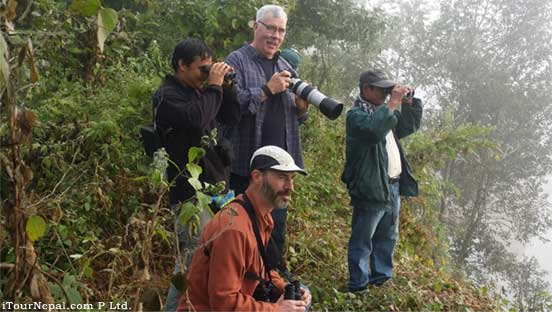 Bird Watchers' Chitwan 6 days
We organize special custom made bird watching tours in Chitwan National Park. The package is based in a safari lodge at the undisturbed location, right next to Chitwan National Park. You can observe hundreds of bird species in the resort's garden itself. Our local bird watching guides have the latest information about the birds habitat and behaviour. Bird watching tours of Chitwan could be customized from 3 days to 6 days or longer.
Day 1: Drive or fly to eastern part of Chitwan National park. Check in at the safari lodge and lunch. In the late afternoon, birding in the community forest and visit the local Tharu ethnic group. Enjoy the sunset from the bank of Rapti river and look for animals across. Participate in the Tharu cultural dance in the evening. Dinner
Day 2 - 3: Birding and wildlife tour by jeep and walking. We will visit the eastern part of Chitwan National park where three different types of hornbills reside. This part of the Chitwan national park is pristine and has more chance of seeing Tiger and other wildlife. Canoe riding along the Rapti river is the best way to watch aquatic birds and migratory birds. Two different species of crocodiles; Marsh Mugger and Gharial are found in Chitwan. Walk back through the Jungle and enjoy the elephant bathing. After lunch drive to Gharial breeding center and museum at the National park headquarter and some more birding in the jungle.
Day 4: On the day, we will drive to western part of the Chitwan national park. Western part of Chitwan is bit touristy but the bird sighting is great. We will visit the Vulture breeding center on the way. In the late afternoon take a jeep safari in Kumroj forest. Overnight in Safari lodge.
Day 5: On the day we will go with pack lunch to the 'Lake twenty thousand and Kumal Lake' area for more birding and come back in the evening.
Day 6: Birding in the morning and later drive or fly back to next destination.
Birding around Kathmandu Valley
One day to week birding trip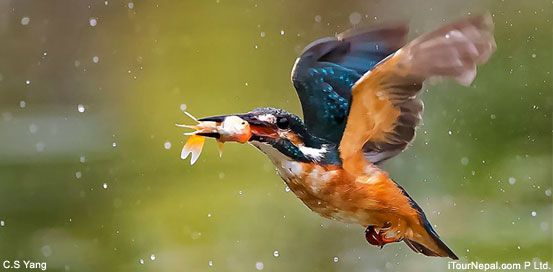 Within the Kathmandu valley alone, over 500 species of birds have been recorded. The surrounding hills offer a varied ecology ranging from primary and secondary forests to rhododendron, oak and pine forests. In addition, the wetlands and open fields in the outskirt make up a diverse habitat for many species of birds.
Bird watching day tour
A day bird watching tour is the best way to explore the lush woods around Kathmandu valley active with 500 + species of birds. Start early in the morning with an expert guide and enjoy the picnic brunch after the dawn chorus. Godavari, Phulchowki and Nagarjun are the most popular day bird watching areas. Price varies from USD 60 to 160 depending upon no of people, duration and the area of bird watching.
Kathmandu bird watching day tour >
The most popular bird watching spot is the Phulchoki hill, the highest peak on the Valley rim situated 20 km South East of Kathmandu, with some 265 species recorded to date. The birds seen here included babblers, warblers, tits, thrushes, minivets, woodpeckers, eagles and many migrant birds. Godavari, at the foot of Phulchoki hill where the Royal Botanical Garden is situated, records over 100 species of birds including the lesser racket-tailed drongo, Tibetan siskin and the spotted forktail.
The Shivapuri National park
Situated 11km north of Kathmandu, Shivapuri national park is another best birding site around Kathmandu. Nagerjun Forest on Jamacho hill is situated 5 km from Kathmandu on the way to Kakani from Balaju. It is a renowned sight for bird enthusiasts with blue magpies, kalij pheasants, Bonelli's eagles, great Himalayan barbets and many species found here.
The Valley Wetlands
The wetlands in the valley, the banks of the Manohara river on the way to Bhaktapur, and the Bagmati river, which flows into the Valley from Shivapuri hill and out through Chobhar Gorge, are good places for watching waders and waterfowls. Harboring 40 species of birds mostly dependent on wetlands, Taudaha, a lake on the way to Dakshinkali, attracts flocks of migrant birds.
Birds of Kathmandu Valley 7 Nights / 8 Days
The tour is designed for those with limited time. There are resorts in the outskirt of Shivapuri National park, Godavari botanical garden / Phulchowki with natural ambiance for birding as well as Himalayan scenery. Write us to customize birding trip around Kathmandu.
---
Nepal birding tour 15 Days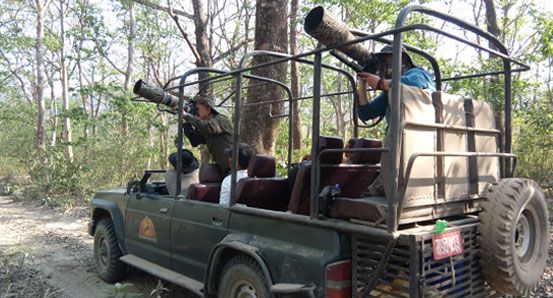 The Birding tour of Nepal is perfect holiday for bird lovers. The tour is combination of wildlife and culture and Himalayan scenery. The tour could be customized within your available time, interest and budget. As a sustainable tour company, we make it possible to do birding tour or bird photography tour for individuals as well as small group in the most cost effective way.
USD 1680 only includes
Birding tour around Kathmandu, Chitwan and Pokhara
All accommodation wiht breakfast and taxes included in 3 star standard hotel
Guide birding tour with all entrance fees.
All ground transportation by private car.
Customize bird watching activities in Chitwan national park with all meals included.
Write us to customize Nepal Birding Tour.
D 1: Arrive Kathmandu, pick up and transfer to hotel.
D 2: Birding in Godavari botanical garden and Phulchoki jungle. Overnight in Kathmandu.
D 3: Drive 8 hrs to Koshi Tappu Wildlife reserve. Overnight in tented camp.
D 4-5: Guided bird watching walk and boating. Boating in Koshi River to watch aquatic birds and fresh water dolphin. Guided walk along the forested Koshi River bank.
D 6: Drive to Chitwan National park. Check in safari lodge and dinner.
D 7 - 8: Safari activates focused on bird watching. We will explore different part of Chitwan national park looking for different species of birds. Jeep safari, walking and also use our car to drive to different marsh, grassland, Sal forest and riverine forest.
D 9: Drive to the UNESCO Heritage site Lumbini, the birth place of Lord Buddha. The pretected. Visit the Vulture breeding center.
D 10: The 2 X 6 km area of Lumbini development zone is also a bird sanctuary. visit the Crane sanctuary of Lumbini to watch Sarus crane and other birds. Sarus crane is the largest flying bird on the earth.
D 11: Drive to Pokhara. Exploe the Phewa Lakeside in the evening.
D 12: Drive to Kande and hike 1 and half hrs to Australian camp (2,060m). Look for raptors and Himalayan scenery sightseeing. Birdwatching and day hiking. Overnight in Pokhara
D 13: Another day of birding around Phewa Lake and nearby Raniban forest.
D 14: Drive back to Kathmandu.
D 15: Drive to the airport for final departure.