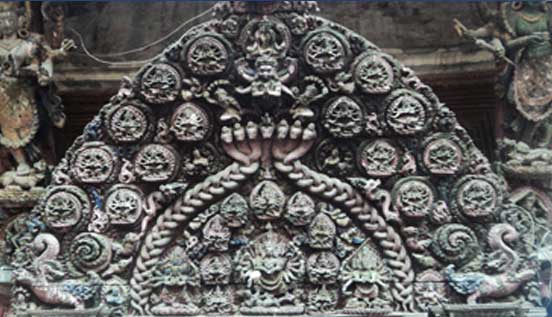 Get the deeper insight of Tantric, Buddhist and Vedic cultural life, visit local artisans to watch them crafting metal and wooden handicrafts. Learn and see Ayurveda and Vedic Astrology in practice.
Accommodation : Hotel (Deluxe & Standard)
Transport : Private car & Flight
Most of the writers, after being familiar with Nepalese society, gave common views as in the dictum "Every other building in the valley is a temple and every other day is a festival." What appeared to them as a festival is the native people's day to day activities and artistically bedecked medieval edifices embedded with various pantheons. Infact ethnic groups were stratified into various occupational groups, which lead to specialization in the task particular group or caste was following. However, Nepal being closed until 1950, the art was never industrialized and was very less influenced by modern techniques.
This special package guides you through the ancient ways of life, medicinal practices (Ayurveda), art and architecture (Vastushastra), Vedic astrology and more.
INCLUDES :
All accommodation with breakfast and taxes included.
All ground transportation by private vehicle
Guided sightseeing as per the theme.
All entrance fees included.
2 N 3 D Chitwan jungle saferi package based on Tharu community homestay. All meals and safari activities are included.
Easy 1 N 2 D hike to ex-Gurkha village and meet with shaman on request. Comfortable lodge with all meals included.
EXCLUDES :
Delay and cancellation because of naturl phenomenon.
Any type of insurances. Rescue and evacuation will be done on your account.
Bottled drinks and beverages.
Tea breaks, snacks or anything purchased directly beside the meals included.
Art and Craft Tour Itinerary
Day 01: Arrive to Kathmandu / Transfer to Hotel / Familiarization walk
Day 02: Tour of Tibetan Buddhism in Kathmandu
Day to observe Tibetan Buddhism in Nepal, Tibetan Refugees and skilledoccupation they have been pursuing. The art of Thanka painting, carpet weavingand sculpting various Buddhist curios mark the particular area of Kathmandu asa "Little Tibet ''. The area renowned as Boudha has more than 45 monasteries withinits small premises. We will also visit a couple of monasteries to observemonastic life.
Day 03: Blending of Hinduism and Buddhism
Today's tour will be focused on religious tolerance or amalgamation of Hinduism and Buddhism in the Kathmandu Valley. The two streams developed in prehistoric time had Kathmandu as a confluence in the medieval age, which is specially depicted in the struts, tympanums and entrances flanked by guardian deities. Our expert will separate each figure's root in Hinduism and Buddhism, the legend and historical behind them and their integrations.
Day 04: Vastu Shastra – tour of medieval architecture
On the day we will shed light on ancient architecture of Stupas, temples and town planning. The ancient architecture was so well developed that they were resistant to natural catastrophes. Pulsing through the streets of Kathmandu you can't imagine once these cities were planned based on the ancient knowledge of 'Vastu Shastra' (the material science). Vastu Shastra is a knowledge of human's well being, which can only be achieved when we are in harmony with nature and universal flow of energy.
Day 5-6 : Into the Tharu home in the land of Tiger
The best way to learn about the day to day life of local Tharu is by staying with them. We will stay in a comfortable community homestay and spend time with local families learning their way of life and their survival skills in the jungle roved by the Royal Bengal Tigers. The accommodation will be in traditional Tharu houses built of mud, 'Khariya' grass, timbers and tiles. These charming nature-friendly houses are fast disappearing with the shortage of raw materials and increased cost of labourers. The Tharu women transform the outer walls and verandahs of their homes into colorful paintings said to be dedicated to Lakshmi, the Hindu goddess of prosperity and fertility. They grow barley, wheat, maize, and rice, as well as raise animals such as chickens, sheeps, ducks, pigs, and goats. In the big rivers, they use large nets to fish.
Visit the Chitwan national park with a local Tharu guide to see some of the endangered animals and birds including the most elusive Royal Bengal Tiger.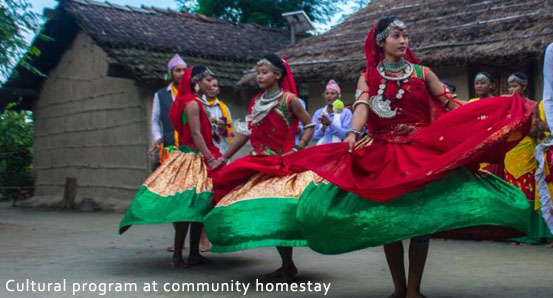 Day 7-9 : The Gurkhas and Shamans from the mountains
Shamanism is still practiced in the mountain of Nepal. They worked as faith healers connecting with the sprits for thousands of years. The mountains of Nepal is also the land of brave Gurkha solders who still keep the legends serving British and Indian army.
Drive past Pokhara and stay in the Gurkha soldier's village. Meet the shamans and learn the simple village life. They don't have much of the sophisticated art but their lifestyle so close to the nature is inspiring life skill to learn.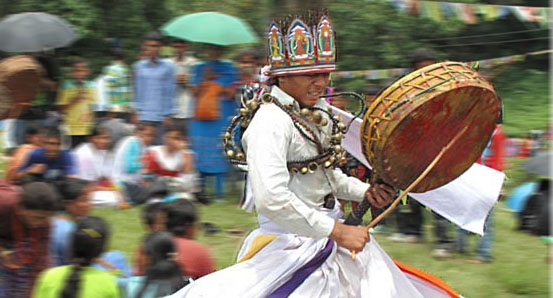 Day 10: The metal sculptors of Patan
Objective of the day would be studying metal sculpting. The unique feature of more than 150 medieval monasteries of Patan is its well bedecked metal statues, stupas, entrance gates and pagodas. Lalitpur meaning 'the city of fine art' still induces visitors about the suitability of its name as the significant numbers of people still pursue the age-old occupation. We will also observe the traditional art of the lost wax process of metal sculpting.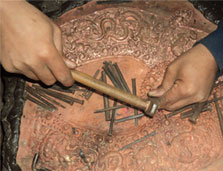 Day 11: Self-sufficient medieval world of Bhaktapur
Bhaktapur-the city of devotees is also known as a living museum for the town remained firm to modernization and populace still practice the age old traditions with same enthusiasm. Populace was stratified into occupational groups for the efficiency in art and craft skills. Some of which are still observed such as potter's spinning out clay utensils, handmade paper productions and wood carving.
Day 12: Depart kathmandu
---
Lwang village community homestay