Tibet overland Tour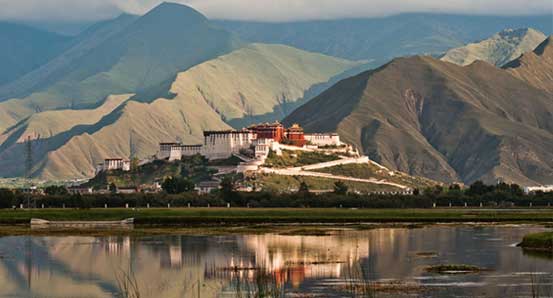 Tibet Overland Tour is a fixed departure budge tour of Tibet. This is the most cost effective and close to independent way of exploring Tibet which otherwise is costlier with lots of regulations. This is 8 days tour starts from Kathmandu and traverse the Himalayas to the plateaus of Tibet. One major highlight of the Tibet Overland Tour is the dramatic change of landscape from the lush mountains to snow peaks and eventually to arid highland of Tibet. Cruise through the highest plateaus of the world dotted with torques lakes, pastures with wild yaks, nomadic villages and high passes with snow peaks looming at a distance. Experience its rich art, architecture and culture with guided sightseeing of Lhasa, Xigatse and Gyantse.
The 7 nights 8 days tour begins with 8 hrs drive north of Kathmandu to Nepal Tibet border at Kerung. The first half of the tour unveils the beautiful landscape and nomadic life of remote Tibet. The second half of the tour visits popular monuments and UNESCO heritage sites of Tibet eulogizing its rich history and mystic Buddhist traditions.
Join Tibet Overland Tour - 26, 28, 30 April
Tibet is now open for foreign tourists to travel. Since flight between Lhasa - Kathmandu is still expensive, it is better to fly out back to your home country from Chengdu. The high altitude train from Lhasa to Chengdu is a more reasonable means of transportation. 
Transportation Private vehicle & flight.
Accommodation Budget hotel
Season : Throughout the year (except in March)
TOUR INCLUDES
Tibet travel permits and visa
Budget hotel on twin sharing basis with breakfast and taxes included.
All ground transportation by private vehicle
Lhasa - Kathmandu flight
Guided sightseeing with all entrance fees included.
The Tibet Overland tour could be customized with side trip to Everest north base camp or as a private tour with standard and deluxe hotels.
---
Tibet Overland Tour Itinerary
Day 01: Kathmandu Kerung border (2,800 m | 135 km | 8 hrs) | Guest House
We will leave early in the morning and stop for breakfast in Trishuli bazaar. A scenic, 8 hrs drive north of Kathmandu will take us to Nepal - Tibet border (Kerung). After completing the necessary border formalities of both immigrations, we will drive uphill to Kerung town in Tibet for overnight stay.

Day 02: Kerung - Tingri (4,300 m | 370 km | 6 hrs) | Guest House
The landscape changes drastically from lush green southern slopes towards Nepal to barren alpine plateaus of Tibet. Enjoy the typical landscape of Tibet from the world's highest plateau which even dwarfs the Himalayas. The Lalung La pass (5,050 m) offers breathtaking view of Himalayan ranges including Mt. Cho Oyu (8201 m) & Mt. Xixapangma (8012 m). From Tingri, We can even see Mt. Everest (8,848 m).
Day 03: Tingri - Shigatse (3,900 m | 235 km / 6 hrs) | Guest House
Enjoy the morning view of the Himalayas and get ready for the day's journey to Shigatse. The road winds through the plateaus and cross the highest pass of the trip, the Gyatchu La pass (5,220 m). Enjoy the vast empty land of Tibet thrived only by nomads or wild yaks and donkeys. Check in hotel at Shigatse and explore on your own.
Day 04: Shigatse - Gyantse (3,950 m | 90 km | 2 - 3 hrs )
Shigtase is one of the important cultural and historical city in Tibet. The city was one of the important pocket of Gelugpa Buddhism and was a seat of Panchan Lama until his death in 1989. Visit the Tashilunpo monastery built in 15th century and head towards Gyantse which used to be the capital of small kingdom in 15th century. Visit the Kumbum monastery and the Pelkot Chode monastery and stay overnight in Gyantse.
Day 05: Gyantse to Lhasa (3,650 m | 261 km | 6 hrs )
From Gyantse, we take the scenic route over the mountains to Lhasa. Enjoy the view of Karola glacier from the Karo La pass (5,045 m) and the view of Yamdrok Tsho (Turquoise lake). The scorpion shape lake of about 72 km in length is surrounded by snow peaks. Then cross the Kamba La pass (4,794 m) overlooking at the Lhasa valley. We will cross the 9th largest River in the world the Brahmaputra River to reach Lhasa. The city of Lhasa lies in the Kyichu river valley that is dominated by the Potala palace.
Day 06 - 07: Lhasa Tour | Hotel (twin sharing)
These days you will be engrossed with sightseeing and excursions of the Potala Palace, Jokhang Temple, Barkhor Market, Drepung Monastery and Sera Monastery. Lhasa is now a fascinating modern city. There are many wonderful things to see and do around Lhasa, which help, tell the story of Tibet's unique past and the intertwining of religion with history. Most of the holy temples retain magic and mysticism and demonstrate the absolute faith in Tibetan Buddhism so integral to the character of the Tibetan people.
Day 08: Lhasa-Kathmandu
Drive to the Gongar airport (65 km / 1 hrs) from Lhasa. Around 10:00am (Tibetan standard time) fly to Kathmandu (arriving 09:00am Nepalese time). Air China's 1 hr flight provides great views of Himalayan peaks including Mt. Kanchenjunga (8586 m), Mt. Makalu (8463 m), and Mt. Everest (8848 m).
Overnight in Hotel in Kathmandu
---
Everest north base camp
Add a day to see Mt Everest and the Rongbuk monastery
Organize a private Tibet overland trip and extend the tour to see Everest north base camp. 100 km drive off the main Friendship highway, the Rongbuk monastery offers the breathtaking view of Mt Everest. Rongbuk monastery is the monastery at the highest point on earth and is also one of the most sacred for Tibetan Buddhists. The pilgrims as well as expedition members pray at the monastery to appease the mountain goddess 'chomolungma', the local name for Mt Everest. Hike 8 km to the Everest north base camp or take a shuttle bus.
"Some colossal architect, who built with peaks and valleys, seemed here to have wrought a dramatic prodigy—a hall of grandeur that led to the mountain."