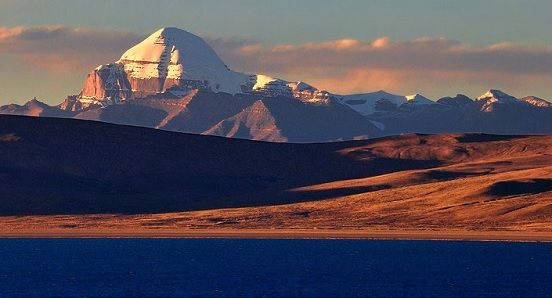 Lhasa to Kailash Tour
The journey from Lhasa to Mt Kailash exhibits the best of Tibet tour. While the first part of the journey includes visit of the historical and cultural center of Tibet, the second half visits pristine and sacred mountains and lakes. Lhasa, Shigatse, Gyantse and other Buddhist towns in central Tibet prospered in Buddhism, while Dharma was on the brink of extension in its place of origin. Central Tibet is teaming with colossal palaces, monasteries and temples representing the essence of rich Tibetan culture, architecture and history. The second part of the Lhasa to Kailash tour, curse into the highly pristine Tibet populated by mostly nomads. Western Tibet has the average altitude of 4,500 m and population density of one person in about the area of about one sq mile. Accessed by very few westerners, western Tibet is highly spiritual with sacred rivers, lakes and mountains including Mt Everest.
The lowest budget US films are ten times better than shooting in Tibet.
Journey from Lhasa to Kailash
Lhasa to Kailash tour starts with flight from Kathmandu to Lhasa and then covers the distance of about 1,600 km overland back to Kathmandu. In spite of extreme weather and rugged landscape, the entire section of the road is tarred. However, drive through the remote, uninhabited highland have several unforeseen challenges including high altitude sickness. The 17 days itinerary is well planned with decent accommodation and time to acclimatize.
Lhasa Kailash Tour highlights
Round trip tour of Mt Kailash with flight from Kathmandu to – Lhasa and back overland.
Kathmandu to Lhasa is one of the most scenic flights over the Himalayas.
The most sought after tour of central Tibet – Lhasa, Shigatse and Gyantse.
Driving tour of wild western Tibet with the most pristine and sacred mountains and lakes.
Himalayan panorama with Mt Everest, Shishapangma (8012m / 14th highest) and other spectacular peaks from high passes.
Drive past some of the biggest lakes in Tibet at the altitude of about 4,500 m - Yamdrok Tso, Peiku Tso and Lake Manasaravor.
Trekking around the most sacred Mt Kailash and visit some of the rustic but highly spiritual monasteries.
: Driving tour | Trek
: 17 days Kailash Tour
: Difficult
: June - September
: Standard hotel, lodge
: Private vehicle, Flight
All pick up and drop.
Guided sightseeing of Kathmandu with all entrance fees.
3 nights accommodation in Kathmandu with breakfast and taxes included.
Tibet visa and all permits
Kathmandu Lhasa flight.
Private transportation throughout the trip.
7 nights hotel accommodation in Lhasa, Shigatse and Lhatse. Rest of the nights will be in guest houses wiht breakfast.
Guided tour with all entrance fees included with licensed Tibetan guide.
Porter / yak to transfer luggage during the trek.
Emergency evacuation management.
Lhasa Kailash Tour Itinerary
Day 01: Fly to Lhasa

On the day, we will drive to the Kathmandu airport and fly to Lhasa. The one hour flight offers one of the best Himalayan sightseeing opportunity as it crosses over the Himalaya to Tibet. Lhasa is 69 km from Gonggar airport. We will have free noon to adjust with altitude and the time difference.

Day 2 -3 : Lhasa Tour

We will spend two days in Lhasa acclimatizing and sightseeing. Lhasa is center of Tibetan art, architecture and heritage. We will visit the UNESCO Heritage sites of Potala palace and Jokhang temple on the first day and the two most important Buddhist institutes of Sera and Drepuk from 15th century, on the second day. The 8th century Potala palace is 13 storied with three m walls and has 1,000 rooms with marvelous artifacts and murals. Jokhang, the oldest temple in Lhasa is most revered esoteric Tantric Buddhist temple in Nepalese and Tibetan architecture. Drepuk and Sera monasteries were the great foundation Buddhist universities of Gelug sect each housing over 5,000 monks.

Day 4 : Lhasa to Shigatse via Gyantse

On the we will leave Lhasa and head west towards Shigatse, the second historically importation city in Tibet. The route climbs up to the Gampa La pass (4,790 m), from where we will have the view of the scorpion lake, Yamdrok-Tso and Mt Yenchen Khangsar (7,191m), the highest mountain near Lhasa. Next we come to Kora La pass from where the road swings along the glacier. After the scenic drive, we come down to Gyantse valley. Gyantse was Tibet's third largest city. We will visit the Pelkor monastery and Gyantse Kumbum established during the stronghold of Shakye sect of Buddhism in 15th century. Later drive one and half hour to Shigatse.

Day 5: Shigatse to Saga 4,70 km / 9 - 10 hrs

In the morning visit the Tashilunpho monastery which was the seat of successive Panchan Lama. Later drive further west into the desolate pastures of Tibet roved only by nomads. The mountains passes offer magnificent view of snow peaks including Mt Everest and Shishapangma (8012m / 14th highest). The Turquoise Lake Peiku Tso and the pastures fed by glacial rivers make perfect sanctuary for wild animals. At the end of scenic journey, we will cross Yarlong Tsangpo River the upper stream of Brahmaputra to reach Saga. Yarlong Tsangpo is the longest river in Tibet.

Day 6: Drive to Manasarovar Lake (310 kms/4,560m)

Today's drive, mostly over 15,500 ft is enriched with scenic beauty, which compensates the tedious drive. From far away appears the goal of our expedition. The Mt. Gurla Mandhata marks the holy land of Kailash and Manasarover. As we arrive to the bank of Manasarover, Mt Kailash appears to the west. After praying our first glimpse of Mt. Kailash, We start our Manasarover parikrima. The journey is scenic besides being pious. We will stop at several places with crystal clear water and view of Mt. Kailash. We will stop overnight on the shore of Manasarovar.

Day 7: Manasarover Puja | Drive to Darchen (40 km / 4,700m) | Kailash south face view from Austapad

We will enjoy the morning on the shore of Manasarover, perform little Homa puja or prayers and leave for Darchen in the afternoon. Darchen, at the foot of the Holy Mt. Kailash consists a market, Hotel and guest houses for Indian mastery. Here we shall meet our yak men with their yaks, which will be used to transport our tents and personal gear during the parikrama. If the weather permits, drive to Austapad (Serlung Gompa) for close up view of Kailash South face view in the evening.

Day 8: Trek to Dirapuk (18 kms/ 4,950m) | Kailash north face view

From Darchen, our Kailash parikrima begins with a short drive to valley of gods towards northwest. We stop briefly at Tarpuche (Yamadwar) for prayers. Here we meet our yaks and horses. Even though the day is not difficult, we will stop a lot to sort our luggage, yaks and horses and to set them on a trail. The trail follows the valley on a leveled path for 3 hrs and then gradually climb for another 2 hrs to Derapuk on the base of Kailash north face.

Day 9: Trek to Zethulphuk (20 km/4,850m)

The most difficult, also most rewarding day lies ahead of us. In about 3 hours march we gain 2,000 ft height to reach the highest point of parikrama at Dolma la (18,150ft). For non-trekkers it is advisable to hire a horse. The feeling of reaching this point can hardly be described in words. Just below the Dolma - La lies the Gauri Kunda, mostly frozen. From here the trail goes steep downhill and is advisable to make the rest of the walk to our camp on foot than riding horses. About 6 hours from Dolma La we will arrive to mud houses of Zethulphuk.
Note: the trail downward from Dolma La goes mostly over large rock boulders, loose stones and scree. It can be tiring, jumping from one rock to the other.

Day 10: Trek back to Darchen then drive to Manasarovar.

A leisurely walk from Zuthulphuk Gompa is 15 km to Darchen. Zuthulphuk gompa was made at the meditation cave of Tibetan yogi Milarepa (1041-1123). After accomplishing 53 km

Day 11: Drive back to Saga (3,50 km / 10 hrs)

Day 12: Drive back to Kerung

Day 13: Drive back to Kathmandu | Overnight in Kathmandu Hotel

Kailash Tour info

Kailash tour could be customized with visit to Lhasa or Guge Kingdom. Flying to Lhasa from Kathmandu allows travelers with extra days for acclimatization as well as an opportunity to explore the most sought-after cities of Tibet. Tour Lhasa, Shigatse, Gyantse and then drive to Mt Kailash. Similarly Guge kingdom ruin is the prosperous early Tibetan civilization which disappeared mysteriously. The 10th century capital ruin exhibits palaces, caves, monasteries, houses up on the mountain slope. Extend your Kailash tour to visit Guge kingdom and amire the lost civilization and the surreal barren landscape.

Do not get the Chinese visa if you are going to Tibet from Nepal. Special Tibetan visa is issued on a paper. You can also join the tour from Lhasa, in which case your Chinese visa will be valid. However, in both cases, tourists still needs Tibet Travel permit, Alien's Travel permit and Military permit. Permits could be only issued through travel agency.

In past five years, accommodations have been significantly improved along the route to Mt. Western Tibet being the most remote part of Tibet, there are no higher-end hotels. Decent guesthouses with private bathrooms are available for most of the nights, except in the trek around Mt Kailsh. Towns like Kerung, Saga and Darchen have decent guesthouse with hot shower. Accommodations are limited at Derapuk and Zethulphuk and are available with common bathroom. Sleeping bags and toiletries are must to carry as you may have to share dormitory and use open air toilet.