September is the beginning of the biggest tourist season of Nepal. The monsoon rain retreats back and the hot and humid temperature of summer start to cool down with the advent of autumn. With verdant greenery and blue sky cleared by monsoon rain, the snow peaks appears more picturesque. Average temperature will be from 25 degree centigrade to 12 degree centigrade. September is best time to come to Nepal if you want to avoid the crowd. By mid September, trails of all treks will be opened.
Nepal is safe to travel during Corona pandemic
As the International flights are resuming and governments worldwide promoting tourism, Nepal is the safest destinations to travel during and after the Corona pandemic. Nepal has most of the Covid 19 cases in quarantine brought by migrant workers and the community level transmission is negligible or under control.
With New cases in fall, Nepal is planning to open its tourist destinations by mid August. Both International and domestic flights will resume from 17 August. Himalaya is the safest destinations to travel in September during the Corona pandemic.
September weather
Average weather around the major tourist area of Nepal
| Place | Max Temp | Min Temp | Rainfall | Rain day |
| --- | --- | --- | --- | --- |
| Kathmandu | 28.1℃ | 18.5℃ | 199.8 mm | 15 |
| Pokhara | 29.3℃ | 20.3℃ | 641 mm | 10 |
| Chitwan | 31℃ | 22℃ | 386 mm | 8 |
| Namche | 15℃ | 6℃ | 165 mm | 15 |
| Jomsom | 15℃ | 3℃ | 72 mm | 14 |
Trip for early September
The rainy season is supposed to end by the end of August. However it rained throughout September in the last few years. The rain relents by the beginning of September. It may rain in few days or in the late afternoon or night making it possible to travel through places and enjoy the view.
If you are travelling in early September, the best tour to take would be 16 days Bhutan Nepal Tibet Tour. Since this is cultural tour, it is less affected by the unexpected weather of early September. The tour visits the highlights of the three countries.
Cultural tour visiting the scenic hill towns like Nagarkot and Bandipur is also the best thing to do in early September. Since the cultural tours include mostly driving and sightseeing or cultural immersion activities with locals, it is less affected by weather. Spending night at hilltop towns like Nagarkot and Bandipur gives you ample opportunities of Himalayan sightseeing as it normally clears up in the morning and evening. Here are some of the recommended Nepal tour for September.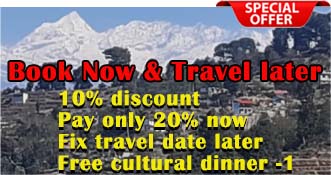 Trekking in Everest region is more preferable in early September as it rains less in the east than in western Nepal (Annapurna and Dhaulagiri). The high altitude trail escapes the hot and humid temperature of foothills. Temperature is pleasant and ranges from about 9 ℃ to 18 ℃ at Lukla (2,800 m) and - 3 ℃ to 8 ℃ at Everest base camp (5,3080 m).
Trips for Mid September
By mid September, monsoon rain subsides and the main tour season for Nepal begins. All trekking trails are open after the monsoon flooding and landslide. It is best time to go on any treks in Nepal. The best Himalayan tour starting in mid September would be 21 days Nepal Tibet Bhutan Tour. The trip starts with 8 days tour of Tibet and then finally visits Nepal and Bhutan by the end of September when it is the best weather in the southern flank of the Himalayas.
To avoid the crowd of popular routes, we recommend some
new trails with more cultural insight
.
Nepal Travel tips for September
Choose the well established popular treks as the trails in remote treks may be still closed by landslide ad flood in September
Prepare for the rain. Good quality, breathable rain gears are recommended.
Make your luggage / backpack waterproof and bring cover.
Footwear must be waterproof or easy dry.
Keep your itinerary flexible considering delays and cancellation of transportation and domestic flights.
Plan your trip with enough time between your trip and international flight.
Avoid driving on off roads as much as possible.
Normally it rains in the afternoon or evening. So it is better to start your activities early.
Plan a morning Himalayan sightseeing on the morning if it rains a night before.
Festivals in September
With the advent of autumn and the break from agricultural rush, Speptember is also the beginning of festival season
Indra Jatra - September 1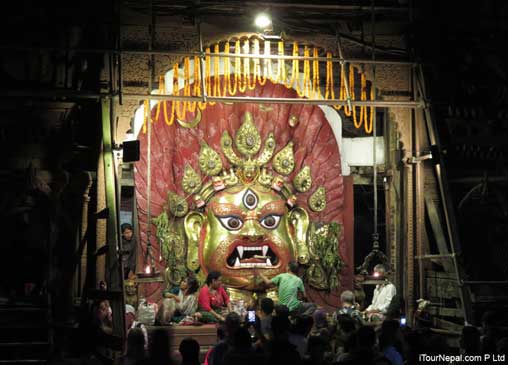 Indra Jatra is the most colorful and longest street festival in Old Kathmandu. The 8 days long festival is marked by mystic mask dancing, feasting and chariot pulling activities. The festival mainly consist two events, Indra Jatra and Kumari Jatra. While Indra is King of heaven revered for rain and happiness, Kumari is embodiment of feminine energy against evil and wickedness. Local people from the different neighborhoods of old Kathmandu, take out mask dancing and display sacred images. The chariot of living goddess, Kumari is pull around the alleyways of Old Kathmandu. This is one of the most thrilling spiritual festivals in Nepal in respect of nature and feminine energy.
Thimphu Tshechu Festival - 26 - 28 September
Thimphu Tshechu festival is one of the biggest festivals of Bhutan. The festival is celebrated with monastic rituals and prayers, mask dancing, feast and merry making. The three days long festival is an annual social gathering and a break from farm life. People dress up in their finest traditional dresses, perform folk dances, get blessings and prey for health and happiness.