With the extension of the dirt road further into the valley, it is now possible to do the Annapurna base camp trek in as less as 5 days either from Kathmandu or Pokhara. ABC trek could be customized within a week holiday in Nepal.
This moderately difficult trek is for experienced ones or for those with sound fitness.
Who safe is short ABC trek ?
The 5 day ABC trek is safe as the above itinerary make you stay at attitude between 2,000 - 3,000 m before a night at Annapurna base camp which is 4,200 m. One can also go to ABC just as a day trip from Machhaphuchre basecamp and head down in case they develop symptoms of acute mountain sickness. Both the long and short version of the trek is moderately difficult which is for experienced trekkers with sound fitness.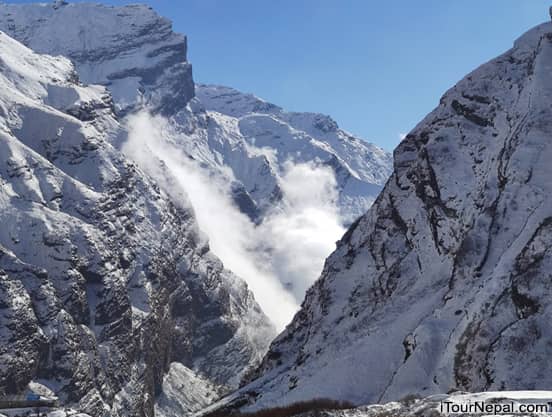 How difficult is ABC trek ?
Both short and long version of ABC trek are moderately difficult in level. This involves steep uphill and downhill ( about 600 - 700 m ) on rugged path and uneven stone steps. Each day's walking will be about 6 hours. At higher altitude, the snow and avalanches creates obstacles. Depending upon the season, the path may become muddy and slippery with melting snow or you may even have to walk on snow. The thin air, slows you down and make you feel more tired. Regular jogging or workout before coming on a trek is really helpful.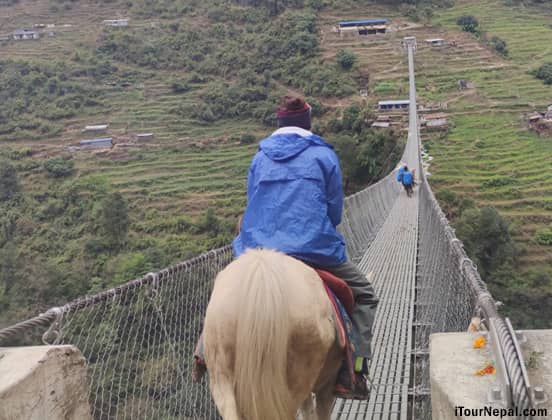 ABC Trek in just one week holiday
There are plenty of flights between Kathmandu and Pokhara starting as early as 7 in the morning. With the flight and the extended road, we can save so much time and do the most beautiful part of the trek within your one week holiday. We can connect you with Pokhara flight as soon as you arrive at Kathmandu from where you can start driving to the trail head. It is possible to customize short Annapurna base camp trek within the one week in Nepal.
The best short ABC trek itinerary
The best short trek itinerary is designed with stay at highest altitude possible for better acclimatization before arriving at base camp. The itinerary considers travel durations, acclimatization and flexibility in case a trekker develop symptoms of altitude sickness.
Day 1 : Drive from Pokhara to Jhinu Bridge - 3 hrs | Walk 5 hrs to Sinuwa (2,380 m)
Day 2 : Trek to Deurali (6 hrs / 3,210 m)
Day 3 : Trek to Annapurna Base Camp (5 hrs / 4,210 m)
Day 4 : Trek down to Sinuwa or Chhomrong (6 hrs)
Day 5 : Trek Down to Jhinu bridge - 5 hrs and drive back to Pokhara - 3 hrs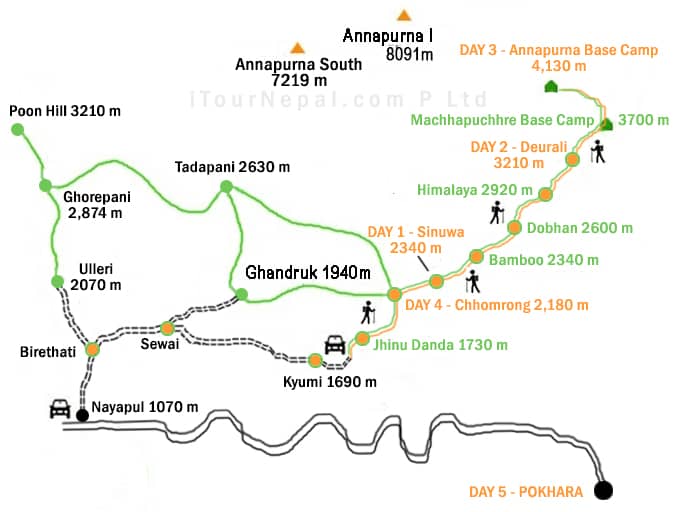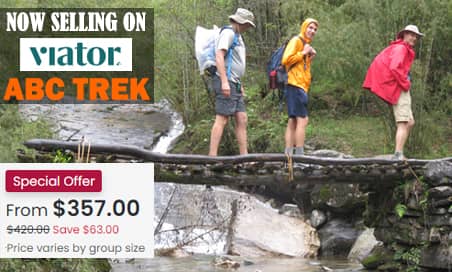 Short Annapurna Base Camp Trek in November
DATES :
1, 7, 14, 21, 27 November 2022
DURATION : 6 days from Pokhara
USD 420
Transport | Permit | Guide | Breakfast | Lodge