Kathmandu Lhasa Tour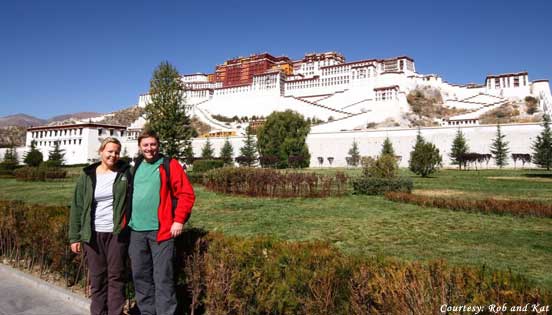 Kathmandu Lhasa tour is a short Tibet tour with 4 day in Lhasa - Tibet and rest in Kathmandu - Nepal. The tour starts with sightseeing of Kathmandu which includes an overnight stay at Nagarkot hill station for better acclimatization. Nagarkot at 2,100 m is overlooking at the central and eastern Himalayas. Kathmandu and Lhasa was two important trans-Himalayan trade hubs which shared long history, cultural exchange and dissemination of Buddhism. Buddhism went to Tibet from Kathmandu in 8th century. Artists and architects from Kathmandu were invited to built monasteries and palaces in Tibet and China as well. The Buddha sculpture built in Patan district of Kathmandu some 1000 years back still nestles inside the Jokhang temple in Lhasa. Visiting Kathmandu and Lhasa helps to better understand the Himalayan spirituality, culture and art.
Known in the Himalayas as the city of gold, Lhasa was the forbidden kingdom until less than a century ago. Being relatively fertile and moderate in climate and altitude, the land has been seat of some of the influential leaders since millennium and half ago. Tour of Lhasa exhibits the Tibetan heritage developed as the center of Tibetan Buddhism in last 500 years.
Visit the Potala palace with 1,000 rooms crowning the city. Walking around Jokhang temple and the Barkhor area take one back into the time. Learn monastic life and watch them having discourse at Sera and Drepuk monasteries, the two of the three Gelug universities.
You can just join 4 day Lhasa tour but the 8 day Kathmandu Lhasa tour is recommended for better acclimatization and understanding of the Himalayan history, culture and Spirituality.
Lhasa Tour Inquiry | Tour Itinerary
Tibet visa and travel permits
Kathmandu - Lhasa - Kathmandu flight
3 star accommodation with breakfast and taxes included.
Guided sightseeing with all entrance fees included.
All ground transportation by private car.
Duration : 8 day
Season : Feb, April - June | Sept - Dec
Tibet remain closed during March
Max Altitude : 3,700 m
Accommodation : Available with standard and deluxe hotel
Transportation : Kathmandu - Lhasa - Kathmandu flight and sightseeing by private vehicle.
Kathmandu Lhasa Tour Itinerary
Day 01: Kathmandu arrival | Transfer to Hotel
Our represent will receive you from Kathmandu airport and together you will drive to the hotel. We will discuss the schedules and collect necessary information for Lhasa tour.
Day 02 : Kathmandu sightseeing | Overnight in Nagarkot Hill station (2,100 m)
We will go for a guided tour of Kathmandu after breakfast. As a famous trading center and prosperous city between Tibet and southern planes, Kathmandu boosts hundreds of monuments. We will visit two ancient towns of Patan and Bhaktapur and later drive to Nagarkot hill station.
Day 03 : Kathmandu sightseeing
Enjoy the morning view of Himalayas and drive back to Kathmandu. Visit Pashupatinath, Boudhanath, Swyambhunath and Kathmandu durbar square. Pack for next day's departure to Tibet.
Day 04 : Fly to Gongar Airport | Drive to Lhasa (3,570m)
Drive 1 hr to the Kathmandu airport and fly to Gongar airport, 62 km southwest of Lhasa. The one hour flight accross the Himalaya is spectacular with the view of world's highest peaks. From the Gongar airport it is about 40 mints drive to Lhasa. We will just rest that day for acclimatization and get the feel of Lhasa.
Day 05 - 06 : Lhasa sightseeing
In these two days, we will visit Potala Palace, Jokhang Temple, Barkhor Market, Drepung Monastery and Sera Monastery. Lhasa is now a fascinating modern city. There are many wonderful things to see and do around Lhasa, which help, tell the story of Tibet's unique past and the intertwining of religion with history. Most of the holy temples retain magic and mysticism and demonstrate the absolute faith in Tibetan Buddhism so integral to the character of the Tibetan people.
Day 07 : Fly back to Kathmandu | Easy afternoon
In the early morning drive to the Airport and fly back to Kathmandu. In the evening walk through the colorful markets of Old Kathmandu and discover the medieval hidden courtyards full of cultural life.
Day 08 : Final Departure
Package Includes :
- Tibet Visa, travel permit, entry fees
- Accommodation with breakfast (Hotel as per request)
- Lhasa and Kathmandu Tour with English speaking guide
- All ground transportation by private car
Package Excludes :
- Lunch and Dinner
- Bottled drinks and beverages
- Photography charges at the monasteries and sightseeing spots
- Any type of insurances