Nepal Holiday with us:
Support local company.
Expertise over 20 years.
Cost effective Treks.
Cultural immersion experience.
High quality services.
Eco friendly & sustainable practices.
---
January Tour Review
Well looked after and a great holiday!
I, along with my wife arranged a 10 day ­holiday in Nepal with Rabi in January 2018. Our tour included Kathmandu, Chitwan, Pokhara and Bandipur with all surrounding attractions.
Rabi was very prompt in replying and sending itineraries to suit our needs. He was so good in looking after our comforts in our hotels. He made sure to visit us everyday while we were in Kathmandu and even accompanied us as guide in Kathmandu and in Bandipur. He was very polite and got an in depth knowledge of everything about the history. We did not have enough time and energy to go around to all the places he intended to take us around.
- SelvaSan - Australia
Short Everest Trek 8 days
Best for August & January
If you are limited with time and still want to get the feel of Sherpa land, this trek is for you. Since the trek starts with flight to Lukla at 2,800 m, the trek avoids humid and hot climate of Summer. A short trek of 5 days could be planned based in comfortable Hotels (luxury trek).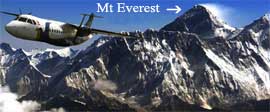 Everest sightseeing Flight
The 1 hr. fixed wing Himalayan sightseeing flight is the best way to see
Mt Everest
and other peaks east of Kathmandu.
USD 250 230 till September
Window Seat
Everest View
Airport

Adventure in Pokhara
Pokhara provides ground for adventure sports. Try the World's most extreme
Zip Flyer
. Accelerate down 2,000 ft with speed of 140 KMH. Make your free flying dream comes true by paragliding or get close to mysterious Himalayan peaks with Ultra light flights. All in perfect natural setting of Himalayas and turquoise lake.
More >
Only USD 280 !
Helicopter tour of
Annapurna Base Camp
Annapurna Heli Tour
Treks for August & January
The mountainous landscape of Nepal with Himalayan frontier provides perfect ground for dreamlike trekking. Check out other short treks in the Himalayas of Nepal.
Gentle walking holiday in Nepal w/ comfortable stay
Nepal walking tour is for those looking for gentle walking holiday with comfortable stay in the foothills of the Himalayas with exotic cultural experience and Himalayan scenery.
Read More
'Nepal tour for
Christmas and New Year 2024'. Nepal Tour and treks recommended for December and January.
Best Nepal tour and trek for Chinese New Year 2024 holiday. Watch the new year sunrise from Pun Hill (3,200 m) or enjoy the wildlife and nature with camp fire and babeque dinner.
An article with Nepal travel tips and best things to do in winter months of January and February.