Nepal Tour special with rafting & short trek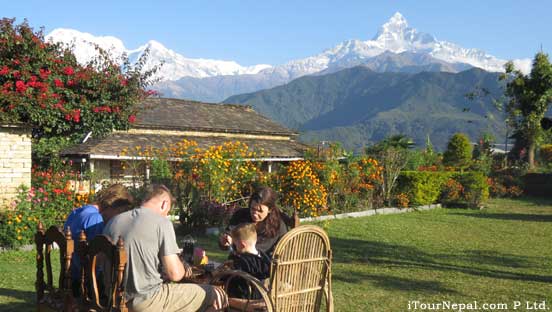 This active holiday in Nepal is also a Nepal Sampler Tour, offering short trek, White water rafting and wildlife safari in Chitwan with comfortable stay. This Nepal tour package allows you to go beyond Kathmandu or Pokhara and enjoy the gentle adventures that Nepal is popular for. Trek and Rafting is organized based in deluxe lodge and resort in the pristine countryside.
Rafting and trekking could be customized to fit your level of adventure and available time.
Highlights of Nepal tour special
Nepal sampler tour with short trek and White water rafting.
Cultural and heritage sightseeing of Kathmandu and Pokhara.
White water rfting and river fun with choice of camping / Resort in Seti River
Chitwan National park Jungle safari package.
Short trekking in foothills of Himalayas
Customized trek & rafting to fit your level of fitness, budget & interest.
Duration : 14 days Nepal Tour
Season : Sept - May
Grade : Moderate
Transport : Private car & Flight

Nepal Tour special itinerary
DAY 01: KATHMANDU ARRIVAL
Our represent will receive you at the Kathmandu airport.

DAY 02: KATHMANDU SIGHTSEEING
Your guide will come with a private car next morning for local sightseeing. A government licensed, friendly and expert tour guide will make your day exciting as you stroll through its medieval neighborhood jagged with artistic temples, Stupas, monasteries, pavilions and palace buildings. Kathmandu has got seven groups of monuments which together make Kathmandu a UNESCO heritage site. We will visit Kathmandu Durbar Square, Swyambhunath, Pashupatinath and Boudhanath on the day.
More about Kathmandu sightseeing >

DAY 03: FLY TO POKHARA | WALK ALONG THE PHEWA LAKESIDE
25 mints flight to Pokhara is the best way to see Himalayan peaks west of Kathmandu. The flight that takes off in the arena of Langtang (7,200m), swifts along Ganesh Himal (7,400m)and Manaslu (8,163m) ranges before it lands in Pokhara in the foothill Annapurna. Walk along the Phewa lakeside market full of colorful souvenirs. In the evening take a boat trip in Phewa lake for beautiful sunset view over the Annapurna Himalayas.
Day 04 - 06: Short easy trek in foothills of Annapurna
Short and easy trek around Sarangkot, Australian camp, Dhampus and Astam will be organized as per your fitness and interest. This is an introduction to Himlayan trekking. The tour could be customized with short trek to
Ghorepani / Pun Hill
also.
Trek Details
DAY 04: DRIVE TO NAUDANDA & TREK TO AUSTRALIAN CAMP
After breakfast we will drive 40 mints to Naudanda. The scenic drive offers beautiful view of the countryside with Annapurna in the backdrop. Climb to Dhampus village and then to Australian camp for night's halt. 'Australian camp' at 2,000 m is a small village in the clearing of the forest overlooking at Annapurna range.
DAY 05: SUNRISE VIEW & TREK TO ASTAM VILLAGE
Catch up the phantasmagoria of lights over the Himalayan peaks in the morning. Trek down to Dhampus village and follow the ridge to Astam village. The day's walk is beautiful as we follow the ridge with view on the either side. We will stay in 'Annapurna Eco village lodge' and enjoy the sustainable village life for rest of the afternoon.
Day 06: Trek back to the trail head and drive back to Pokhara.
DAY 07: POKHARA TOUR
Pokhara exploration includes drive to several scenic view points and historic and cultural points. Your exploration sites will be designed according to your preference.
Sightseeing Points: International Mountain Museum, Sarangkot Sunrise View, Devi's Fall, Tibetan Refugee Camp, World Peace Stupa More about Pokhara >
Day 08 - 09: Seti River Rafting / Drive to Chitwan
Grade: I - III
Distance: 32 km
The Seti is an ideal 2 days trip in an isolated region and perfect for family trips. From Pokhara, we will drive 1 and half hour to Damauli, our put in point. After the rafts are rigged we will set off down the Seti Khola. We spend the whole day within its forested canyon. Evening shelter will be in the tented camp in one of the pristine beach of Seti. The second day trip ends in the afternoon with an exciting grade III rapid. From the take out point at Gaighat, we will drive to Chitwan.
Trek Details
Seti is a really unique, pleasant and picturesque river passing through two beautiful and contrasting scenic areas. Relatively small volume, blue and warm water makes Seti a perfect rafting for beginners, intermediate and family. Seti rises on the southeast slopes of the sacred Mountain Fishtail and then flows to south, as a fairly typical Nepalese mountain river.
Itinerary
Day 01: Drive 2 hrs to Damauli rafting put in point after breakfast. After the rafts are rigged we will set off down the Seti Khola. We spend the whole day within its forested canyon. The luxuriant vegetation we see is a remnant of the vast forested area, which once covered the middle hills of Nepal. Even now we are objects of curiosity to the villagers. Traveling by rafts is a perfect way to view undisturbed wildlife. When we stop for lunch we have time to explore, Photograph, bird watching, swim or relax. Later in the afternoon we encounter a small but technical rapid near the village of Saranghat. Inhabited by Magars, who are renowned for generations of service with the Gurkha forces Saranghat, is a colorful middle hills village. Our first night we will set up camp on a spacious beach below the village.
Day 02: After we have finished breakfast and repacked the raft, we will set off down the Seti.. Later we encounter the technical rapid grade 3 shortly after the rapid we leave Seti Khola and enter Trisuli River. Here the middle hills recede and the Terai plain opens before us. The Topography has changed dramatically. The twisted severe rock formations give away to sandstone and gavel deposited by antecedent rivers. After lunch we have opportunity to visit a unique religious community , Devhgat . Each Year thousands of pilgrims visit the ashram to worship. At this point Kali Gandaki joins the Trisuli River. The river now becomes the Narayani River. We float further down to a small town Narayanghat. Where we end our River trip.
DAY 10-11: CHITWAN JUNGLE SAFARI | TRANSFER TO KATHMANDU
Chitwan National Park is enlisted as Natural World Heritage Site by UNESCO. With most illusive Royal Bengal Tiger, Asian Elephant and 8% of the world bird species, Chitwan is famous for wide range of wildlife.
A carefully chosen accommodation perfectly camouflage with the surroundings. Modern luxury modeled in a native style makes you feel homely comfortable amid awkward wilderness. Scheduled activities of elephant back safari, crocodile-hunt in a canoe, guided jungle walk, bird watching, elephant bath and a culture show are all full of excitement.
On the 11th, we will drive or fly back to Kathmandu
DAY 12: BHAKTAPUR SIGHTSEEING | OVERNIGHT IN NAGARKOT
The medieval town of Bhaktapur is another World Heritage Site rated by UNESCO for its medieval appearance. Walking through Bhaktapur is like walking back in time, for which it is known as the 'Living Museum'. Drive to the Nagarkot hillstation at 2,000 m overlooking at the Eastern Himalayas and sweeping valleys.
Day 13: PATAN TOUR | OVERNIGHT IN KATHMANDU

Start your day with a beautiful sunrise over the eastern Himalayas including Mt Everest. After breakfast drive down to Patan. Patan is the oldest Buddhist city in the world. Explore excelent of its over 250 Newari monasteries some over 1,000 years old. Visit the exquisite medieval architectures at Patan Durbar Square.

DAY 14: DRIVE TO THE AIRPORT FOR FINAL DEPARTURE
Nepal Tour with us:
Expertise over 20 years.
Cost effective Tours.
High quality services.
Customer friendly & flexible booking policies.
Eco friendly & sustainable practices. About us >

Heritage Tour 14 days
Sagarmatha (Everest) National Park, medieval monuments of Kathmandu, Chitwan National Park and Lumbini - the birth place of Buddha in Nepal are listed by UNESCO as World Heritage sites. Tour UNESCO sites of Nepal >
Must to do & stay in Nepal >
All Nepal Tour 12 Days
Nepal Road Trip (custom make)
Drive through the scenic countryside of the Himalayan foothills stopping at surreal hill stations. The tour that gives more insights of the Nepal.
All Nepal Tour >
Nepal walking holiday
Gentle walking holiday in Nepal with comfortable stay
Nepal walking tour is for those looking for gentle walking holiday with relaxing stay in the foothills of the Himalayas with exotic cultural experience and Himalayan scenery.
Details >
Optional Activities
Only USD 350 !
Helicopter tour of
Annapurna Base Camp
Details >
Hiking around Pokhara
Pokhara is the base for beautiful hiking in the foothills of the Annapurna. Short hiking could be planned for a day or two with overnight stay in the mountain resort. Check >
Everest sightseeing
One hour flight to Mt. Everest leaves every morning from Kathmandu. This is the best way of capturing 5 out of top 10 highest mountains in the World including Mt. Everest.
More >
Chitwan National Park is home to many endangered mammals including one horned rhinoceros.
Kathmandu - Lhasa Tour
Combine this tour with 3 nights 4 days Lhasa Tour starting and ending in Kathmandu, Nepal.
Kathmandu - Lhasa Tour >
Short treks
The foothills of Himalaya provide beautiful short and easy treks and day hikes starting from either Pokhara or kathmandu.
short easy treks >
Day Rafting on the Way
On the way to Chitwan, you can get the experience of White Water Rafting. Trishuli is best river for both beginner and intermediate.
More >