Lumbini Tour
Buddhist circuit tour of Lumbini, Kapilavastu & Ramgram
Lumbini tour could be organized as a day trip from Kathmandu or a 4 days Lumbini Buddhist circuit tour visiting the most important sites related to Buddha. A Lumbini day trip visits the 6 by 2 km area developed under master plan, which nestles Mayadevi temple – the exact birthplace of Buddha, monastic zone and Lumbini tourist village.
Best tour to understand Buddha, his life and the living Buddhist heritage while in Nepal.
The 'Lumbini Buddhist Circuit Tour' is a visual aid to the life of Buddha and development of Buddhism. While it is a pilgrimage tour on one hand, on the other hand it displays the great archaeological triumph of mankind. There are 62 archaeological sites in Lumbini region, which marks different events in Buddha's life.
The 4 days Lumbini tour includes visit of Lumbini development zone, Kapilavastu ( Tilaurakot palace where Buddha spent 29 years as prince Siddhartha), Kudan (first monastery built to house Buddha and his followers), Ramagram stupa (Only unearthed early Buddha relic stupa), Sagarhawa and other important sites related with Buddha.
Customize Lumibni tour as a day trip by flight from Kathmandu and Pokhara or combine with tour of Pokhara and Chitwan. Request ?
Private vehicle for the round trip
3 nights accommodation with breakfast and taxes included.
Guided tour with all enrance fees included.
Duration : 3 nights 4 days
Type : heritage and culture

Lumbini in November and winter
Lumbini could be visited throughout Autumn and winter months. With moderate temperature (28 - 10 °C), and crisp sky, November and December are the best months to visit Lumbini. Temperature may drop down to 8 °C in January but days are mostly dry and sunny. Mists may disrupt flights in winter. But the driving tour goes undisputed. November till April are the peak tourist season for visiting Lumbini and other Buddhist pilgrimage sites.
Vesak day 2023
Visit Lumbini for the Buddha Purnima or Vesak day 2023 celebration. This is the day when Buddha was born, enlightened and attended Mahaparinirvana. Vesak  2023 is celebrated on April 8. The 4 day Lumbini tour is a great way of honoring Buddha, understanding Buddha's life and Buddhism. Spend time in the monastic zone praying and renew your determination to pursue teachings.
Arranged a tour in Lumbini, Kathmandu including a Mountain Flight to Everest. Rabi was ever so helpful in organising the tour to suit my requirement as I was on an official tour. ...
Lumbini Tour Itinerary
Day 01: Fly or drive to Lumbini
Flight from Kathmandu to Bhairahawa takes 35 mints and from there it is 30 mints drive to Lumbini. One can also drive to Lumbini (321 km / 8 hrs) from Kathmandu. Overnight in Hotel
Day 02: Breakfast | Lumbini Tour
The UNESCO World heritage site of Lumbini is developed under master plan in the area of 6 Km x 2 km. We will start our tour from the 'New Tourist village and visit the World peace pagoda and museum. This is also the pilgrimage concept of the master plan to introduce Buddhism and purify the mind through the monastic zone. Monasteries of Mahayana and Theravada Buddhism are spread across the cannon. Finally visit the Mayadevi temple protecting the 'Marker Stone', Statue of nativity scene and ruins of old temple walls dating from 3rd BC to 12 AD. Asoka pillar still displays the inscriptions explaining his visit to the birth place of Buddha.
Day 03: Religious and archaeological sites of Kapilavastu
Drive and visit religious and archaeological sites of Tilaurakot, Gotihawa, Kudan, Niglihara and Sagarhawa. Tilaurakot is the ancient Kapilavastu - the capital of Shakyas, where Buddha spent his first 29 years. Kudan was where Buddha was received by his father after his access to enlightenment. King Suddhodana specially built the Kudan (Nigrodharma Park) for the accommodation of the Buddha and his followers. Gotihawa is the birth place of Krakuchanda Buddha. Niglihawa is where Kanakmuni Buddha was born. Sagarhawa is the archaeological findings as "place of the massacre of the Shakyas". Overnight in Lumbini
Day 04: Devdaha - Ramgram - back to Kathmandu
Drive and visit religious and archaeological sites at Devdaha and Ramagram. Devdaha is the ancient capital of the Koliya kingdom. It is the maternal hometown of Queen Mayadevi (mother), Prajapati Gautami (stepmother), Princess Yasodhara (consort) and where Prince Siddhartha had spent his childhood. Ramgrama is the brick mound on the bank of the Jharahi River. It is a seven meter high brick stupa consisting of relics (one of the eight astha dhatu) of Lord Buddha. The Stupa was built by the king of Ramgrama, who was the eighth king to obtain the Buddha's relics.
---
Blog :
Highlights of Lumbini tour w/ pictures
---
Lumbini Buddhist circuit tour map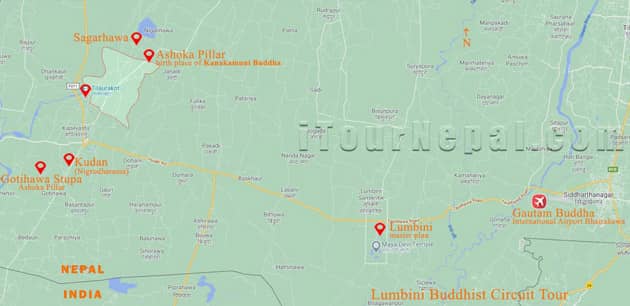 Buddhist Pilgrimage tour of Nepal
10 days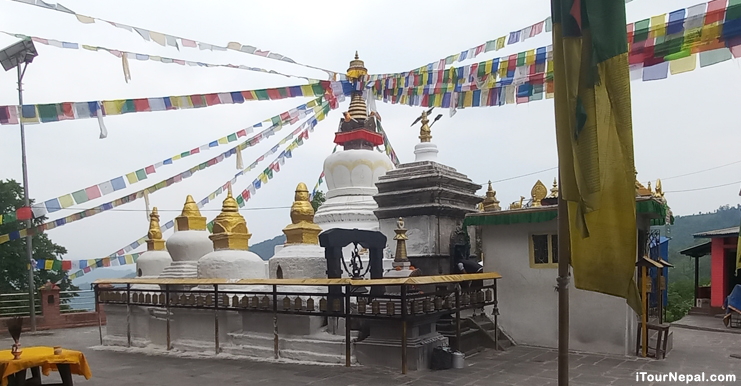 For hundreds of years Nepal became safe haven for Buddhist practices while India was going through conflict. Kathmandu became the center of Vajrayana practices and many teachers including Padmashambhava went to Tibet via Kathmandu. Buddhist pilgrimage tour of Nepal focus on visit to meditation caves of Padmashambhava, Milarepa, tour of Lumbini and other Buddhist monuments.
Buddhist pilgrimage tour of Nepal
Buddhist tour of Nepal and India
12 days from Varanasi, India to Kathmandu Nepal
It just takes 12 days to visit four Buddhist power places scattered in India and Nepal. Fly to Varanasi, India and then drive visiting the Buddhist pilgrimage sites of Sarnath (first sermon), Boudhgaya (place of Buddha's enlightenment), Kushinagar (Mahaparinirvana) and finally drive to Nepal and visit Lumbini (birthplace) ending the tour with visits of Buddhist sites of Kathmandu.