Nepal Overland Tour
Kathmandu - Pokhara - Tansen - Lumbini -
Chitwan - Daman
More
News from the Himalayas
Tiger population up in Nepal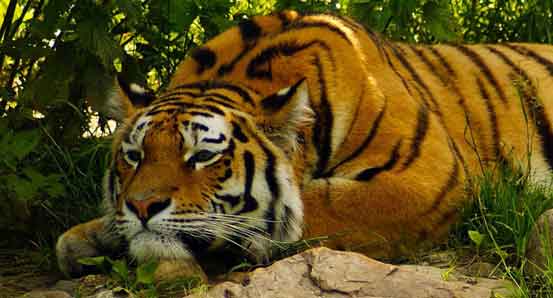 5th 'World Tiger Day' was celebrated in Kathmandu on 29th July.
According to the report pulbished, Tiger population increased by 63% since 2009. 198 Tigers were counted in last census. The number increased from 212 in 2010. Of the 198 tigers, 120 are in Chitwan National Park, 50 in Bardiya National Park, 17 in Shukla Phanta Wildlife Reserve, seven in Parsa Wildlife Reserve and four in Banke National Park. The Bardiya National Park is one of the best wild reserves for the endangered big cats.
Nepal had signed 'St Petersburg Declaration on Tiger Conservation' with comitment to double the Tiger population by 2022. The global Tiger population has been reduced to 3,000 from 1,00,000 in last century. India has seen 30% increases in Tiger numbers since 2010.
The conservationists said that the initiative taken to make their participation and investment of revenue from tourism made it possible. Earlier, Tiger fear made some people even support poachers. In last few years, conservationists worked with people, built electronic fence, worked on increasing employment and revenue through tourism and gave bigger portion of the revenue to locals.
In another report, Experts from conservation group WWF has sighted China as herald in conservation of Tigers in Asia. Tiger parts are considered as status symbol and also used in traditional medicine in China.
Aftermath of Nepal earthquake
A 7.8 Richter scale earthquake rocked Kathmandu, Gorkha and surrounding districts on 25th April, causing massive destruction.With the big aftershock of 7.1 Rhicter scale on May 12 and subsequent tremor over over three weeks, death tools have reached over 8,600. About 1 million people fled Kathmandu in fear of epidemic and shortage of essentials.
The earthquake also triggered avalanches in Everest and Langtang ranges of the Himalaya causing deaths of hundreds of foreign mountaineers, trekkers and locals. 18 mountaineers were killed at Everest base camp including Google man Dan Fredinburg, from California who was climbing Mt Everest for Google mapping. Expeditions to the summit have been cancelled for this spring season because of aftershocks and damage of routs to the summit.
Similarly avalanche in Langtang village swept away 65 lodges. 100 bodies of foreigners and locals have been recovered by rescue team. Search and rescue started later in the area because of bad weather after the earthquake. 120 more are still worried to be missing in the area.
The satellite view has discovered that Kathmandu was lifted by 1 meter and Mt Everest shrank by 1 inch after the earthquake.
18th SAARC Summit in Nepal

18th South Asian Association for Regional Cooperation (SAARC) begun in Kathmandu on 26th Nov with theme – Deeper Integration for Peace and Prosperity. The summit is aimed to discuss on regional poverty elevation, tackling terrorism and reduce impacts of climate change, transnational crimes and human trafficking.
Delegates are supposed to visit hill station town of Dhulikhel for retreat on 27th while their first ladies with visit the medieval town of Bhaktapur.
The SAARC summit has positive impacts on environment of Kathmandu. Roads and public places are cleaner. Daily garbage collection had reduced to 100 metric tons from 450 - 500 metric tons.
6th Cnetury BC timber shrine
Timber shrine dating back to 6th century BC has been discovered underneath the Mayadevi temple at Lumbini. The shrine is of the form Ashokan temple featuring an open area for a tree to grow. This might have been enshrined the tree where Buddha was born.
This has shed more lights on Buddha's existence and spread of his teachings in 6th century BC. May scholars thought that Buddha lived in around 4th Century. The present Mayadevi temple enshrines marker stone with 7 - 13 century ruins of Mayadevi temple.

Pre-Ashokan settlement found in Lumbini
Recent excavations in Lumbini have unveiled pre-Ashokan village and shrine proving the history of the region being older than Indian Emperor Ashoka's visit. Ruins of a thriving village with brick shrine dating back to 1,300 BC was discovered just few hundred meter south of the birth place of Buddha.
"For the first time in South Asia, excavations have revealed a pre-Ashokan temple of brick, which itself was built over a wooden structure," revealed Prof Robin Coningham of Durham University in UK, who co-directed a team of Nepali and international experts together with Kosh Prasad Acharya, at a press conference in Kathmandu.
Until now, the earliest Buddhist temples have been attributed to Emperor Ashoka, who built a pillar and a brick temple in Lumbini in third century BC in his endeavour to spread Buddhism across the region.
"These two discoveries are giant steps, which help us to better understand the origins of Lord Buddha's life and the spiritual importance of Lumbini," says Acharya Karma Sango Sherpa, the vice-chair the Lumbini Development Trust that looks after the preservation and management of the site.

The 2256th birth anniversary of Gautam Buddha was celebrated all over Nepal on 25th May organizing various programs. Buddhists and non-Buddhists across the country throng around the monasteries in Lumbini, Boudhanath, Swyambhunath and other Buddhists sites offering prayers, chanting hymns and lighting butter lamps to spread message of peace and harmony. Buddha Jayanti is celebrated on the full moon day in the Nepali month of Biashakh Sukla Purnima when he was born, attended enlightenment and died. Buddhists throughout the world celebrated the day paying obeisance to Buddha.
On the occasion of Buddha Jayangi, President Ram Baran Yadav extended his wishes to all Buddhists and Nepalese people emphasizing that the message of nonviolence and peace spread by Buddha is more relevant present context. He also argued everyone to establish peace and brotherhood.
Similarly Buddha Jayanti was also celebrated by Nepal's embassy in Bangkok together with the Nepali diaspora in Bangkok, who also marked "International vesak day" at Lumbini Park.
Check Lumbini Buddhist Circuit Tour of Kudan, Kapilavasty, Ramagram and more.L
lumbini Tour >
2011 a success in Rhino Conservation

Nepal is now home of 534 rhinos
21 Feb 2013
A rhino has been found dead in Chitwan National Park. However it is not clear if it was killed by poachers. Horn has been missing from the carcass.
Rhino poaching illegal horn trade was in its peak in last 20 years threatening the existence of the species at risk, according to the fresh report by the International Union for Conservation of Nature (IUCN) and Traffic, a wildlife trade monitoring network. The report however lauds the conservation efforts in Nepal and India with an increased no of Asian single horned Rhinoceros.
2011 turned a success for conservationist as not a single case of rhino poaching was reported. Nepal is now home to 534 rhinos, up from 435 in 2008, according to a 2011 census.
According to authorities the increase in no of rhinos is the result of intensive effort to preserve them in wild. Chitwan National Park is a major reserve of the endangered species, which has 408 out of 534 rhinos in Nepal.
Rhino conservation in Nepal and India is satisfactory as there are parallel conservation efforts being made in spite of poaching. But the situation of the world's two rarest rhino species - the Sumatran rhino and the Javan rhino—found in Indonesia and Malaysia, remains serious.
The report, compiled by IUCN's African and Asian Rhino Specialist Groups and Traffic and made public in Gland, Switzerland, on Tuesday, states that escalating levels of poaching and the illegal trade of rhino horns is threatening to reverse years of conservation efforts, particularly in Africa.
Dalai Lama's Reincarnation
Dalai Lama's reincarnation has been hot issues recently as his highness wished to abandon the reincarnation. Karmapa, the third highest Tibetan Buddhism's religious head said that it is up to Dalai Lama to decide whether he will be reborn. In the interview with Radio Free Aisa, he also added that the don't talk much about the reincarnation of a living master in Tibetan tradition. Both Dalai Lama and Karma Pa are living in exile in India. Chinese officials have been emphasizing that Dalai Lama had no right to discard the reincarnation. "However, now many questions are being generated. In my view, it is only the Dalai Lama himself who should decide about his future reincarnation. So I am confident and have full trust in his decision. There are many presumptive statements and guess works, but I am not worried," he said. Karmapa is the most renowned Lama to have fled Tibet after the Chinese occupancy in 1950s. Karmapa fled to India via Mustang of Nepal in 2000. Tibetan Buddhism holds that the soul of a senior lama is reincarnated in the body of a child on his death. Historically China has been conferring these titles to the reincarnation. China says the tradition must continue and it must approve the next Dalai Lama. However the Nobel peace laureate, who fled his homeland in 1959 after an abortive uprising against Chinese rule, has said he thinks the title could end when he dies. Tibet's China-appointed governor last month accused the Dalai Lama of blasphemy for doubting reincarnation. Tibetans fear that China will use the issue of the Dalai Lama's religious succession to split Tibetan Buddhism, with one new Dalai Lama named by exiles and one by China after his death. In 1995, after the Dalai Lama named a boy in Tibet as the reincarnation of the previous Panchen Lama, the second highest figure in Tibetan Buddhism, China put the boy under house arrest and installed another in his place. Many Tibetans spurn the Chinese-appointed Panchen Lama as a fake.
Kapilvastu excavation - silver coins found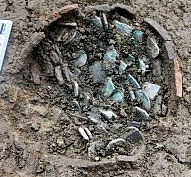 Team of archeologists have found 494 ancient coins in an excavation of Tilaurakot, the Shakya capital where Buddha spent his early 29 years as prince Siddhartha Gautam. The 'punch mark' silver coins of square and circular shapes are believed to be used during 800 - 200 BC.
The two months long project started on Jan 8th recovered the coins on 18th. The earthen pot of 50 cm height and 15 cm diameter was buried 1 meter under the surface. The meticulous job of recovering coins following rules and norms of archeology took 3 days. 491 coins were found inside and three others we found scattered outside.
The excavation was done at the site in Tilaurakot, where remains of an ancient Bihar was found last in geo-phycical survey. The report of the survey confirmed the remains of ancient city underneath, catching the attention of world archeologists.
14th Shamarpa's cremation in Nepal
The 14th Shamar Rinpoche's mortal remains (Kudung) was finally cremated at the Shar Minub monastery in Ishangunarayan. His Holiness the 17th Karmapa Trinlay Thaye Dorje supervised the cremation ceremony (Purjang).
Devotees in thousands visited the monastery at Sharminub Foundation established by Shamar Rimpoche. Inside the Foundation premises are tents, toilets, kitchens and other logistics arranged for visitors for the big gathering. Atop the main building of the monastery, was a crematorium where the cremation ceremony (Purjang) was initiated amid prayers offered by hundreds of monks.
Shamar Rinpoche was the second-highest Karma Kagyu leader and one of the most important personalities in the Himalayas and for modern Buddhism worldwide, due to his widely recognized spiritual realization and broad range of academic and humanitarian activities.
The 14th Kunzig Shamar rinpoche, Mepham Chokyi Lodro, passed away in Germany on June 11. His body was kept for traditional ceremonies in Europe, India and Bhutan before arriving in Kathmandu, Nepal on July 30. The late Shamarpa wished to have his last rites performed in the country where Lord Buddha was born.
The body of the 14th Shamarpa (Mipham Chokyi Lodro) was finally brought to Kathmandu from Bhutan. The body arrived by the Charter flight of Druk air in the evening of 30 July.
Click for full News >
Human Rights Watch urged Nepal's government to protect the rights of its Tibetan residents including their freedom of expression and assembly. It also urged China not to pressure Nepal to take actions "that are in contradiction with international human rights and refugee law."
Nepal is home to about 20,000 Tibetan refugees and has long played a crucial role as a haven and gateway for Tibetans fleeing repression in China. In 2008, China responded to large-scale popular protests on the Tibetan plateau by initiating a sustained crackdown, ramping up efforts to prevent Tibetans from escaping to Nepal, and increasing efforts to silence Tibetan communities abroad, in particular in Nepal. In 2013, fewer than 200 Tibetans were recorded as having fled China, as compared to a pre-2008 annual average of more than 2,000.
"The situation for the Tibetan refugee community in Nepal has markedly deteriorated since China's violent crackdown on protests in Tibet in 2008," said Brad Adams, Asia director at Human Rights Watch. "While Nepal continues to offer some protections to Tibetans, it is succumbing to Chinese pressure to limit the flow of Tibetans across the border and imposing restrictions on Tibetans in violation of its legal obligations."
Under the terms of a "Gentleman's Agreement" between the government of Nepal and the office of the United Nations' High Commissioner for Refugees (UNHCR), Nepal guarantees Tibetans who reach its territory safe passage to India, where they can obtain refugee status. International law prohibits Nepal from forcibly repatriating Tibetan refugees because they would be at risk of torture or persecution in China.
Nepal gov condemned the report saying it was ill founded, provocative and malicious. The ministery of Foreign Affairs said that it was unnecessary meddling into the friendly relationships between Nepal and China. MoFA stated that Nepal was neither a party to 1951 Convention relating to the Statues of Refugees nor its 1967 Protocal. However Nepal is hosting refugees on humanitarian ground despite its own socioeconomic situation that doesn't allow the country to take up an additional burden of refugees.
Best of Himalayas
'Nepal Tibet Bhutan Tour' - 21 days
* Kathmandu Chitwan Pokhara-Nepal
* Paro Thimphu & Punakha - Bhutan
* Kathmandu - Lhasa overland tour
* Everest North Base Camp
[Click]
One dies of altitude in Pisang, Annapurna
A Nepali asisting Italian tourists around Annapurna circuit dies of altitude sickness on April 2nd. Gopilal Praja of Gorkha was sent back alone from Yak Kharka, Manang after he fall sick with altitude. His body was taken to district hospital Chame for post-mortem. Represent of Trekking Association of Nepal (TAN) had reached Chame ot collect the body.
Tiger count in Shuklaphanta
The first phase of the Royal Bengal Tiger counting has been completed in the Shuklaphanta Wildlife Reserve, Kanchanpur. Counting of big cats was conducted in Barkaul area using 88 cameras. The counting will last for two more weeks. Last year's count recorded 17 Tigers in Shuklaphanta. Authorities at the reserve expect rise in the number of Tiger this year. Recent counting found 198 Tigers across the country. The number has increased from 121 in 2009. Chitwan national park in central Nepal has the highest number of adult tigers, with 120, followed by Bardiya national park (50) and Shukla Phanta wildlife reserve (17). Nepal has pledged to double its population of wild tigers by 2022.
Land caves in, Pokhara
The sudden sink holes in Armala village of Pokhara have displaced as many as 17 families and risked 50 buildings. The lands cave in continuous even after the effort of draining out the water from the settlement. Geologists have sought the hazardous construction on the natural path of a seasonal stream. "The stream flows through the village and it remains dry throughout the year except in rainy the season. Taking advantage of the course of the stream, villagers constructed tall buildings, and in some cases, they even disrupted the natural course of the stream by erecting buildings," said Lila Nath Rimal, a geologist at the Department of Geology. The geologists have also found that the authorities concerned, too, obstructed the natural flow of the stream by raising its bed surface level by three meters to construct a black-topped road along the village. It also loosened soil on the banks of the stream speeding up the disaster. Big holes have surfaced under many houses and plain lands, some of them up to 15 feet deep. Importantly, the holes have developed only on the periphery of the seasonal stream. To avert any untoward incident, the government should immediately take initiatives to provide an outlet to water flowing beneath the surface, suggested the geologists. They warned that larger span of land could subside if the authorities concerned do not act swiftly. A report prepared by the geology department in 1998 had concluded that the area is not safe for human settlement. The department had also urged the local authorities not to allow the local residents to construct more than one-story buildings in the area. Locals turned a deaf ear to the advice and went on to erect up to three-story buildings.

Pokhara got the title of the cleanest city in Nepal 2013 on the occasion of World environment Day.  The Solid Waste Management Technical Support Center, under the Ministry for Urban Development placed Pokhara at the first, Dharan in second and Tansen in the third cleanest cities in Nepal.
Pokhara has taken timely initiation of banning black plastics, garbage collection and management.  Waste management, sewage system, community mobilization in sanitation, environment-friendly infrastructure, tree plantation and private public partnership on environment sanitation were among the criteria used to declare Pokhara the cleanest city. According to officials Pokhara has made more progress than other cities in the above criteria.
In yet another news, Pokhara is all set to generate power from city's garbage. Officials at sub-metropolis said they have already started environmental impact assessment study of the project that will have duel benefit of providing environmental sanitation and power at the same time.
A Tibetan monk having a highest profile to success the Dalai Lama is to be prosecuted for money laundering.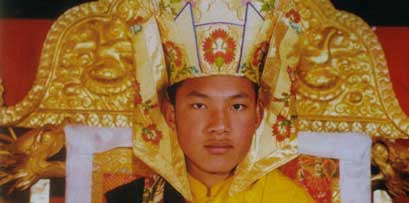 High court at Himachal Pradesh overturned a decision to drop charges and issued an order for authorities to open criminal proceedings against Karmapa Urgyen Trinley over the recovery of around $ 1 million in foreign currency during a raid on his Buddhist monastery in January 2011.
Stacks of bank notes of 26 different currencies were recovered from Karmapa's monastery in Dharamshala. The monastery was raided after the tip off from two people who were pulled over by police in a car containing large amounts of cash. During interrogations, the pair said the money was meant for a land deal involving a trust headed by Trinley.
However, Karmapa has denied any misconduct and involvement in any land deals. He further said that the bank notes were donations from devotees gathered over the years. Trinley's spokesman, Kunzang Chungyalpa, said the lama had great faith in India's judicial system. "He strongly believes truth will prevail at the end."
Karmapa now 30 is the head of Karma Kagyu lineage of Tibetan Buddhism. He was recognized as 17th reincarnation of the Karmapa Lama both by China and the Dalai Lama. He fled Tibet at the age of 14 via Mustang region of Nepal and reached Indian after eight days journey on foot and horseback.
He is seen as having the highest profile of an array of young lamas who could succeed the 80-year-old Dalai Lama. Their appearances together have increased speculation he is being groomed as the Nobel peace laureate's spiritual successor.


Nepal – safe destination in South Asia
The Global Peace Index has reported Nepal as the safe place to live and visit in South Asia after Bhutan. According to the report the peace indicators are in improving trend. The GPI Report of 2014 positioned Nepal at 76th from 80th position in 2013 and 82nd in 2012. While Bhutan is positioned 16th, Bangladesh is in 98th, Sri Lanka 105th and India in 143rd in the index. The report had ranked Pakistan in 154th position as the world's ninth most unstable country.
Nepal is relatively peaceful in the world than the USA (101st) and China (108th).
Global Peace Index Report is published by the Australia based Institute for Economics and Peace, the world's leading measure of national peacefulness.
8 days Nepal Tour
Chitwan Pokhara and Kathmandu Check>
Hollywood actress Selena Gomez in Nepal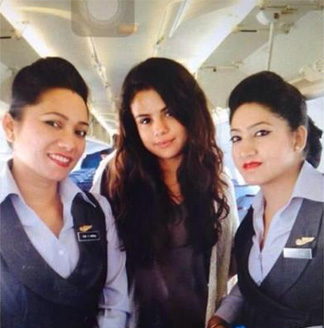 Selena Gomez with Buddha Air Air hosetess.
Check domestic flights

Kathmandu, Pokhara, Chitwan
and more.
Check >
Hollywood actress and singer Selena Gomez was spotted in Nepal. It is said that she was on official visit to Nepal as UNICEF's mission. She is the youngest UNICEF's Goodwill  Ambassador.  Her visit was kept secret and no official or media report was available until Thursday, 23 May 2014. The news spread as her fans uploaded her pictures of flight with Buddha Air and participating in school program in Dang. It is said that she will be in Nepal until Friday. She was staying at Dwarika's Hotel in Battisputali.
Slena Gomez participating in school program in Dang.
Slena Gomez with Tharu girls.
Lumbini World Peace City
Korean team of architects has purposed Master plan for Lumbini World Peace City. The new master plan spans the area of 25 sq miles around the existing master plan. It purposes to develop Lumbini in five circles- Buddha Zone (sacred place) at the center, encircled by Dharma Zone and then Sangha Zone, new rural villages and upasika and upasaka zone at the outer most circles.
To give the shape of the city as lotus, in Shanga Zone eight Sanghas have been designed in the shape petal of lotus. The estimated cost of the proposed plan is US$ 762 million with the completion period of 15 years.
The objective of the plan is to honor the Outstanding Universal value of Lumbini, sustainable development of historic environment and cultural heritages and presentation of Metaphysical Foundation Templates for the use in urban design of the Lumbini Viswa Shanti nagar and creation of Lumbini as Buddhist teaching and learning city, world citizens living city, environmentally sustaining city and reflection and meditation city.
The plan addresses the problems of increasing population, industrialization and haphazard constructions in and around Lumbini. The area is fast industrializing and unplanned concrete structures are fast growing.
The first master plan was designed by world famous Japanese architect Kenzo Tange in 1978. It provided outline for preserving the ancient ruins and making the remote pilgrimage site accessible. However, its completion is still in limbo because of unstable politics, conflict among Buddhist sects and local grievances.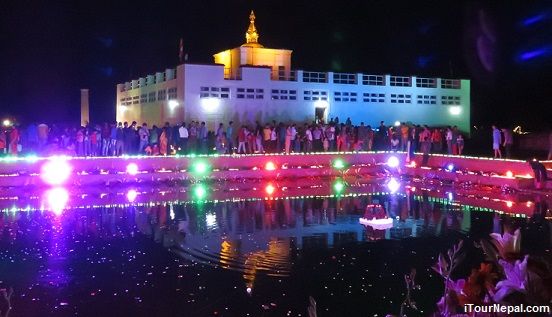 * Lumbini, Kapilavastu, Ramgram
* Maratika cave, Halesi
* Pharping and Namo Buddha

New species of cat found in Nepal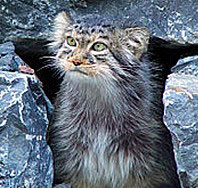 The nearly threatened Pallas' have been found for the first time in Nepal. The rare cat species, Octocolobus manul, was trapped in the camera in Upper Manang area. The cat indigenous to grassland and steep regions of Central Asia and was first found in Iran's Khojir National Park in 2008 and later in Bhutan in 2012. Since then the Pallas have been found in 15 countries. The IUCN has listed these cats under threatened category for its declining population due to hunting, habitat loss and decline in prey base.
A team comprising Coordinator of Snow Leopard Conservancy Project Bikram Shrestha, ACAP Manang Area Office Chief Sudip Adhikari and conservationist Tasi R Ghale found the new animal while conducting research on snow leopard.
The cat was named after Peter Simon Pallas, a German zoologist and botanist, who discovered it in 1776. According to a study conducted in Mongolia, these species are between 46 and 65 meters long and weigh between 2.5 to 4.5 kilos with body covered with fur. Similarly, there tails are 21-31 centimeter long and these species are found in the mountain range of 5,050 meters above sea level.
Everest View Hotel
Himalayas of Nepal have the Hotel at the highest altitude in the World
Everest View Hotel is not a new name even to those who have not visited it. The hotel has entered onto record books as the hotel in the highest altitude in the world. Situated at the altitude of 3,880 m above sea level near the Syangboche airstrip in Solukhumbu district, the hotel offers probably the best views of stunning show-capped mountain like the majestic Everest, Lhotse, Ama Dablam, Thamserku and Tawache. Established in 1972, the construction of the 12-room hotel begans at the investment of $ 1 million. Japan-born mechanical engineer Takashi Miyahara is the man who conceived the idea of construction a hotel at such a high altitude.
Warning
: include(tourpackages/Nepal-helicopter-tour.php): failed to open stream: No such file or directory in
/home/itrnpl/public_html/himalaya.php
on line
252
Warning
: include(): Failed opening 'tourpackages/Nepal-helicopter-tour.php' for inclusion (include_path='.:/usr/lib/php:/usr/local/lib/php') in
/home/itrnpl/public_html/himalaya.php
on line
252
Chitwan 2 nights 3 days safari Package >
Buddha's Relic Recovered
The Chinese archaeologists have found a very small "pagoda" -- it sounds more like an ornate reliquary shaped like a pogoda -- that allegedly contains a gold coffin bearing part of the Buddha's skull inside a silver box. Scans have confirmed there are two metal boxes inside the pagoda, but no one has opened it to look at them. Apparently the scientists will not open the pagoda until they can do so without harming the contents. There is speculation the relics were in one of the 84,000 stupas said to have been commissioned by Ashoka the Great Empire of India (304 - 232 BCE). After the Buddha's cremation, his remains were divided into eight parts and placed into eight stupas. The Emperor Ashoka opened the stupas, further divided the relics and had them enshrined in 84,000 stupas scattered throughout his empire. In the late 6th century the Emperor Wen of the Sui Dynasty had stupas built all over China as a means to unite long-divided northern and southern China, further dividing the Buddha's relics. Many other stupas have been built in China, and elsewhere in Asia, since. One suspects that if the World-Honored One were reassembled, he'd be hundreds of feet tall and have numerous heads, legs, and hooves.