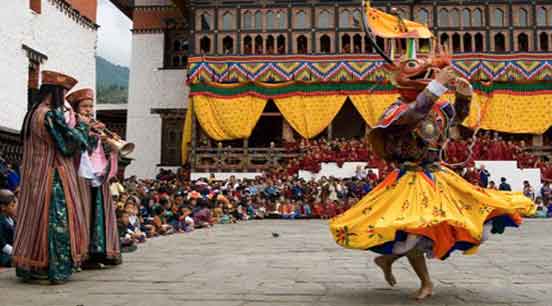 Thimphu festival Tour of Bhutan
: Nature & culture
: 8 day Nepal Bhutan Tour
: Moderate

: 24 September 2020
: Standard & Deluxe
: Private car & Flight
Thimphu Tshechu is one of the biggest festivals in Bhutan held in the capital city. Thipmhu Tshechu festival is the best time to visit Bhutan as if falls in Spring and one can see the best of Bhutans culture and traditions. Thousands of people from the capital city and the nearby Dzongkhags participate the festival that lasts for three days.
Nepal and Bhutan occupy the most remote landmass in the foothills of the Himalayas. The invincible Himalayan landscape however safeguarded diverse cultures and practices unstained until now. The vertically raising slope of Nepal - Bhutan nourished diverse flora, fauna and ethnicity. Nepal was safe hideout for immigrants and political renegades from both India and Tibet from the ancient time. This flourished several distinct cultures in the manifold Himalayan valleys. Towards the eastern Himalaya, Bhutan persistently remained aloof from outside world until these days representing it as a Tibet outside of Tibet.
Thimphu Festival Tour Itinerary
Sept 24 : Kathmandu, Nepal arrival | Transfer to Hotel
Sept 25: Kathmandu Tour (Kathmandu Durbar Square, Boudhanath, Shyambhunath and Pashupatinath)

Sept 26 : Fly to Bhutan and drive to Thimphu
Sept 27 : Breakfast | Thimphu Tshechu Festival
Participate in the Thimphu Tshechu Festival held outside the courtyard of Tashichho dzong. The Tshechu is a festival in honour of Guru Rimpoche, the saint who brought Buddhism to Himalaya and Bhutan.
Overnight hotel in Thimphu.
Sept 28 : A scenic drive to Punakha | Visti punakha dzong, also known as Pungtang Dechen. Photrang Dzong (meaning "the palace of great happiness or bliss") | Overnight in Punakha
Sept 29 : Drive back Paro via Thimpu | visit the Memorial Chorten, built in honour of the third King Jigme Dorji Wangchuck, visit the Folk Heritage Museum
Sept 30 : Hike To Taktsang Monastery (3 -4 hrs / 900m) in the morning and visit farm house in the afternoon | Overnight in Paro
Oct 01 : Drive to the airport and fly back to Kathmandu
Oct 02 : Final Departure
---
Wangdue Tshechu festival on 2nd Oct.
Custom make the itinerary to visit Wangduephodrang for the Tshechu
Wangduephodrang Tshechu festival is another mask dancing and merry making festival celebrated by monks and laymen. The festival is celebrated in commemoration of the birth of Guru Padmasambhava, - lotus born by the people of Wangdue valley. The great Thangka, Thongdrol is displayed in the morning. Ceremony of cleansing, offering, folk and mask dancing are performed in the front. The Thangka is rolled and kept in the dzong until the next festival.