Hiking around Pokhara
Day hikes, walks and short treks around Pokhara
View from World Peace Stupa hiking
World Peace Stupa Hiking
Could be planned for 2 - 6 hrs
World peace pagoda lies atop the hillock in the southern shore of the Phewa Lake. A boat ride across the lake to the shore near 'Lychee Garden' will take about 25 mints. Well made stone steps climbs 300 m to the top through the forest grove in 1 and half hrs. The top marked by world peace pagoda offers tremendous view of the lake and Pokhara city with the backdrop of Annapurna and Manaslu range. You can either drive down or walk to Chore-Patan where Devi's Fall, Tibetan Refugee camp and Gupteshower caves are.
Longer scenic hike is possible starting from Pumdi. Drive about 16 km to Thadekhola River on the Siddhartha highway and climb 40 mints to Pumdi village. The trail follows the ridge south of Phewa lake through the charming villages. You can climb down to the phewa lake from World pease pagoda and take a boat across the lakeside.
Hiking inquiry >
Sarangkot - Australian Camp - Dhampus trek
Could be custom made from a day hike to 3 days trek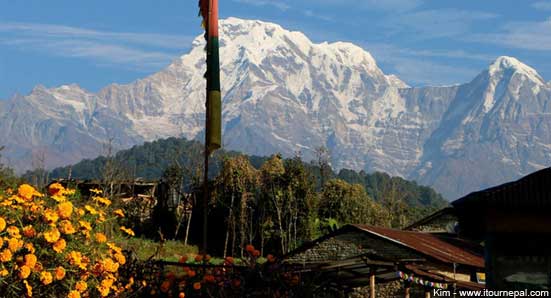 There are several good hiking in the foothills of Annapurna. Sarangkot (1,500 m) is one of the best places to start a walk. The trail stays along the ridge coming across charming villages, terraced farming and Himalayan view points. A short easy day hike could end at Naudanda after 3 hrs from where you will be picked up. If you are looking for real day's work, 3 more hrs of walk will lead to Australian camp at 2,060 m. Australian camp has few lodges in the forest clearing on the mountain ridge offering awe-inspiring Himalayan view. This is the best place to spend a night if you are planning couple of days hiking.
Next day, walk down to the village of Dhampus. Dhampus is another scenic village in the gateway of Annapurna base camp trek. Follow the ridge to the Gurung village of Austam and then walk down to Milanchowk in the outskirt of Pokhara.
Note: This hiking could be custom made for a day or two. There are comfortable lodges (with attached bathroom and hot shower) in Dhampus, Australian camp and Austam. Write us for a hiking in this region.
Hiking inquiry >
Accommodaiton in Astam village
Begnas lake - Begnaskot Hiking
Day hike with visit to coffee farm
Peaks of Annapurna seen from Begnas lake.
Begnas lake is 35 km east of tourist center at Phewa lake. Unlike Phewa, Begnas is more serene embraced in intact countryside lifestyle. Begnaskot is a ridge northeast of Begnas Lake overlooking at Himalayas. The hike is real insight into Nepalese mountain culture and lifestyle. Village along Sundari danda is trying to make a living hosting agricultural tourism. There is organic coffee farm house offering fresh coffee.
Hiking inquiry >