Hiking around Pokhara
Day hikes, walks and short treks around Pokhara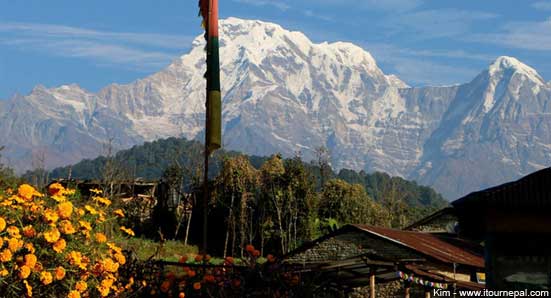 Sarangkot - Australian camp - Astam hike
Easy hike around Pokhara
:
1 - 3 days
:
Easy
Mostly leveled walk on rugged village trail, forest walking with some climbing.
:
September - May
Being in the foothills of the Annapurna, this trek could be done throughout the winter.
:
comfortable lodge / resort
Simple Lodge with attached toilet and hot shower is available.
Other hikes:
Amazing Experience
We have really an amazing time Our guide and his porter are so great guys they helped with the hike , were kind and made jokes. Really the best persons. Basanta its so kind and funny... he is spontaneous and good person, he helped with everything, he explain us everything and was so aware of our security and confort. We feel safe all the time and really happy. We enjoy very much this 3 days treking, in local place, with local food and great local persons ☺️ Lovely time, amazing experience We will always remember. - Tamara - Mexico - 5 Nov
---
There are several good hiking in the foothills of Annapurna. Sarangkot (1,500 m) is one of the best places to start a walk. Follow the ridge coming across charming villages, terraced farming and Himalayan view points. A short easy day hike could end at Naudanda after 3 hrs from where you will be picked up. If you are looking for real day's work, 3 more hrs of walk will lead to Australian camp at 2,060 m. Australian camp has few lodges in the forest clearing on the mountain ridge offering awe-inspiring Himalayan view.
The two days hike includes night stay in Australian camp. The place is perched high up on the mountain side overlooking at the Annapurna range. Next day, walk down to the village of Dhampus. Dhampus is another scenic village in the gateway of Annapurna base camp trek. Follow the ridge and climb down to the highway at Banskot.
The three day's hike follow the ridge to the Gurung village of Aastam. The hilltop resort is another scenic feast in more pristine natural surroundings. On the third day walk down two hrs to meet the highway at Milanchowk and drive back to Pokhara.
Join hiking around Pokhara
on 20 Nov.
Only
USD 250
for 3 days package
Inquiry
Customize day hike:
Hiking around Australian camp, Dhampus and Astam could be customized as a day hike. The region is in the buffer zone of Annapurna conservation area and is the closest one can get without entering into the conservation.
---
World Peace Pagoda Hiking
nearby 3 - 6 hrs hikinng
World peace pagoda lies atop the hillock in the southern shore of the Phewa Lake. A boat ride across the lake to the shore near 'Lychee Garden' will take about 25 mints. Well made stone steps climbs 300 m to the top through the forest grove in 1 and half hrs. The top marked by world peace pagoda offers tremendous view of the lake and Pokhara city with the backdrop of Annapurna and Manaslu range. You can either drive down or walk to Chore-Patan where Devi's Fall, Tibetan Refugee camp and Gupteshower caves are.
Longer scenic hike is possible starting from Pumdi. Drive about 16 km to Thadekhola River on the Siddhartha highway and climb 40 mints to Pumdi village. The trail follows the ridge south of Phewa lake through the charming villages. You can climb down to the phewa lake from World pease pagoda and take a boat across the lakeside.
Hiking inquiry >
---
Begnas lake - Begnaskot Hiking
Day hike with visit to coffee farm
Peaks of Annapurna seen from Begnas lake.
Begnas lake is 35 km east of tourist center at Phewa lake. Unlike Phewa, Begnas is more serene embraced in intact countryside lifestyle. Begnaskot is a ridge northeast of Begnas Lake overlooking at Himalayas. The hike is real insight into Nepalese mountain culture and lifestyle. Village along Sundari danda is trying to make a living hosting agricultural tourism. There is organic coffee farm house offering fresh coffee.
Hiking inquiry >