Elephants & ethical tourism !
Recently torture involved in training elephants, driving them and workload have been an issue. Elephants are most eco friendly and effective means to check poaching and patrol the dense jungle. They are not recently captured from the wild but are sheltered now after they are not used anymore for wars, hunting and logging. Tourism is new kind of living for these elephants with which their counterpart in wild and many other endangered species are protected from poaching. So we request you to visit Chitwan National Park but preach for better treatment of elephants. Customize your safari activities with Jeep safari instead and book certain location and lodges and use government elephants which enjoys more freedom.
Chitwan Tour Review
This is the second time we have used iTour Nepal. Mr Rabindra organised our entire trip. Airport transfers, hotel, flights, guides and Chitwan resort. The highlight of the trip was a day's guided bird watching in the Chitwan National Park. Our guide Shivas was knowledgeable - tiger, elephant and rhino tracks and scat - and over 60 species of birds. Mr Rabindra supports sustainable tourism and will take you to places and experiences you will never see otherwise. Authentic Tharu cultural experience in the local village, a resort on the edge of the forest with deer grazing outside our window in the morning, jackals calling as we cooked over the fire, a night sky to die for. I have no hesitation to recommend iTour Nepal.
- Moorhead family
Read More at

Flora and Fauna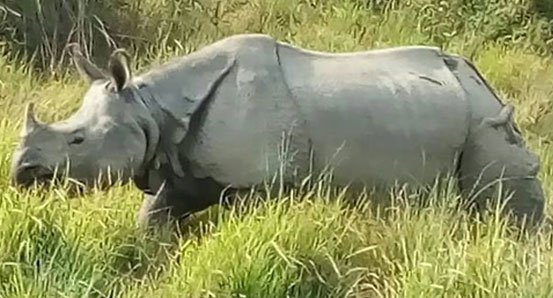 Chitwan National park spread over an area of 932 sq. km is known for its Sal (
Shorea rocusta
) and riverine forests and grasslands. The park hosts 570 species of flowering plants, 40 species of mammals, 486 species of birds, 17 reptiles and 68 fish species. Because of the occurrence of many
endangered
plant species such as the tree fern, screw pine and several rare orchids and endangered mammals such as tiger, rhino, wild elephant, gaur (Bos gaurus), striped hyena, sloth bear and Gangetic dolphin, it is declared a
World Heritage Site
in 1983.
Chitwan Safari Lodges
After Nepal governement didn't extend license of the safari lodges inside the Chitwan National Park, Sauraha has been busy. There are about 80 safari lodges in the outskirt of Chitwan. Some of the lodges are still in the pristine side of the national park. Price varies with services and type of accommodation.
Transportation
There are daily
flights
and tourists buses to Chitwan from Kathmandu.
Tourist buses
leave from Kantipath in the outskirt of Thamel. Both deluxe and standard buses are available from Pokhara and kathmandu. We have car rental bases in Chitwan, Kathmandu and Pokhara for any type of car, SUV, 4WD or Van rental.
Extra activities in Chitwan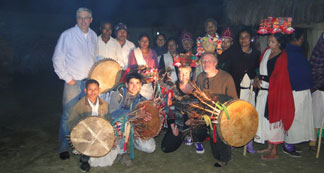 We can custom make your Chitwan tour with cultural emersion and exciting wildlife experience. Extend your stay and do a day long Jeep safari or jungle walk. Stay in the Tharu homestay and get the day in a life experience. Tharu is simple and happy farmers aboriginal from Chitwan.
---