August is the middle of the monsoon rainy season. However, it mostly rains in the morning, evening and at night making it possible to travel and do the sightseeing. August is also the beginning of festivals and celebrations as the rush of rice plantation is over. It is also the best time to observe local cultural life. The scenery appears much greener with cascading waterfalls everywhere. Floating clouds open up to give the sight of snow peaks across layers of lush hills.
Things to do in August
August is not the best time for the popular Nepal treks and tours. But Nepal has different climatic zones and tour products, which are less affected by August weather. Cultural tours and visiting hill stations are more rewarding during this time. Mustang trek and Dolpo being in trans-Himalayan region is warmer to travel in summer. The regions also get 10 times less rain than the rest of the country, making it the best trek to do in August. Spiritual experience tours of Nepal give the seekers more authentic experience. The land is most sacred for Hindus, Buddhists and Tantrism. With fewer tourists, August is the best time to go on a spiritual tour of Nepal.
Travel after Covid 19 in August

Based on people's response to the Covid- 19 pandemic, the World Happiness Report 2021 by the UN listed Nepal as the happiest country in South Asia. With a successful vaccination and no travel health protocols, tourism has returned to normalcy. Tour and trek bookings are streamlined for August 2023.
August weather in Nepal
Average weather around the major tourist area of Nepal
| Place | Max Temp | Min Temp | Rainfall | Rain day |
| --- | --- | --- | --- | --- |
| Kathmandu | 28.7℃ | 20℃ | 330.8 mm | 22 |
| Pokhara | 30.2℃ | 22℃ | 866 mm | 15 |
| Chitwan | 32℃ | 23℃ | 533 mm | 12 |
| Namche | 16℃ | 8℃ | 243 mm | 22 |
| Jomsom | 16℃ | 6℃ | 122 mm | 20 |
Nepal Tour for August 2023
There are few relatively better touring options if you are travelling in August. Visit hill station towns like Nagarkot and Bandipur, sightseeing around Kathmandu and go on a short trek or a day hike around Pokhara. Since it mostly rains in the late afternoon and morning, you will mostly have a good weather window during the day. August is also summer and it gets hot and humid when there is no rain. But travelling to mountain destinations is comfortable.
Spiritual tour
With fewer tourists and cultural activities increasing, August is also the best time to go on a spiritual tour of Nepal. Nepal is the birthplace of Buddha and its hidden valleys nourished spiritual philosophies from Indian subcontinent intact until now. Nepal was also a popular retreat center for several spiritual masters including Nagarjuna, Guru Rinpoche and Milarepa. There are also divine places related with Hinduism and Tantrism.
Nepal trek for August 2023
Even though August is not the best time for trekking in Nepal, it is possible to go on the popular treks in Annapurna and Everest. If August is the only time you can visit Nepal, consider Upper Mustang trek. Mustang is in trans-Himalayan region which gets very little rain. The high altitude make even the summer weather pleasant and the days are mostly sunny and clear.
---
Nepal Travel tips for August
Prepare for the rain. Good quality, breathable rain gears are recommended.
Make your luggage / backpack waterproof and bring cover.
Footwear must be waterproof or easy dry.
Keep your itinerary flexible considering delays and cancellation of transportation and domestic flights.
Plan your trip with enough time between your trip and international flight.
Avoid driving on off roads as much as possible.
Normally it rains in the afternoon or evening. So it is better to start your activities early.
Plan a Himalayan sightseeing flight on the morning after the evening or night rain.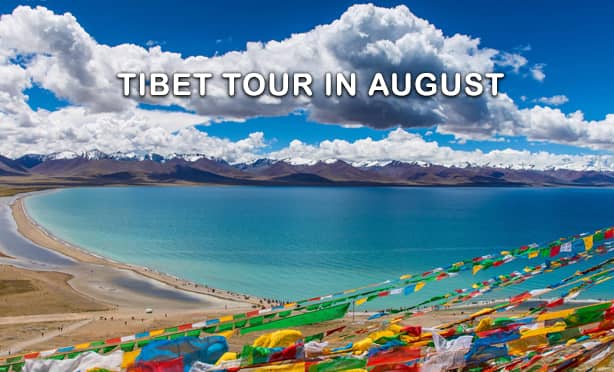 Tibet tour in August
If you are travelling to South Asia in around August, Tibet tour is the best Himalayan tour to do. Unlike other parts of the Himalayas, Tibet becomes comfortably warm during August. Since it is in the rain shadow of the Himalayas, it rains very little. The average rainfall of Tibet is only 460 mm (18 ") while it is 1600 mm (55 ") in Nepal and 2900 mm (115 ") in India. It mostly rains in the late afternoon or night. The average temperature in August is 22°C ( 71.6°F ) and the temperature fluctuates less throughout the day and night. 
Fixed departure Tibet tour in August
Fixed departure, group joining tours are available for individuals for August and September. The trip departs every Saturday. New rules for Tibet visa require, minimum of four people in a group. The 8 days group joining tour from Kathmandu to Lhasa makes it possible for individuals to visit Tibet.
August is also the beginning of festival season. Write to us to visit UNESCO heritage sites to witness the colorful festivals.
August Events
Janai Purnima
The festival is celebrated on full moon day of August. Locals crowd in shrines to receive welfare thread around their wrist, change sacred thread, recite Vedic mantras and have feast.
Gai Jatra
is a festival celebrated to remember dead members and console the family. The solemn ritualistic processions in the morning turns into comedy and political satire.
Teej
is the festival of Hindu women celebrated for long life and prosperity of their husband. Women in red visit Shiva temlpe, sing and dance in the street squares and feast.