Nepal Holiday with us:
Support local company.
Expertise over 20 years.
Cost effective Treks.
Cultural immersion experience.
High quality services.
Eco friendly & sustainable practices.
---
August Tour Review
Kathmandu experience !
Itour Nepal hooked us up with an amazing experience in the Namo Buddha Monastery and a hike from Nagarkot to Changu Narayan temple. After a car trip and a gorgeous 1 hour walk through mountains and forest alleys, we arrived at the Monastery in the afternoon. The view was amazing and the meals and morning prayer with the monks an unforgettable experience. The next day took us by car firstly to Bhaktapur for a city visit and then to Nagarkot for an overnight stay in the lovely mountain area. On the third day, our 5 hour hike to the temple began. The trek was really lovely, with the landscape alternating between forest, rice field and mountain terraces and was manageable with 35l Backpacks. We passed by many small villages and had the chance to see the locals going about their daily work in the rice fields. The temple was just as magnificent as the rest of the journey. Overall, it was a great experience, from the stunning views of the Monastery and spending time with the monks to the trekking through the landscapes, we had an amazing time.
- SelvaSan - Australia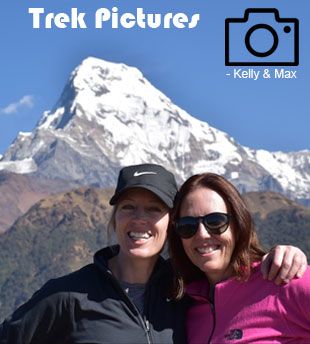 Short Everest Trek 8 days
Best for August & September
If you are limited with time and still want to get the feel of Sherpa land, this trek is for you. Since the trek starts with flight to Lukla at 2,800 m, the trek avoids humid and hot climate of Summer. A short trek of 5 days could be planned based in comfortable Hotels (luxury trek).
See Mt Everest and the eastern Himalayas by 1 hr sightseeing flight while you are in Kathmandu, Nepal. Everest sightseeing flight is guaranteed and is available throughout monsoon.
Adventure in Pokhara
Pokhara provides ground for adventure sports. Try the World's most extreme
Zip Flyer
. Accelerate down 2,000 ft with speed of 140 KMH. Make your free flying dream comes true by paragliding or get close to mysterious Himalayan peaks with Ultra light flights. All in perfect natural setting of Himalayas and turquoise lake.
More >
Only USD 280 !
Helicopter tour of
Annapurna Base Camp
Annapurna Heli Tour
Treks for August
The mountainous landscape of Nepal with Himalayan frontier provides perfect ground for dreamlike trekking. Check out other short treks in the Himalayas of Nepal.
Gentle walking holiday in Nepal w/ comfortable stay
Nepal walking tour is for those looking for gentle walking holiday with comfortable stay in the foothills of the Himalayas with exotic cultural experience and Himalayan scenery.
Read More
Nepal tour and trek recommended for September. Check travel tips, weather and offers for Nepal trips after Corona pandemic in September 2022.
---
Visit Nepal during 'Christmas & New Year 2023'. Nepal Tour and treks recommended for December and august.Nepal during Christmas & New Year 2023
Best Nepal tour and trek for Chinese New Year 2023 holiday. Watch the new year sunrise from Pun Hill (3,200 m) or enjoy the wildlife and nature with camp fire and babeque dinner.
An article with Nepal travel tips and best things to do in winter months of august and February.