Upper Mustang Trek
Upper Mustang trek starts with an 18 minutes spectacular flight to Jomsom, the district capital of Mustang. The flight navigates through the valley wedged between Dhaulagiri (8,167 m) and Annapurna (8,091m) to Jomsom at 2,800 m. The journey further follows upstream Kaligandaki past honeycomb cave settlements and Tibetan Buddhist villages with mystic monasteries and ruins of fortresses. The eroding, arid landscape has deep canyons making the trekking route twisty and full of steep ups and downs.
Mustang is an almost rectangular landmass protruding into Tibet in the trans-Himalayas of Nepal. Geographically and culturally Mustang is Tibet but politically it is in Nepal.
Mustang the lost Tibetan Kingdom
The Himalayan citadel and the Buddhist belief of nonviolence spared Mustang of strife in Tibet and Nepal. Hence Mustang is one of few places in the Himalayas where the living history of the medieval Himalayan civilization still prevails.
In 1955 a Frenchman, Michael Pascal became the first European to trek to the kingdom of Mustang. He discovered Mustang as a medieval world where the wheels are not used, the earth was believed flat and polyandry practiced.
:
Trek, Cultural tour
:
14 days from Pokhara
:
Moderate to Difficult
Remote trans-Himalayan region, harse weather with maxim. altitude of 4,000 m. Steep ups and downs of each about 600 m. Trail is rugged with lose scree.
Includes
Trekking package from Pokhara to Pokhara.
Necessary trekking permits. ACAP, Restricted permit and TIMS
Pokhara - Jomsom - Pokhara flight
Trekking with licensed and experienced guide.
Comfortable Lodge accommodation with three meals a day.
Down Jacket, Sleeping bag, duffle bag for the trek
Excludes
Delay and cancellation because of naturl phenomenon. In case of flight cancellation, we can also drive and follow the itinerary. The difference in cost if any is extra.
Any type of insurances. Rescue and evacuation will be done on your account.
Bottled drinks and beverages.
Tea breaks, snacks or anything purchased directly beside three meals included.
Mustang trek in April & May
Mustang in the rain shadow of the Himalayas is the best place to trek in the months of April to June. Spring trekking season for Mustang begins in April. May and June are still the best time for the trek as Spring comes late in the trans-Himalayan regions and also the rain clouds don't reach this far. Temperatures range from 15 to -4°C during the Spring.
Mustang Trek highlights
One of the most scenic and culturally rich treks in the trans-Himalayan region behind Annapurna and Dhaulagiri massifs.
Experience the lost Tibetan kingdom with unspoiled Tibetan culture and landscape.
Explore the highly spiritual Tibetan Buddhist monasteries, honeycomb caves and the medieval walled city of Lo Mangtang.
Cultural immersion experience of intact Tibetan Buddhist lifestyle and trans-Himalayan village life.
Traverse the Himalayas from its lush southern slopes to the arid alpine desert of trans-Himalayas within a short time.
Detour of lake city Pokhara, charming Thakali villages and the popular pilgrimage site Muktinath.
Mustang Trek for Tiji Festival 2023
This medieval Tibet outside of Tibet rejoices in the mystic mask dancing festival of Tiji, contemplating a demon chasing. Tiji has a root in the Tibetan language meaning 'prayers for world peace'. Dances of 'Tsachham' and 'Ngachham' are performed by monks of Lomanthani Chhyode Gumpa on the first and second day. Two huge 500 years old Thangkas are displayed during the festival. Main monk who embodies Dorje Sonam, the killer of demons, performs dances on the third and last day. The monk has to go on 3 months' retreat with fasting to represent the main deity of Tiji. Join a trek to Mustang for Tiji festival May 2023.
Mustang Trek Itinerary
Day 01: Fly to Jomsom and trek to Kagbeni (2,800m/9,212ft)
Take an early morning flight to Jomsom (2,705m/8,900ft), the administrative centre for the Mustang district of Nepal. En-route we fly between Annapurna I (8,055m/26,500ft) and Dhaulagiri (8,146m/26,800ft). We will meet our porters in Jomsom and trek 8km (4hrs) to Kagbeni, which is situated at the confluence of the Jhong Khola (river) and the Kali Gandaki River.
Day 02: Trek to Chele (3,050m/10,035ft)
The trek to Chele is 18km (7 hrs) from Kagbeni, where we head north along the Kali Gandaki River. The trail goes up and down for two hrs to avoid the many river crossings, and then climbs steeply to a plateau avoiding a vertical-walled bluff ahead. From here it is a gradual climb to Tangbe (4 hrs). The trail climbs to 3,100m/10,199ft and then drops steeply to the banks of the Kali Gandaki. We will walk along the river bed crossing to the western bank before making a small climb to Chele.
Day 03: Eklo Bhatti (3,820m/12,568ft)
The trail climbs to Taklam La Pass (3,624m/11,923 ft) through plateaus and narrow stretches with views of Tilicho Peak, Yakawa Kang, Nilgiri and Damodar Danda. It then descends a little to the village of Samar, altogether three hrs from Chele. Between Samar and Geling the trail remains over 3,700m/12,173ft, so the group should be well acclimatized to camp in between. The first campsite arrives after two hrs of climbing (mostly gradual), but only provides camping for a few tents. Another campground with nicer prospects is just one hour further.
Day 04: Ghame (3,520m/11,581ft)
The trail gently climbs to the Yamda La (3,850m /12,667ft) passing teahouses, chortens and Tibetan-influenced villages, and crosses over a few other passes. The longer climb will be to Nyi Pass (4,010m/13,193ft) after lunch, the trail then steeply descends to Ghame.
Day 05: Tsarang (3,500 m/11,515ft)
This is an easy trekking day of 11km (4 hrs) to Tsarang. After crossing Ghame Khola below Ghame, the trail climbs to a plateau and passes beside a very long mani wall. From the end of the wall the trail heads east to Tsarang, gradually climbing and then descending.
Day 06: Lomanthang (3,700 m/12,173ft)
The 13km (5 hrs) trek to Lomangthang hosts magnificent views of Nilgiri, Tilicho, Annapurna I and Bhrikuti peak. The trail first descends to Tsarang Chu Canyon and then climbs steeply after crossing the river. Further the trail ascends gently to the 3,850m windy pass of Lo, from where you can see the Lomanthang Valley. While descending to Lomangthang, views of the walled city appear magnificent with its hills on the Tibetan Border.
Day 07: Lomanthang, Upper Mustang
Explore the eastern valleys and the Nyphu and Gharphu Monasteries before returning to Lomangthang. This trip is 12km (5-6 hrs) round trip.
Day 08: Lomanthang, Upper Mustang
This will be another roundtrip day excursion to explore Namgyal, Tingkar and the valleys to the west (7km/4-5 hrs).
Day 09: Trek to Yara village (3,838m / 12,550 feet) | 6 hrs
Day 10: Visit Luri Gompa & back to Yara village | 7 hrs
Day 11: Trek to Tangbe (3,240m/10,595 feet) | 6 hrs
Day 12: Tangbe to Tetang (2,970m/9,744 feet) | 7 hrs
Day 13: Tetang to Jomsom (2,720m/8,894 feet), 7 hrs
Day 14: Fly back to Pokhara | Overnight in Pokhara
---
Mustang Trek or drive ?
Even though most of the villages in Upper Mustang are now connected by dirt road, there are very few vehicles. It is still worth trekking in the Upper Mustang. Walking trails mostly avoid dirt roads and allow you to explore the caves, temples and local monasteries you would miss otherwise. Also our itinerary makes a loop following the more remote trails on the eastern bank of Kali Gandaki valley.
Customize Mustang Trek with one way drive.
It is possible to customize Mustang Trek with one way drive and trek the other way via Luri Gonpa, Tetang an Tangbe to Muktinath and back. This will make the itinerary of 12 days. Write us to combine Upper Mustang trek with Nar Phu valley or round Annapurna trek also.
Mustang tour by jeep with hikings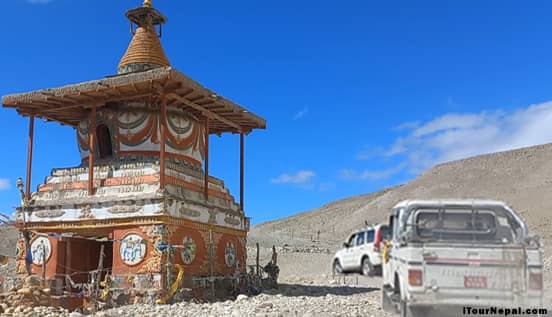 Upper Mustang driving tour with side hikes to the most scenic and cultural places. Hike to Titi Lake, Lubra village, Liri Gompa and more within a 10 days tour.