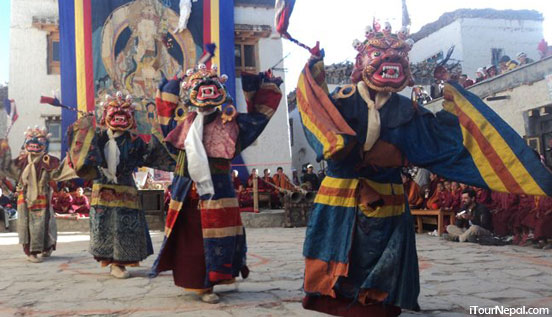 Mustang trek starts with 18 mints spectacular flight to Jomsom , the district capital of Mustang. The flight navigate through the valley wedged between Dhaulagiri (8,167 m) & Annapurna (8,091m) to Jomsom at 2,800 m. The journey further follows upstream Kaligandaki past honeycomb cave settlements, Buddhist villages with mystic monasteries and ruins of fortresses. The eroding, arid landscape has deep canyons making the trekking route twisty and full of steep ups and downs. More
Mustang is almost rectangular landmass protruding into Tibet in the trans-Himalayas of Nepal. Geographically and culturally Mustang is Tibet but politically it is in Nepal.
The Himalayan citadel and the b Buddhist belief of nonviolence spared Mustang of strife in Tibet and Nepal. Hence Mustang is one of few places in the Himalayas which is living history of the civilization once prevailed across the Himalayas.
In 1955 a Frenchman, Michael Pascal became the first European to trek 15 days to the kingdom of Mustang. He discovered Mustang as a medieval world where the wheels are not used, the earth was believed flat and polyandry practiced.
Lonely planet has listed Mustang trek in third position under its list of 'Best in Travel 2013'. The extensive road expansion will soon change its essence. So this is last chance to see Mustang.
Join Mustang Trek for Tiji Festival 2019 - 31 May - 2 June
This medieval Tibet outside of Tibet rejoices mystic mask dancing festival of Tiji, contemplating a demon chasing. Tiji has a root in Tibetan language meaning 'prayers for the world peace'. Dances of 'Tsachham' and 'Ngachham' are performed by monks of Lomanthani Chhyode Gumpa on the first and second day. Two huge 500 years old Thangkas are displayed during the festival. Main monk who embodies the Dorje Sonam the killer of demon performs dances on the third and last day. The monk has to go on 3 months retreat with fasting to represent the main deity of Tiji. Join a trek to Mustang for Tiji festival May 2019. Tiji festival Inquiry >
Mustang Trek Itinerary
Day 01: Kathmandu arrival | Transfer to Hotel
Day 02: Kathmandu sightseeing (Kathmandu Durbar Square, Boudhanath, Pashupatinath and Shaymbhunath)
Day 03: Drive to Pokhara | Check in Hotel and free time to explore Pokhara
Day 04: Fly to Jomsom and trek to Kagbeni (2,800m/9,212ft)
Take early morning flight to Jomsom (2,705m/8,900ft), the administrative centre for the Mustang district of Nepal. En-route we fly between Annapurna I (8,055m/26,500ft) and Dhaulagiri (8,146m/26,800ft). We will meet our porters in Jomsom and trek 8km (4hrs) to Kagbeni, which is situated at the confluence of the Jhong Khola (river) and the Kali Gandaki River.
Day 05: Trek to Chele (3,050m/10,035ft)
The trek to Chele is 18km (7 hrs) from Kagbeni, where we head north along the Kali Gandaki River. The trail goes up and down for two hours to avoid the many river crossings, and then climbs steeply to a plateau avoiding a vertical-walled bluff ahead. From here it is a gradual climb to Tangbe (4 hrs). The trail climbs to 3,100m/10,199ft and then drops steeply to the banks of the Kali Gandaki. We will walk along the river bed crossing to the western bank before making a small climb to Chele.
Day 06: Eklo Bhatti (3,820m/12,568ft)
The trail climbs to Taklam La Pass (3,624m/11,923 ft) through plateaus and narrow stretches with views of Tilicho Peak, Yakawa Kang, Nilgiri and Damodar Danda. It then descends a little to the village of Samar, altogether three hours from Chele. Between Samar and Geling the trail remains over 3,700m/12,173ft, so the group should be well acclimatized to camp in between. The first campsite arrives after two hours of climbing (mostly gradual), but only provides camping for a few tents. Another camp ground with nicer prospects is just one hour further.
Day 07: Ghame (3,520m/11,581ft)
The trail gently climbs to the Yamda La (3,850m /12,667ft) passing teahouses, chortens and Tibetan-influenced villages, and crosses over a few other passes. The longer climb will be to Nyi Pass (4,010m/13,193ft) after lunch, the trail then steeply descends to Ghame.
Day 08: Tsarang (3,500 m/11,515ft)
This is an easy trekking day of 11km (4 hrs) to Tsarang. After crossing Ghame Khola below Ghame, the trail climbs to a plateau and passes beside a very long mani wall. From the end of the wall the trail heads east to Tsarang, gradually climbing and then descending.
Day 09: Lomanthang (3,700 m/12,173ft)
The 13km (5 hrs) trek to Lomangthang hosts magnificent views of Nilgiri, Tilicho, Annapurna I and Bhrikuti peak. The trail first descends to Tsarang Chu Canyon and then climbs steeply after crossing the river. Further the trail ascends gently to the 3,850m windy pass of Lo, from where you can see the Lomanthang Valley. While descending to Lomangthang, views of the walled city appear magnificent with its hills on the Tibetan Border.
Day 10: Lomanthang, Upper Mustang
Explore the eastern valleys and the Nyphu and Gharphu Monasteries before returning to Lomangthang. This trip is 12km (5-6 hrs) round trip.
Day 11: Lomanthang, Upper Mustang
This will be another roundtrip day excursion to explore Namgyal, Tingkar and the valleys to the west (7km/4-5 hrs).
Day 12: Trek back to Syangboche (6 – 7 hrs)
Day 13: Trek down to Tshuchang (6 -7 hrs)
Day 14: Trek back to Kagbeni and then to Jomsom (7 hrs)
Day 15: Fly back to Pokhara | Overnight in Pokhara | Visit International Mountain Museum, Devi's Fall and Tibetan Refugee Camp
Day 16: Drive back to Kathmandu | Overnight in Hotel
Day 17: Final departure