Pathivara Ilam Eastern Nepal Tour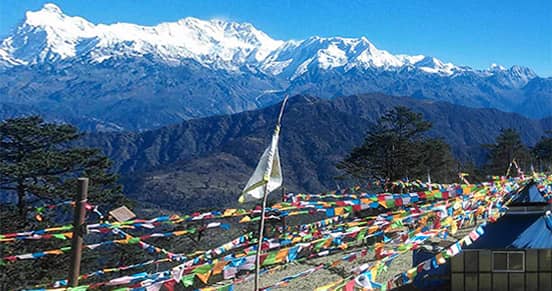 Pathivara temple is the most renowned pilgrimage site and view point located at 3,750 m in the eastern Nepal. The animist goddess of aboriginal Limbus are worshiped by Hindus and Buddhists as well. Pathivara temple is located in the foothills of Kanchanjunga, the third highest mountain in the world. From Kakarbhitta border of eastern Nepal, it is about 256 km north and from Kathmandu, Pathivara temple is 692 km. Dirt road has been extended further from Suketar, the district capital of Taplejung. Travelers still need to trek for about 3 - 5 hrs. to reach the temple. The temple premises unfolds brilliant view of Kanchenjunga and surrounding mountains.
Travel from Sikkim / Darjeeling to Nepal
There are no direct flights from Sikkim or Darjeeling to Kathmandu. The best way to get to Nepal from Sikkim is to drive via Siliguri to the Kakarbhitta border and then fly from Bhadrapur airport to Kathmandu. Siliguri to Kakarbhitta border is about 28 km and the Bhadrapur airport from the border is 21 km.
It is also possible to drive from the Kakarbhitta border to Kathmandu or other tourist destinations nearby like Koshi tappu wildlife reserve, Janakpur, Chitwan, Lumbini or Halesi (Maratika cave).
Customize a trip from Kakarbhitta border / eastern Nepal to Kathmandu.
Buddhist Pilgrimage tour of Nepal
Ilam is a perfect gateway from the hustle and bustle of city. It is a district largely covered in tea bushes with a hill town right beside a plantation enjoying views of pristine landscapes made up of sloping tea gardens, mountain streams, dense natural forests, holy sites and a unique culture.
Pathivara tour
पथिभारा देवी ३७४० मि उचाइमा रहेको पुर्वी नेपालकै सबैभन्दा ठुलो धर्मिक तथा रमणिये स्थल हो । ५ दिनको भ्रमणमा ईलामको चिया बगान जनकपुर र सिन्धुली गढी पनि घुम्न सकिन्छ ।
Pathivara Devi temple tour takes 4 nights 5 days from Kathmandu and back. The road trip heads southeast in the B. P. Highway and joins east west highway at Bardibas. We finally drive in Mechi highway to Suketar of Taplejung. The vehicle from Kathmandu can go only up to Suketar from where it is about 10 km to Pathivara Devi temple. Pilgrims hire local 4WD till the base of the Pathivara mountain and then walk for about 2 hrs to the temple.
हरेक बिहीवार | मुल्ये रु २२,०००
प्रति व्यक्तिमा सम्पूर्ण खाने, बस्ने तथा निजी गाडीको व्यवस्था हुन्छ।
वा पथिभरा भ्रमणका लागि गाडी मात्र चहिएमा
9841665409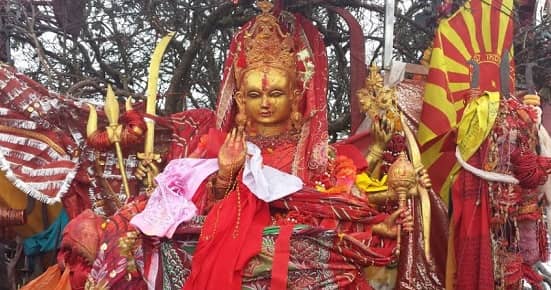 Pathivara Tour Itinerary
Eastern Nepal Tour
If you are entering Nepal from eastern border Kakarbhitta, visit Parhivara and Ilam to immerse into local Limbu culture and get the best veiw of Kanchanjunga, the third highest mountain in the world. Pathivara and Ilam are the most popular destinations in eastern Nepal.
Koshi Tappu wildlife reserve
is the first Ramsar site of Nepal designated in as early as in 1978. It is spread in the area of 348 sq. km. covering the floodplain, reed beds and fresh water marshes of the Sapta Koshi River. Koshi Tappu wildlife reserve preserves globally threatened Wild water buffalo and Gangatic Dolphin. The reserve also is one of the Important Bird Area (IBA) with 485 species of birds with many globally threatened species.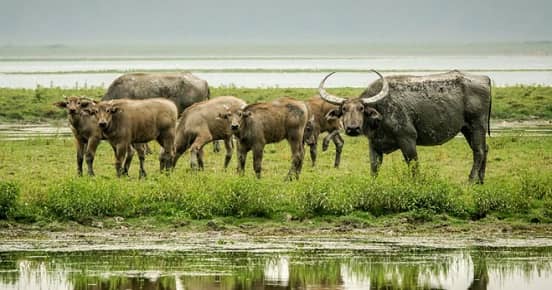 Janakpur
is another historical city to visit in the eastern Nepal. This is where sita Mata from Hindu epic Ramayana was born and got married to lord Ram. Sita is believed as the incarnation of goddess Lakshmi. Walk through the historic city to experience the Maithali culture and watch the local life.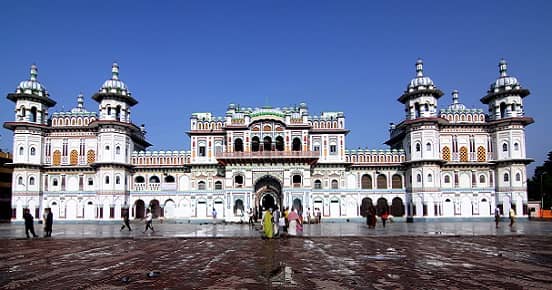 If you are arriving in Nepal from Kakarbhitta in the eastern border with India, write us to get picked up and
Customize Eastern Nepal Tour