5 most popular tour of Nepal
The Himalayan country Nepal is popular for trekking and mountaineering. However, the extension of road, airstrips and the availability of comfortable accommodation have made it possible to explore even the hidden Himalayan valleys with less effort. Nepal tour is a combination of activities for Himalayan scenery, cultural immersion and the wildlife safari. Drive or fly to different Himalayan Shangri La and spend plenty of time sightseeing and hiking with rejuvenating resorts to come back to.
The social life of Nepal was least affected by Covid 19 for which Nepal was listed by UN as happiest country in South Asia. However Nepal needs more tourists to sustain the priceless heritage, wildlife and fragile ecology.
Kathmandu Chitwan Pokhara and Lumbini are the most popular tour destinations in Nepal. About 80 % of the tourists coming to Nepal visit those places. While Kathmandu and Pokhara are the base cities for most popular treks, Chitwan is just about 160 km south in the tropical plains. Most popular tours of Nepal also include activities like short trek, hike and white water rafting which Nepal is popular for.
Listed 5 Nepal tour packages have been the most popular among the tourists visiting Nepal.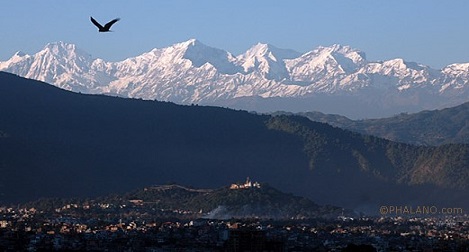 : Nature & culture
: 6 day Nepal Tour
: Easy

Kathmandu and Pokhara together represent the best of nature and cultural tours of Nepal.
While Kathmandu is one of the ancient cities in the Himalayan corridor, Pokhara is the natural paramount.
This short tour gives a glimpse of historical, cultural and natural aspects of the country. There is ample Himalayan view, sightseeing, heritage tours and cultural encounters. Options of Everest sightseeing flight or Helicopter trip guarantees the best view of Mt Everest and other ranges.
Kathmandu Chitwan Pokhara Tour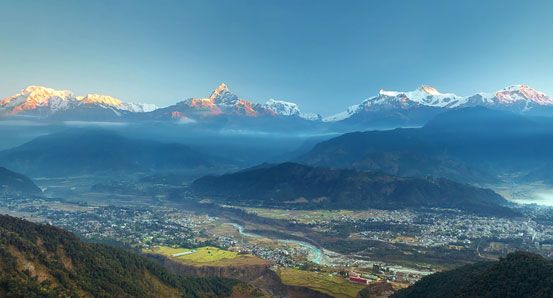 10% off
for September 2023
: Nature, culture, wildlife
: 8 days Nepal Tour
: Easy

This tour visits the three most popular destinations in Nepal – Kathmandu, Chitwan and Pokhara. Chitwan National park is the place to observe the country's rich wildlife and nature safari. The diverse destinations within the distance of 160 km makes this tour the golden triangle of Nepal. The tour gives a good perception of the country's rich nature, culture and wildlife.
Bandipur, Pokhara and Lumbini tour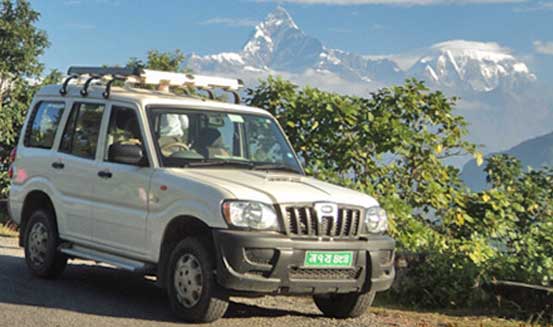 : Nature, culture, wildlife
: 12 days Nepal Tour
: Easy

While Kathmandu, Pokhara and Chitwan are thronged with tourists, several other medieval towns and hill stations started to host tourists in the last decade. Forgotten by time, these towns were once either ethnic capital or popular hubs along the Himalayan salt trading route.
All Nepal Tour visit the popular tourist destination of Nepal stopping overnight in these pristine and scenic hill towns.
Options of unique cultural experiences like homestay,village tour, farm tour, school visit, honey hunting make the tour more interesting.
Mt Everest, Kathmandu, Chitwan and Lumbini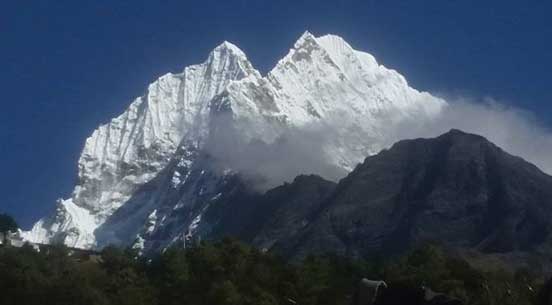 One reason people travel to Nepal is to see Mt Everest. With the Everest national park, there are a total 4 UNESCO Heritage sites. Nepal Heritage tour visits all of the four UNESCO Heritage sites of Nepal in 14 days. Everest national park visit involves a short cultural trek of 6 days. Availability of pony, helicopter and luxury accommodation make the trek a pleasant walk. Kathmandu, Lumbini - the birthplace of Buddha and Chitwan national park are the other UNESCO Heritage sites in Nepal. The birthplace of Buddha has been developed under a master plan to make it a refugee for all peace lovers. Similarly, the tour also visits Chitwan national park which has been a vestige of the jungle that once spread from Himalayan foothills till the Ganges River. The park has been successfully preserving the last numbers of Royal Bengal Tigers and Asian Single horned Rhinos.
Nepal tour with short trek and rafting w/ luxury lodges.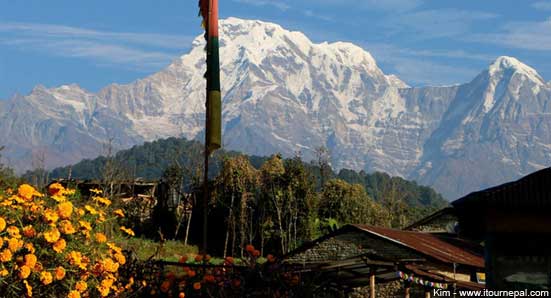 The tour is also a Nepal sampler tour with short and scenic luxury trek, gentle white water rafting and the wildlife safari staying in luxury resorts.
Short and scenic trek in Annapurna will be customized to fit your level of fitness. White water rafting in Seti river allows you to enjoy pristine jungle and beaches in the wild. With rapids of 2 + the river is just perfect for beginners and families with kids. Drift down the glacial river and drive to the most tranquil side of Chitwan national park. Wake up to the bird calls, be part of nature and sleep watching the stars.
---
Customize Nepal Tour