Treks in Nepal are categorized as easy, moderate, difficult and strenuous based on the trails remoteness, terrain, altitude and technicality (gears or experience required). All treks in Nepal involve climbing up and down the valley basin on rough beaten paths. Higher the altitude, all factors like weather, terrain, comfort and breathing makes the trek tougher.
Easy treks in this list are in easy access from cities, moderate in altitude, have more predictable weather, less undulating paths and have comfortable lodges or resorts for accommodation.
What are easy treks in Nepal like?
Easy treks in Nepal involve continuous walks for about 4 – 5 hrs a day. Trek may involve climbing of about 100 – 400 m or longer downhill and ranges between the altitude of 1,500 m to 3500 m. Large sections of the trails are safe and wide (not vertiginous ) but are still rough and uneven beaten paths with occasional stone paved and steps. Because of easy treks' proximity with big cities, comfortable lodges or resorts are available for accommodation.
How fit do you need to be for an easy trek ?
A reasonably fit and active person of all ages can do an easy trek in Nepal. If you jog or walk regularly and did enjoy your last hike or bush walking, you can do these treks. Easy treks are about enjoying the surroundings, taking breaks at nice spots and walking at your own pace. But if you train yourself before the trek, you will enjoy the trek more. Jogging, cycling and hiking will help to strengthen the muscles and also increase stamina.
1 Dhampus trek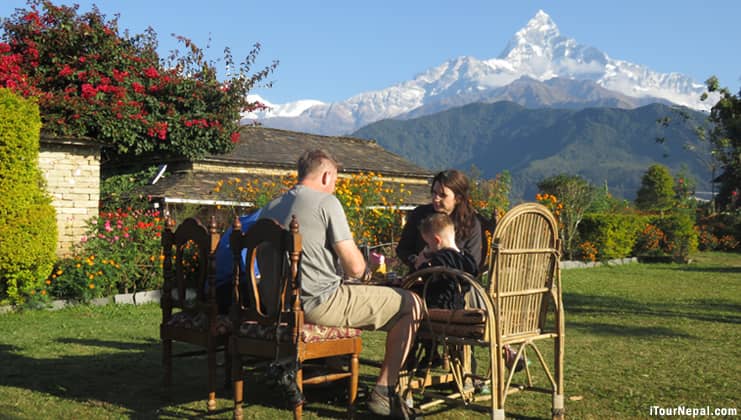 Dhampus trek is the most popular easy trek in Nepal. The panoramic view of Annapurna range from the Australian camp in the Dhampus village development committee is the highlight of the trek. However the rich flora, culture and birdlife of Annapurna conservation with comfortable resorts located in the serene nature make every moment of the trek special.
: Nature & cultural walk
: 3 nights 4 days
: Easy Hike

: September - May
: Comfortable lodge /resort
: Private car
Day 1 : Drive to Kande and trek to Lumle
Day 2 : Trek to Australian camp
Day 3 : Trek to Astam village
Day 4 : Trek down 2 hrs to Milanchowk and drive back to Pokhara.
2 Kathmandu Valley Trek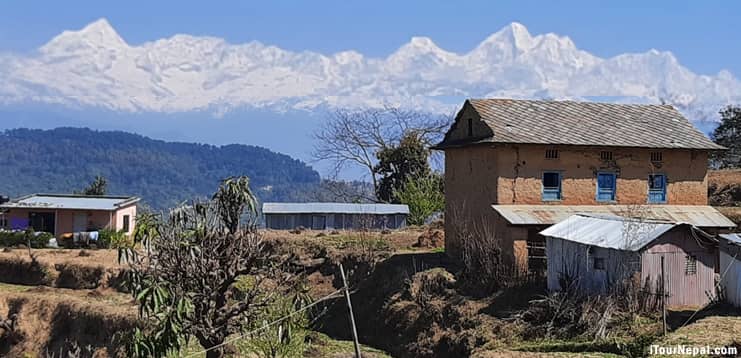 The ridgetop towns around Kathmandu valley are brilliant vantage points, looking into sweeping valleys and layers of mountains in the backdrop of the eastern Himalayas. While the majority of this trek is inside the Shivapuri national park in the north of Kathmandu, the trail also passes through Tibetan Buddhist villages with terraced farming. The trek climbs gradually, gaining altitude of about 400 - 500 m over the 6 hrs of walking. Comfortable rooms with en-suite bathrooms are available for accommodation.
: Nature & cultural walk
: 2 nights 3 days
: Easy Hike

: September - May
: Comfortable lodge / Hotel
: Private car
Day 1 : Drive to Changunarayan. Trek 5 hrs to Nagarkot
Day 2 : Trek to Chisapani, shivapuri
Day 3 : Trek down to Sundarijal . Drive back to hotel Kathmandu.
3 Mardi Himal Trek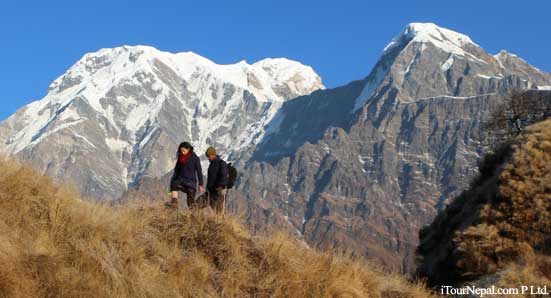 Mardi Himal trek is another relatively easier trek in the Himalayas. The trek route in Annapurna conservation area is the closest trekking route from Pokhara. The route mostly follows the ridge at the western buttresses of Mardi Himal and climbs gradually to the alpine view points at 3,200 m and above. Even though the highest point of the trek is the Mardi Himal base camp at 4,500 m, trekking till the Mardi Himal high camp (3,580 m) offers brilliant views and the best Himalayan trekking experience.
4 Langtang Trek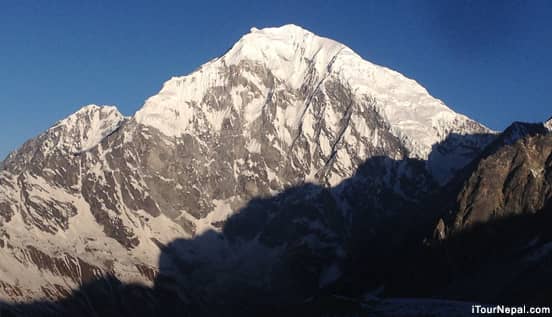 Langtang valley trek is another of the relatively easy treks in the Himalayas. The trek route without swinging up and down a lot follows the valley basins and climbs gradually. Even though there are options of climbing to the higher viewpoints of 4,500 m Kyanjin Ri, 4990 m Cherko Ri and 5,500 m Yala peak, just a trek to the Langtang valley (Kyanjin Gompa) , 3,330 m offers magnificent view of snow peaks, rich flora and fauna of Langtang national park and an insight into the Tamang – Sherpa Tibetan Buddhist culture and landscape.
This is also the best trekking for family or friends with different levels of fitness. While nature lovers can just explore around and enjoy the hidden valley in the Himalayas, veteran trekkers can climb to higher view points. The national park is also one of the few intact Himalayan ecological specimens that is home to 380 species of birds and 19 mammals including the most endangered Red Panda and snow leopard.
5 Everest cultural trek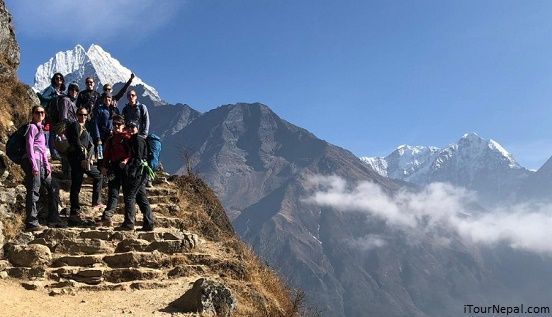 Everest cultural trek is a week-long trek in the dwellings of Sherpa people in the Everest national park. The trek starts with a flight to the Lukla airport at 2,800m and then climbs to the altitude of 3800 m within a few days. The altitude and the terrain makes this trek the toughest in this list but the availability of luxury lodges, pony ride and helicopter services make it the most doable trek for the beginners.
---
Heli hiking in Nepal
Helicopters make any treks in Nepal short and easy. Just fly to the pristine view point and hidden valleys in the Himalaya and do the easy exploration or downhill hiking to the trailhead. Heli hiking could be planned from one day to a week. Take to the sky and glide along the gigantic snow peaks to a surreal place in the Himalayas within an hour. Easy hiking around the hidden Shangri-la and hike back down to the trailhead or get airlifted. Mardi Himal, Langtang and Everest are the most popular heli hiking destinations in Nepal.
Everest Heli Hiking
You can fly to Everest base camp from Kathmandu and then get dropper off at Namche Bazaar (3,440 m). Take an easy cultural hike of Khumjung village and Namche bazaar and then head down to Lukla airport to fly back to Kathmandu on the 5th day.
Langtang Heli Hike
Langtang range is the closest Himalaya from Kathmandu. The helicopter flight helps us to escape the tedious drive and walks in the lower valleys and leaves us with the easiest hike in the most scenic alpine Langtang valley. Heli hike in Langtang could be planned for 3 – 7 days.
Mardi Himal Heli Hiking
Mardi Himal is the closest snow peak from Pokhara. A helicopter drops you at the ridge top view point at 3,550 m. Explore around a bit and then head down to Badal danda view point at 3,200 m for night halt. Mardi Himal Heli hike could be done in as less as 2 days from Pokhara.