March brings Spring in Himalayan foothills of Nepal. The mercury starts to rise after the shower in the end of February. Warm and sunny days with clear sky and chilly nights make this month the beginning of popular tourist season in Nepal. The high altitude trails and passes starts to thaw. The moderate temperature, clear Himalayan view, colorful blossoms and some exciting festivals make March an ideal month to travel to Nepal.
Nepal is open for tourists and is the safest destination to travel in March during and after the Covid 19 pandemic.
Nepal weather in March
Average weather around the major tourist area of Nepal
| Place | Max Temp | Min Temp | Rainfall | Rain day |
| --- | --- | --- | --- | --- |
| Kathmandu | 28.3℃ | 8.2℃ | 34.2 mm | 4 |
| Pokhara | 26.7℃ | 12.8℃ | 60 mm | 2 |
| Chitwan | 29℃ | 13℃ | 35 mm | 1 |
| Namche | 9℃ | -3℃ | 34 mm | 4 |
| Jomsom | 7℃ | -9℃ | 58 mm | 5 |
Nepal Travel tips for March
Bring warm cloths in layers.
Nights will be chilly and so are walks through the forest.
Bring waterproof jacket and cover.
Be prepared to walk in snow and slippery trails.
Best to do Nepal tour or short trek in early or mid March to avoid the tourist crowd
Chances of strong wind in the evening. Take shelter at the safe place which protect you from falling objects in case of wind.
Nepal Tour in March
March is also best time to visit the popular tour destinations of Nepal. Because of vertical landscape, temperature widely varies though out Nepal. March is perfect time to visit southern plains of Nepal like Chitwan National park, Lumbini, the birthplace of Buddha, Koshi Tappu and Bardia National park. This is also breeding time for birds and animals making the wildlife more active and easy to see. Nepal tour includes visit to popular destinations like Pokhara, Chitwan and Kathmandu and scenic hill towns in its premises. Nepal tour could be customized from few days to 2 weeks with day hikes and short treks.
Recommended Nepal tour for March 2021
Nepal Trek in March
March is best for short treks in Nepal. The week of light rain and snowfall by the end of February clears the sky and triggers warmer days. The foothills of the Himalayas bloom in Rhododendron, Magnolia, Orchids and other flowers. Most of the short treks goes to the altitude between 3,000m to 4,000 m. The March temperature at that elevation ranges from -10 to 10 degree centigrade. There might still be snow from the winter and the light snowfall adds to it. However the snow doesn't close the trail and it rather makes the trek fun and more adventitious.
Recommended Nepal trek for March 2021
---
Nepal festivals in March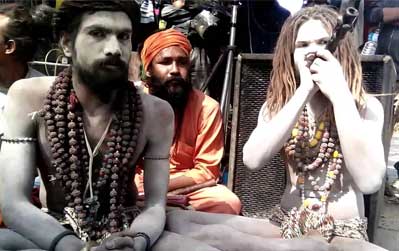 Shivaratri is celebrated by chanting, fasting and meditating for the ethics and virtues like honesty, nonviolence, charity, forgiveness. Hundreds of Shadus (ascetics) throng around Shiva temple and consume Marijuana as sacrament.They also make holy fires and cook special meals to offer all devotees at temples and keep themselves awake the whole night. Shivaratri festival 2021 falls on 11 March.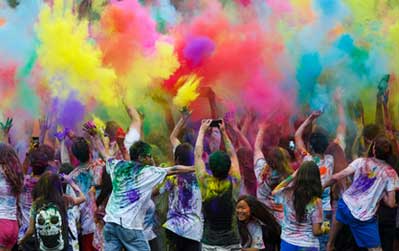 Holi is one of the most exciting Hindu festivals celebratedby non Hindus as well. The festival is known as the spring festival, thefestival of color and the festival of happiness. The festival is celebratedbetween families and neighbors by smearing colors at each other and feasting.On the day people forget and forgive past grievances and repair brokenrelationships. Holi festival 2021 falls on 28 March.  
Poon Hill Trek in March Video