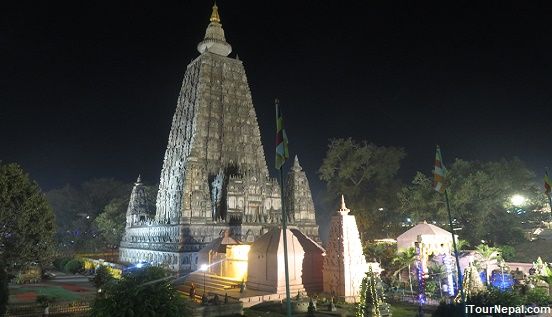 Visit the most important Buddhist pilgrimage sites of India and Nepal just in one week. You will see the UNESCO Heritage sites of Bodhgaya and Lumbini and other important sites enroute Varanasi to Kathmandu.
This Buddhist tour visits four sacred sites of Lumbini, Bodhgaya, Sarnath and Kushinagar and Buddhist sites in and around Kathmandu, just in seven days.
You will fly in Varanasi, the spiritual capital of India and drive through the sites important in Buddha's life to Lumbini in Nepal. Sarnath is where Buddha gave his first discourse after enlightenment, Bodhgaya is where he got enlightened and Kushinagar is where he attained Parinirvana. Spend one night at each place and explore the magnificent monastic and temple ruins. Cross the border where you will get Nepal visa on arrival and then drive to Lumbini, the birth place of Buddha. From Lumbini, fly to Kathmandu and explore the Himalayan citadel in juxtaposition of trans-Himalayan trade. Kathmandu nourished Buddhism during its crisis in south and later played important role in disseminating it to Tibet and further. Visit the Guru Rinpoche cave at Pharping and the oldest existing Buddhist town of Patan. Visit Boudhanath Stupa and Swyambhunath stupa.
Go on one week Buddhist tour of Nepal and India this January and February. Winter is the best time to embark on this spiritual journey of lifetime.
Duration : One Week / 7 Days
Season : November - March
Accommodation : Standard | Deluxe
Starting city : Varanasi, India
Ending city : Kathmandu, Nepal
Transport : Private car | Flight
3 star standard hotel with breakfast and taxes included.
All ground transportation by private vehicle.
A guide / tour leader throughout the trip.
All entrance fees and permits.
Note :
Your can get online visa for India (Varanasi airport) and Nepal visa is easy to get on arrival at border. Just need to bring passport size pictures.
Buddhist tour of India and Nepal One week
Day 01 : Arrive Varanasi | Tour Sarnath
Our represent will pick you up from Varanasi airport and take you to the hotel. Later visit the archaeological site of Sarnath. This is where Buddha gave his first sermon. The site have restored 3rd century engraved Ashokan pillar, Dhamek Stupa established to commemorate the 'dharmachakra pravartana' at the deer park, the Mulagandhakuti vihara, where Buddha spent the first rainy season. Also visit the Sarnath museum and the Chaukhandi stupa marking the place where Buddha met his first five disciples.
Day 02 : Ganga Ghat boat tour and Drive to Bodhgaya
In the morning, we will drive to Ganga River and take a boat tour along the temples and cremations grounds. There are about 100 Ghats and sunrise boat trip is the best way to see the cultural activities and ceremonies at each Ghats along with 'Manikarnika Ghat' which has dead body burning around the clock. Later drive 244 km / 6 hrs to Bodhgaya. Bodhgaya is where Buddha attended enlightenment. The 55 m / 180 ft Mahabodhi temple, first built by Emperor Ashoka in 3rd century, stands intact after heavy restoration. The site is designated by UNESCO as World heritage site. The descendant of original Bodhi tree still provide shed over the 'Vajraashana' (seat established by Emperor Ashoka at the site where Buddha attained enlightenment).
Day 03 : Drive to Kushinagar – 332 km / 8 ½ hrs
Spend a beautiful morning visiting Mahabodhi temple and then drive to Kushinagar. This is where Buddha gave his last teachings and attained Parinirvana. The third century parinirvana stupa and the nirvana temple with 6.10 m long reclining Buddha still exists at Kushinagar. Also visit the Rambhar Stupa marking the site where Buddha was cremated.
Day 04 : Drive to Lumbini – 176 km / 4 ½ hrs | Lumbini tour
On the day we will drive towards Nepal and cross to Lumbini from Sunauli border. Getting Nepal visa is easy as it is available on arrival and costs USD 30. From the border Lumbini, the birthplace of Buddha is only about 25 km. In the afternoon, visit the 3 by 1 miles area of Lumibni which consists of monastic zone with monasteries from around the world, world peace pagoda and the sacred garden with Mayadevi temple. The sacred garden has Ashokan pillar with inscription about Buddha's birth place, Puskarini pond (Buddha and his mother took bath) and Mayadevi temple housing the marker stone pinpointing the exact birthplace of Buddha.
Day 05: Fly to Kathmandu | Visit Boudhanath and Swyambhunath
Even though it is only 300 km, driving may take about 10 hrs in the mountainous road of Nepal. Flying we will save time. From Kathmandu airport, drive to Boudhanath stupa. The colossal stupa with over 60 monasteries give the ambiance of 'little Tibet of Kathmandu'. Later drive to Swyambhunath stupa on a hillock overlooking at Kathmandu valley. Swyambhunath is one of the oldest existing monuments in Kathmandu valley dating back to 5th century or earlier.
Day 06: On the visit Pharping cave and Patan
On the day, we will visit Yanglesho, the cave of Guru Rinpoche (Padmasambhava). The cave in the southern rim of Kathmandu valley is believed as a place where Guru Rinpoche got enlightened and is as important as Bodhgaya for Tibetan Buddhists. Yanglesho was visited by many other Tibetan Buddhist masters like Marpa Lotsawa. Later visit the oldest existing Buddhist city of Patan. Reminiscence of Patan as monastic town still exists with its over hundred monasteries in old town. Oldest ones date back to 7th century. Visit the golden temple, Rudrabarna Mahabihara and the iconographic museum at the palace.
Day 07: Drive to the airport for final departure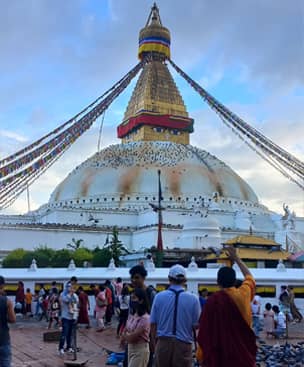 Buddhist pilgrimage tour of Nepal
Customize for 5 to 10 days.
Visit Lumbini, the birthplace of Buddha, meditation cave of Guru Rinpoche (Padmasambhava) and other must to visit Buddhist sites of Nepal. Feel the vibration of the land where Buddhism is way of life and understand the development of Buddhism while visiting the living Buddhist heritage of Nepal.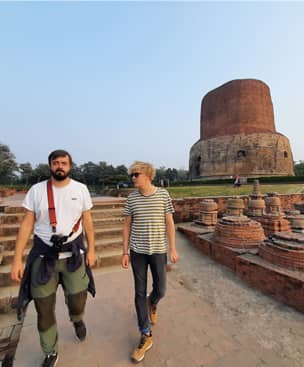 Buddhist tour for opera 'Awakening'
It was our pleasure to organize a research tour for famous stage director Mr Vasily Barkhatov and light artist Mr Alexander Sivaev for the Opera 'Awakening' composed by renowned British composer 'Param Vir'. The full-scale opera, 'Awakening' is based on early Buddhist canon and explores the liberty and peace preached by Buddha. The Opera was scheduled to be performed at Bonn Opera House for Beethoven's 250th Anniversary.