Short Everest Trek
Short trek in Everest national park visits Shepra villages and monasteries, closely observing their lifestyle and culture crafted in harmony with some of the highest mountains in the world. This is the best way to get the dipper perception of Everest national park as UNESCO Heritage site.
The short Everest trek starts with a 35 mints spectacular flight from Kathmandu, Nepal. From Lukla the trail heads up north through the Tibetan Buddhist Sherpa villages. Namche at 3,440m has several Everest view points and scenic walks. Namche Bazaar was famous trading place between Nepal and Tibet. Still Tibetans come to Namche Bazaar with the yak caravan. Tengboche monastery is a largest monastery of the region, perched at a ridgetop of 3,870m. Tengboche is popular for the sunset view of Mt Everest.
Short Everest trek could be customized for 6 days with deluxe and luxury accommodation or as pony trek for family with kids.
Short Everest Trek Review
5 / 5 - 88 reviews
Best Tour Company
From the moment we arrived, Rabi greeted us with genuine Nepalese hospitality. We used Rabi and his team for all three of our adventures during our time in Nepal (Tibet, Tengboche Trek, and a day hike). Rabi, his driver's, guides, and the rest of his team also reflect the company's exceptional care to their customers. Our guide Dill, was an amazing companion to have on the trail. We each felt so touched by his kindness, and he truly made our experience an unforgettable one.
- Mio Lainchbury - Canada - May 2019
More reviews >
Tengboche Trek -
7 day
Kathmandu - Lukla - Kathmandu Flight
Necessary Trekking Permits.
Trekking with licensed and experienced guide and porter.
Teahouse / lodge accommodation with 3 meals a day.
Duration : 7 days
Difficulty : Moderate to difficult (uphill 500 m at the altitude above 3,000m)
Transport :Kathmandu - Lukla Flight
Trek Itinerary
Day 1 : Fly to Lukla | Trek to Phakding
Fly along the eastern Himalayas to Lukla (2,800m). A short easy trek (4 hours) to phakding is brilliant with Himalayan views and the charming Buddhist villages. Walk through the Khani (Buddhist entrance gate) and past Mani walls. The trail crosses crystal clear streams on suspension bridges.
Day 2 : Trek to Namche ( 6 hrs / 3,440 m)
The trail follows the 'Bhote Kosi' river up north crossing over suspension bridges to the base of Namche Bazaar. The trail then climbs for about 3 hrs. We get the first view of Mt. Everest on the way. We formally enter into Everest National Park on the day. (5-6 hours).
Day 3: Rest for acclimatization
On the day short and easy exploration to Khumjung or Thame could be planned for better acclimatization. Khumjung is a hidden Sherpa village at the base of the most sacred mountain Khumbila. While Namche has turned commercial, Khumjung lives with Sherpa families doing their daily chores. Visit Khumjung monastery and Sir Edmund Hillary school. The khumjung monastery possess unusal scalp claimed as 'Yeti Skull'. The syangboche ridge on the way is overlooking at the Himalayan Peaks including Everest, Amadablam and Thamsherku.
Day 4: Trek to Tengboche - 6 hrs / 3,880 m
The trail from Namche to Tengboche first winds along the leveled contour which offers a magnificent view of the snow peaks including Mt Everest. After about a couple of hours, climb down to Bhote Koshi River and then climb up on the other side to the ridge of Tengboche. Tengboche offers a magnificent view of Everest, Lhotse, Amadablam, Thamserku and other spectacular peaks of the Khumbu valley. Tengboche is popular for the most revered and the largest monastery of the Sherpa Land. Tengboche monastery (Thyangboche Monastery) was built in 1996 with a strong connection to the Rongbuk Monastery at the northern base of Mt Everest in Tibet.
Day 5: Trek to Jorsale - 7 hrs / 2,740 m
This is the farthest we can go within a 7 days trek in Everest national park. After enjoying the morning view and the prayers at Tengboche monastery, we will head back down to Bhotekoshi River and then climb up to Punki Tenga in about three hours. The trail then follows the contour for next two hours to Namche and then climbs down again to the confluence of Bhote Koshi River and Dudh Koshi River which we cross on a suspension bridge. Jorsale is about 2 hrs walk away from Namche.
Day 6: Trek to Lukla - 6 hrs
We will follow the trail downstream Bhote Koshi River to Lukla. Even though we don't gain any altitude, the trail climbs up and down about 100 m. Enjoy the walk past Mane walls, prayer wheels, monasteries and charming Sherpa villages.
Day 7: Fly back to Kathmandu
Enjoy your early morning tea and walk to the Lukla airport to catch your flight back to Kathmandu. It's thrilling to watch Twin Otter aircraft land and take off at the STOL airport. Some people just come to fly to Lukla airport and back. The 35 minutes flight is another opportunity to capture snow peaks.
---

Short and easy Everest experience trek to Namche could be planned for 6 days based on deluxe or luxury lodges. Also the service of Pony is available.
Everest luxury lodge trek allows you to experience the Sherpa culture, explore the Everest national park listed as UNESCO Heritage site and watch the awe-inspiring mountains of Everest region based on finest local luxury lodges. Our selected luxury lodges at each place are run by locals or employ locals and exhibit the authentic Sherpa architecture. Each lodge provides an electric blanket, room service with clean towels, bed sheets, and toiletries changed every day. Guaranteed hot shower in your ensuite bathroom uses solar power and electricity as back up. The Everest luxury trek ensures your pleasant stay with professional local hospitality in finest lodges that embed authentic architectural and cultural essence in its decor.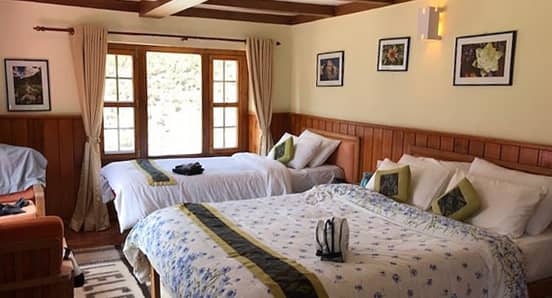 Water : You can buy bottled drinking water thorughout the trek. Hot water for drinking will cost as much as tea. If you are planning to filter or purify our own water, carry two water bottles. Most purifier takes time to disolve and work.
Personal expenses : You will need about USD 150 - 200 for the personal expenses during the trek. Even though USD could be easily changed throughout the trek, Nepalese Rupees would be much easier. You will need this amount for bottled water, drinks, beverages, chocolates and toiletries. The amount will also cover standard tipping for guide and poter.
Insurance : Insurance of guide and porter are covered by the compnay. However clients have to have their insurance. Sprained ankle, altitude sickness, food poisoning, respiratory infections will make it difficult to trek back for days. Helocopter is the only way to get trekkers out of the mountain which might be very costly. So it is better to have right insurance covering helicopter evacuation from the altitiude of 3,800 m.
Tips : Please note, service charges in hotel and restaurants are already included and paid. Tipping guide and porter is the way of appreciating the job they did. The standard tipping is USD 10 / day for guide and USD 6 / day for porter. The amount is not per person but is shared by the group.
Water bottle
Flash light – At least one headlamp or torchlight will be handy.
Personal towel
Knife – multifunctional portable pocket knife
Hand sanitizer and other toiletries
Sun lotion
Essential medicine & first-aid kit
Ruck sack – 40 – 60 liter that can carry gears ranging from 15 – 20 kg.
Daypack – 15 – 30 lt for you to carry, water and other essentials for a day. Note: 30 litre duffle bag will be provide by the company.
Trekking shoes / boots - 1
sleeper or camp shoes -1
Shocks – 2 thick pairs to wear while sitting around at high altitude, 4 medium and thin pairs of socks for walking.
Down jacket is required only for the month of January – February and also for trek going above 3,500 m.
Waterproof / windproof jacket with warm fleece inner will be enough for other months.
Thermal under wares - 1
Fleece jacket / jumper / pullover - 2
Hiking pants
Hiking shirts
T-shirts
Sun hat
Gloves
Trekking poles
Mani Rimdu festival
is celebrated every year after the full moon of Autumn. Monks perform ritualistic dances wearing elaborate masks and outfits commemorationg victory of Buddhism over Bon practices.
About Mani Rimdu festival >
Join Tengboche monastery trek for Mani Rindu festival from 12 -14 November 2021.
---
We have been successfully organizing Everest trek in the post-COVID period. With the best weather and fewer trekkers, Spring 2022 is the best time to trek in the Everest national park.