Everest Base Camp Luxury Lodge Trek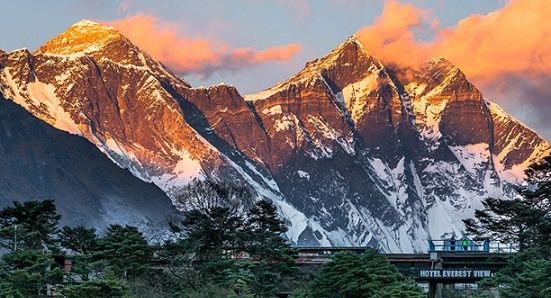 Everest base camp trek could be done based on lodges with warm and comfortable stay. Luxury lodges or comfortable lodges are now available throughout the route to Everest base camp. These lodges ensure hot showers, comfortable and warm beds with ensuite bathrooms and grand view of mountains. Specious surroundings, common spaces, traditional décor and hospitality and restaurants with great food makes your experience of each place extraordinary. The luxury lodges not only provide rejuvenating stay after a tiring day but also feeds to your expectation of private and quiet time enjoying the magical views.
Our Everest base camp luxury lodge trek is a 9 days itinerary with Helicopter flight back. Write to us to customize a luxury trek in the Everest region.
Highlights of Luxury Trek
Shortest trek to Everest base camp.
Safe itinerary with rest day and side hikes for acclimatization.
Trek is based on luxury lodges with magnificent views and authentic Sherpa hospitality for quiet, private, warm and comfortable stay.
Helicopter ride back from Everest base camp.
Everest Trek Review
5 / 5 - 118 reviews
Best Tour Company
From the moment we arrived, Rabi greeted us with genuine Nepalese hospitality. We used Rabi and his team for all three of our adventures during our time in Nepal (Tibet, Tengboche Trek, and a day hike). Rabi, his driver's, guides, and the rest of his team also reflect the company's exceptional care to their customers. Our guide Dill, was an amazing companion to have on the trail. We each felt so touched by his kindness, and he truly made our experience an unforgettable one.
- Mio Lainchbury - Canada - May 2019
More reviews >
Kathmandu - Lukla Flight
Necessary Trekking Permits.
Trekking with licensed and experienced guide and porter.
Luxury or Comfortable lodge with three meals a day.
Helicopter Flight back.
: 9 Day
: Max. 5,550 m
: Lukla Flight + Helicopter
: Luxury and comfortable lodges
:
Best time is from Mid Sept - Dec and mid March - May.
:
Difficult
(several climbs of each about 600 m and altitude above 5,000 m with low temperature of -10°C)
Luxury Trek Itinerary Overview
Our
9 day Luxury Everest base camp trek
starts and ends in Kathmandu. The itinerary follows the safe standard itinerary that starts with a 35 minutes flight to Lukla. We will have two rest days for acclimatization in Namche and then in Pheriche before spending two nights at Labuche (4,940 m) from where we will walk to Everest base camp and back. These two days will give us ample time to play in case of bad weather or to do both Kalapattar and Everest base camp. After we accomplish the hike to Everest base camp, we will fly back to Kathmandu by a helicopter.
Trek Itinerary
Day 1 : Fly to Lukla | Trek to Phakding
Fly along the eastern Himalayas to Lukla (2,800m). A short easy trek (4 hours) to phakding is brilliant with Himalayan views and the charming Buddhist villages. Walk through the Khani (Buddhist entrance gate) and past Mani walls. The trail crosses crystal clear streams on suspension bridges.
Day 2 : Trek to Namche ( 6 hrs / 3,440 m)
The trail follows the 'Bhote Kosi' river up north crossing over suspension bridges to the base of Namche Bazaar. The trail then climbs for about 3 hrs. We get the first view of Mt. Everest on the way. We formally enter into Everest National Park on the day. (5-6 hours).
Day 3: Rest for acclimatization
On the day short and easy exploration to Khumjung or Thame could be planned for better acclimatization. Khumjung is a hidden Sherpa village at the base of the most sacred mountain Khumbila. While Namche has turned commercial, Khumjung lives with Sherpa families doing their daily chores. Visit Khumjung monastery and Sir Edmund Hillary school. The khumjung monastery possess unusal scalp claimed as 'Yeti Skull'. The syangboche ridge on the way is overlooking at the Himalayan Peaks including Everest, Amadablam and Thamsherku.
Day 4: Trek to Tengboche - 6 hrs / 3,880 m
The trail from Namche to Tengboche first winds along the leveled contour which offers a magnificent view of the snow peaks including Mt Everest. After about a couple of hours, climb down to Bhote Koshi River and then climb up on the other side to the ridge of Tengboche. Tengboche offers a magnificent view of Everest, Lhotse, Amadablam, Thamserku and other spectacular peaks of the Khumbu valley. Tengboche is popular for the most revered and the largest monastery of the Sherpa Land. Tengboche monastery (Thyangboche Monastery) was built in 1996 with a strong connection to the Rongbuk Monastery at the northern base of Mt Everest in Tibet.
Day 5: Trek to Dingboche - 6 hrs / 4,410 m
The trail from Tengboche ridge, first descends down through the forest of birch and Rhododendron trees and then comes out of the tree line. The trail then winds along the Imaj River gradually climbing to Pangboche village. The entire walk is a panoramic thrill with magnificent views of Thamserku, Amadablam, Khantega and Lhotse. The second half of the trek traverses the meadow to the confluence of Labuche River and Imja River. From the confluence, we descend down to our destination at Dingboche. 
Day 6: Rest for Acclimatization
An extra day's rest at Dingboche helps with acclimatization before we head higher up to Everest base camp. Dingboche is a bright and wide valley surrounded by snow peaks. There are options of side hike to the ridge above the valley or longer climb to Nangkartshang Peak (5,083 m) which takes about 5 - 6 hrs round trip. Trekking high and sleeping low helps with acclimatization.
Day 7: Trek to Labuche
The trail climbs up the ridge and then winds through the pasture above Pheriche valley to the small teahouse settlement of Dughla. From the place the trail climbs up the rocky terrain next to Khumbu glacier moraine. The top of the climb is marked by cairns with Buddhist prayers flagged fluttering, dedicated to mountaineers who lost their lives in Everest. Labuche is just at the end of the valley ahead. The trail is more leveled passing through the pastures and rock fields. 
Day 8: Acclimatization
We will have another day of acclimatization. Or if you feel fine, you can try to hike to Kalapattar. (5,550 m) which is about 7 hrs round trip.
Day 9: Explore Everest base camp and take a helicopter back.
The trail to Everest base camp mostly follows the glacial morane with loose rocks and scree making it tedious and long. The altitude gain is only about 350 m but it takes about 4 hrs to reach the base camp. The view is magnificent with snow peaks in all 360 degrees. You may see the expedition tents or even popular mountaineers if you travel in Spring. Enjoy the view and wait for the helicopter to come pick you up. We may have to wait at base camp or come to the teahouses at Gorak Shep to be airlifted.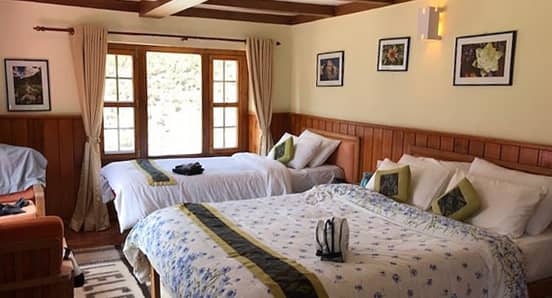 ---
Luxury and comfortable lodges in Everest
The package includes luxury lodges for the first three nights and then the comfortable lodges with electric blanket and ensuite bathroom for the following nights. Last two nights will be in a warm insulated hotel with great beds and a common bathroom but with great modules.
How difficult is the trek ?
Even though having luxury lodges make it more comfortable, the trek is graded as difficult and is suitable only for experienced trekkers with sound fitness. The trek involved walking above 5,000 m on rugged terrain with ups and downs each ranging about 500 m. Daily distance covered is not much (6 km - 12 km) but the altitude slows you down and you will have to walk about 6 hrs. The altitude gain is about 2,400 m in 8 days. 
Trek Safety
The Everest base camp luxury lodge trek is the safest way of trekking to the base camp. The itinerary has extra rest days for acclimatization than regular itineraries. We follow the 'trek high and sleep low' strategies for better acclimatization. Our professional leaders are trained and experienced to handle emergencies. Lodges we stay in have supplementary oxygen systems. Our high altitude activities are designed by keeping the high altitude clinic at Pheriche as a base in case of emergency. Having helicopter flight included in the package makes it even more convenient to fly back in a worse situation. 
---
We have been successfully organizing Everest trek in the post-COVID period. With the best weather and relatively fewer trekkers, Autumn 2022 is the best time to trek in the Everest national park.