Helicopters are the quickest way of getting into the Himalayan Shangri La. It is popular in Nepal to charter Helicopter to base camps of Everest, Annapurna, Langtang and other Himalayan peaks. Helicopter also shortens trek by cutting off the tedious drive and ups and downs of Himalayan foothills.
Helicopter tour of Everest Base camp
Helicopter tour of Everest base camp and Kalapatter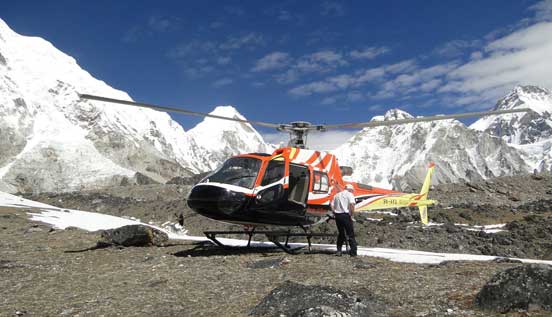 The Himalayan sightseeing helicopter flight is the best way of experiencing Mt. Everest for those short of time. The 4 hrs helicopter flight will take you to Everest Base Camp or Kalapatter (5,550 m). Our local pilots have great passion and knowledge of the Himalayas to make your flight smooth and spectacular.

Highlights :
Helicopter Flight along the Himalayas to Everest Base Camp
As you Helicopter lifts in the sky of Kathmandu, Himalayan peaks of Langtang and Gaurishankar starts to arise. The helicopter propels along the Himalayan ranges of Jugal Himal, Rolwaling and Khumbu Himal to
come to Lukla airport. From Lukla the helicopter follows the narrow valley wedged between Dudh kunda Himal and Khumbu Himal, up north towards Everest Base Camp.
Visit Everest Base camp, Kalapatter and Khumbu icefall
Helicopter will either land at Everest Base Camp (5,300 m) or on Kalapatter giving you ample time to take picture fo Khumbu icefall, Mt. Everest, Lhotse and other spectacular peaks of Khumbu Himalayan range.
Breakfast at Everest View Hotel
Hotel Everest View is popular all over the world for its majestic location and panoramic view of the Mt. Everest. The elevation of the hotel is listed at 13,000 feet by the Guiness Book or World Records, and is recorded as the world's highest altitude hotel.
Everest Helicopter Tour Inquiry >