Helicopter Tour of the Himalayas
Helicopters are the quickest way of getting into the Himalayan Shangri La. It is popular in Nepal to charter Helicopters to base camps of Everest, Annapurna, Langtang and other Himalayan peaks. Helicopters also shorten the trek by cutting off the tedious drive and ups and downs of Himalayan foothills. 
.. The tour itself was excellent and went very smoothly, even when we added a heli tour at Everest to our itinerary. Our guides and drivers were very capable and went out of their way to ensure we were happy with their service (which we were}...

Helicopter tour of Everest Base camp
Langtang Helicopter Tour
Helicopter tour of Gosaikunda Lake
Other Helicopter Tours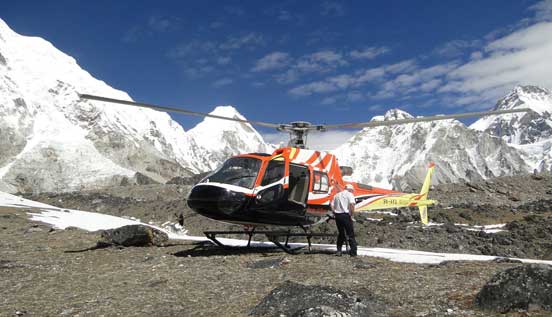 Everest base camp Helicopter tour 3 hrs
The Everest sightseeing helicopter flight is the best way of experiencing Mt. Everest for those short of time. The 4 hrs helicopter flight will take you to Everest Base Camp or Kalapatter (5,350 m) and encircles the basecamp allowing a rare up close view of Khumbu Icefall and Mt Everest, Lhotse and other peaks. Our local pilots have great passion and knowledge of the Himalayas to make your flight smooth and spectacular. 
Charter Flight USD 4,500 4000 until December 2023.
USD 1090/ person
for 2023
Now Everest Helicopter Tour is available on group joining basis.
EBC Heli trip Highlights :
Helicopter Flight along the Himalayas to Everest Base Camp
As your Helicopter lifts in the sky of Kathmandu, Himalayan peaks of Langtang and Gaurishankar loom at a distance. The helicopter propels along the Himalayan ranges of Jugal Himal, Rolwaling and Khumbu Himal to arrive at Lukla airport. From Lukla the helicopter follows the narrow valley wedged between Dudh kunda Himal and Khumbu Himal, up north towards Everest Base Camp.
Visit Everest Base camp, Kalapatter and Khumbu icefall
Helicopter will either land at Everest Base Camp (5,300 m) or on Kalapatter giving you ample time to take picture fo Khumbu icefall, Mt. Everest, Lhotse and other spectacular peaks of Khumbu Himalayan range.
Breakfast at Everest View Hotel
Hotel Everest View is popular all over the world for its majestic location and panoramic view of the Mt. Everest. The elevation of the hotel is listed at 13,000 feet by the Guiness Book or World Records, and is recorded as the world's highest altitude hotel.
Everest Helicopter Tour Inquiry >
---
Langtang Helicopter Tour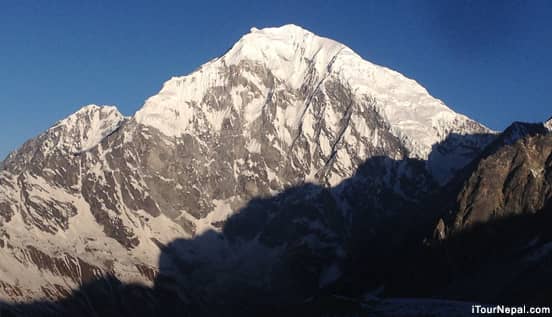 Helicopter tour makes it possible to visit of Himalayan hidden valleys within a day. Langtang National Park is one of the famous destination for Himalayan heli tour in Nepal. Helicopter takes you to the alpine meadows of the Himalayas where strenuous ups and downs ends and beautiful Himalayan Buddhist villages thrives.
Langtang is right north of Kathmandu, close to Tibet. People living here are Sherpas, descendant from Eastern Tibet and are strictly Tibetan Buddhists.
We will fly into the valley and stop for refreshment in Kynjin Gompa before flying out to Kathmandu.
---
Gosaikunda Heli Tour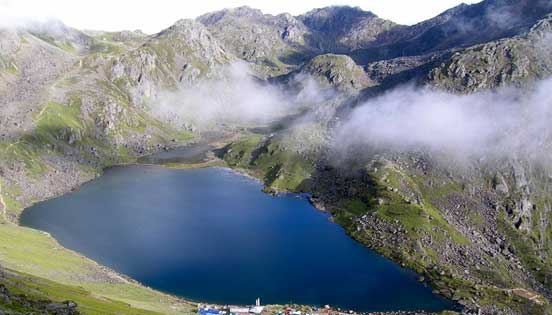 Godaikunda at 4,380 m north of Kathmandu is another short Helicopter tour of the Himalayas north of Kathmandu. Gosaikunda is alpine lake with high spiritual significience overlooking at the majestic snow peaks of Ganesh Himal and Langtang range.
---
Helicopter Tour from Pokhara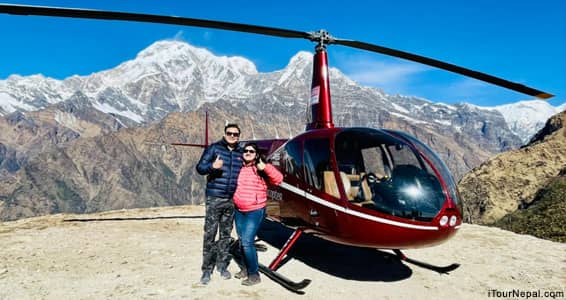 Pokhara is another base to charter helicopters in Nepal. There are several Himalayan view points one can visit within an hour from Pokhara. Group joining trips to Mardi Himal and Kori Danda are the most popular during the peak season. Write to us to join a Helicopter tour from Pokhara.
Nepal Helicopter Tour Cost
We also provide helicopter tours of most popular places around Nepal. Within a few hours, you can visit distant places like Lumbini, Muktinath Halesi (Maratika cave). You can also get dropped or airlifted from the trekking to make the trek short.
| From Kathmandu | No of Pax | Price per Flight |
| --- | --- | --- |
| Helicopter Charter | 1 -3 Pax | USD 1700 / hour |
| Namche Bazzar | 1 -3 Pax | USD 3000 |
| Lumbini | 1 -5 Pax | USD 3500 |
| Muktinath | 1 -5 Pax | USD 4100 |
| Halese Cave | 1 -5 Pax | USD 2500 |
| Langtang | 1 -5 Pax | USD 1500 |
| From Pokhara | No of Pax | Price per Flight |
| Annapurna basecamp | 1 -5 Pax | USD 1260 |
| Mardi Himal | 1 -5 Pax | USD 900 |
| Kori Danda | 1 -5 Pax | USD 950 |