Lwang Village Tour
Lwang village homestay and tea garden tour.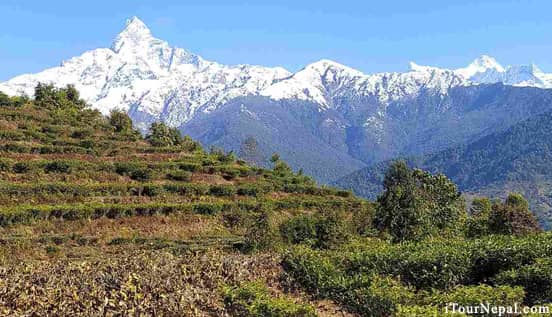 Lwang village tour is one of the best tours for cultural immersion experience in Nepal. The village at the foothills of Mt Fishtail, have been warmly welcoming into their house and day to day life through the community homestay program. Located at 1,550 m, Lwang is a charming Gurung village, some 30 km northwest of Pokhara. Gurung ethnic group dominates the foothills of Annapurna. They were the most preferred recruits among Gurkha soldiers with their proud history. Being off the main tourist trail of Annapurna, Lwang village still retains its traditional, self-sufficient happy life. The village has preserved their cultural heritage very well to feel the essence of authentic Nepalese village.
Annapurna Conservation Area Project (ACAP) and the homestay management committee have taken care of the hygiene and basics to host tourists.
Lwang Tea Garden
Lwang village started a tea garden some 20 years back with the association of 16 families. The landscape and climate of Lwang is appropriate for tea.
'Demmers Teehaus' the teahouse chain specialized in up market teas is supporting the farmers
with technologies needed for producing premium teas.
Lwang village tour - 5 days
Day 01:Drive or fly to Pokhara from Kathmandu. Explore the lakeside town and free in the eveining.
Day 02: Drive to Lwang village (Lwang Ghalel) . Overnight in Homestay. Drive 1 and half hrs to Lwang village northwest of Pokhara. The village is perched high up at the altitude of 1,550 m. Mt Fishtail appears undisturbed in the northeastern backdrop of the village. We will stay in one of the community managed homestay with some of the lovely Gurung family and enjoy their hospitality. Meals served are made of local products and fresh from garden.
Day 03: Visit tea garden, village and canyoning site. Overnight in Homestay. You can participate and learn the village life, observe feeding and milking cattle, churning of yogurt and making butter, traditional way of grinding cereals to make flour for your meal. Learn about their custom and help them prepare your meal.
Day 04: Drive back to Pokhara. Explore more of Pokhara.
Day 05: Drive to next destination.
Stay and tour with locals
Now you can visit the most popular tourist destinations of Nepal based on community homestay. Stay and tour with locals for the authentic experience of Nepal.
Lwang village tour with short trek
Lwang village tour could be combined with short trek from 2 days to 8 days in the region. The village is in the foothills of the Mardi Himal and Mt Fishtail. Write us to customise the village tour with short trek or visit our.
Mardi Himal trek itinerary
Annapurna Dhaulagiri community lodge trek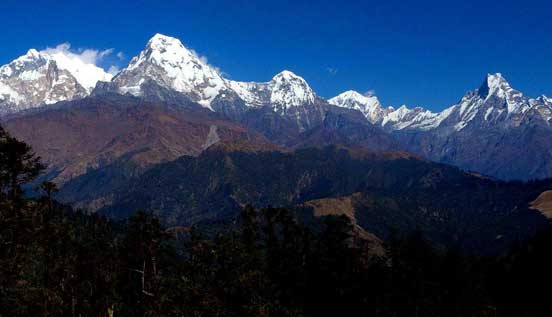 This is one of the most successful sustainable trekking routes developed recently. The trek route follows 'off the beaten path' trails in Annapurna conservation area and avoids the tourist crowd of the main trail. Community homestay and community lodges have been established to facilitate the trekkers. While this route gives you insight of the pristine countryside, it also comes to view points like 'Mohare Danda' (3,300 m) and walks past Poon Hill. The trek could be organized from 4 days to 8 days with Muldai viewpoint and Khair Lake trek.