Bhutan as tour destination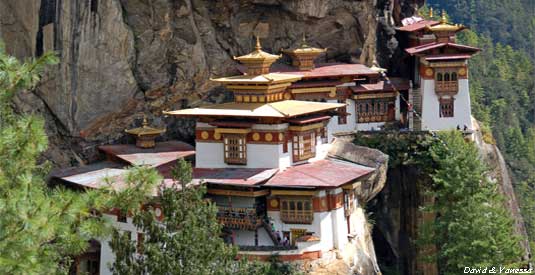 The regulated tourism makes Bhutan an expensive destination in south Asia. However its uniqueness as 'Tibet outside of Tibet', worth a visit. Bhutan is in the southern slopes of the Himalayas, where intact Tibetan essence and Buddhism is preserved indifferent to outside world.
Bhutan, approx. the size of Switzerland, covers an area of 47,000 sq. kms and has a population of less that 700,000 inhabitants. These figures, however do not reflect the incredible geographical and ecological diversity of the country nor its natural wealth. The range of altitudes revel its variety, rising from 300m on the Indian frontier to 7,300m on the Tibet border. The land is reminiscent of a gigantic staircase.
The name Bhutan appears to be derived from the ancient Nepalese term Bhotana, which means the end of the land of Bhots (Tibet). The Bhutanese themselves refer to their country as Druk Yul or the Land of the Thunder Dragon. Druk meaning dragon and extending from the predominant Drukpa school of Tibetan Buddhism. You will discover in the Thunder Dragon Kingdom of Bhutan, true mystical bliss enveloped in its natural splendour. This Himalayan paradise is still wrapped in a time, recollected by many as "those good old days".
Bhutan Tour Packages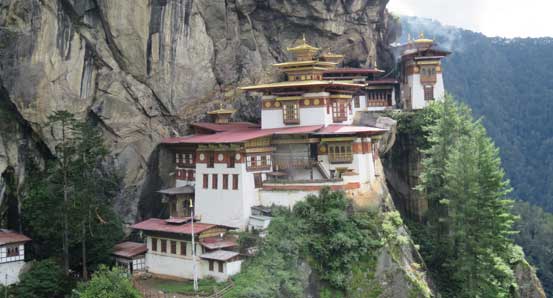 Short Bhutan Tour
4 days | All year around
Difficulty : Moderate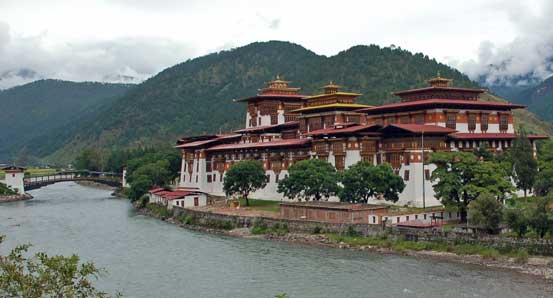 Bhutan Walking Tour
10 days | September - December
Difficulty : Moderate
Best time to travel Bhutan
March / April and October / November are the peak tourist season for Bhutan. Spring brings colors to the nature. Rhododendron blooms in late March / April. 80 % tourists visit Bhutan in October. November is the best time to travel to see migration of Black-necked cranes from across the Himalayas. The arrival of the birds is celebrated with festival in Phobjikha valley. So if you are travelling during these months, plan ahead.
December, January and February have clear mountain views if you are just visiting valleys of Paro, Thimphu and Punakha. However you need to be used to low temperatures. Days are often warm and sunny.
September has pleasant temperature of about 25 degree. Thimphu celebrates 'Thimphu Tshechu festival' during the month. However sky may be partially cloudy as the monsoon is becoming reliant.
May : Clouds start to gather around May and the temperature rises making it hot and humid. This is not the best time to travel but it is less crowded and mountains are visible every now and then.
June – August: is rainy season. Sky is covered in monsoon clouds that could pour down any time. It is definitely not a time for trekking but city sightseeing is still possible.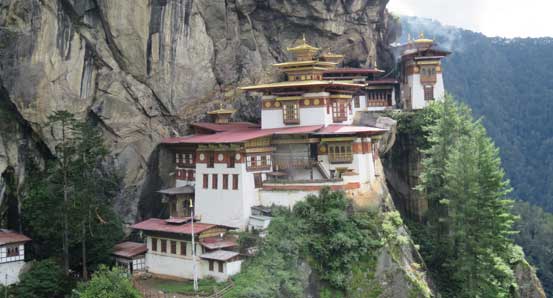 * Kathmandu Chitwan Pokhara - Nepal
* Paro & Thimphu - Bhutan
* Lhasa - Tibet
Bhutan Access - by air and overland
The National carrier Druk Air operates from the only international airport in Paro with 75-seater BAE-146, a four engine jet aircraft. It has scheduled flights to Kathmandu, Delhi, Calcutta, Bangkok & Yangon. Buddha Air has started Kathmandu - Paro scheduled flights by BEECH 1900 D aircraft. By road, it is possible to drive via India to the Bhutanese town of Phuntsoling, gateway town in the southwest.
The Kingdom lies east of Nepal and west of the Indian state of Arunchal Pradesh, south of Tibet and north of the Indian state territories of West Bengal & Assam. Bhutan is a landlocked country surrounded by mountains to the north & west. The altitudes in the south range from 1000 to 4500 feet. From 4000 feet in the east around Tashigang to a high of 17,000 feet over the highest pass. The altitude at Thimpu, the capital is 7,700 feet.