Kathmandu Tour

- 5 days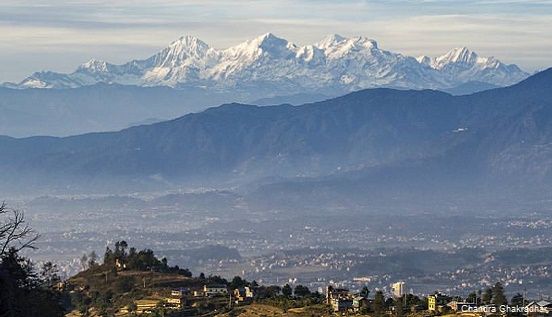 The Kathmandu valley with area of 257 sq. miles is the cultural center of Nepal. In the backstreets of bustling city, Newars still solemnize their age old mystic festivals in the premises of medieval palaces and temples. Kathmandu has over 130 nationally recognized monuments with groups of 7 making Kathmandu the UNESCO Heritage site. The city that stayed aloof to the change that world had gone through, has lot to tell from Tantric eroticism to Hippy's marijuana adventure.
The lush hills in the outskirt provide ground for Himalayan sightseeing and short and scenic cultural trek. Kathmandu Tour is combinaion of cultural sightseeing, Himalayan scenery and hiking or short trek.
Kathmandu tour could be customized for 2 days - 5 days with cultural immersion oppertunities, homestay, old town walks and short trek around Kathmandu.
Best Nepal Tour for March
5 days Kathmandu tour is the best for March. The tour includes culture and heritage sightseeing and hikes around Kathmandu reaching maximum altitude of 2,200 m only. March is beginning of Spring tourist season. Days are warm and sunny with chilly nights which makes it perfect for short trek around Kathmandu and cultural sightseeing.
Average weather of Kathmandu
| Month | Max Temp | Min Temp | Rainfall | Rain day |
| --- | --- | --- | --- | --- |
| February | 21.4℃ | 4.5℃ | 187 mm | 3 |
| March | 25.3℃ | 8.2℃ | 34.2 mm | 4 |
| April | 28.2℃ | 11.7℃ | 61 mm | 6 |
| May | 28.7℃ | 15.7℃ | 123.6 mm | 12 |
Kathmandu Tour Review
Couldn't recommend Rabi and his team more highly. They were highly professional and quick to reply to queries from the outset, and put together a great itinerary for us to fit with the time we had in Nepal. You would struggle to find a more knowledgeable guide than Rabi to show you around Kathmandu, Bakhtapur and Lalitpur, he gave us a brilliant insight into everything from architecture to history and the religious symbolism behind the different temples we visited. Our trekking days were similarly well organised, with a really friendly and professional guide and porter. The whole trip was excellent value for money , and I wouldn't hesitate to recommend Rabi's organisation to anyone looking to visit Nepal. - Elly Moreton - Uk
| | |
| --- | --- |
| Shivaratri 2020 | 19 February |
| Holi (Festival of colors) | 9 - 10 March |
| Bisket Jatra (New Year & Spring Festival) | 13 April |
Details at Nepal Festivals 2020 >
---
5 day Kathmandu valley Tour
DAY 01: ARRIVE TO KATHMANDU, NEPAL
You will be received at Kathmandu airport by our representative holding your name plate. After formal meeting, you will drive to the Hotel. There is an option of familiarization walk to the old Kathmandu in the suburb of tourist center of Thamel.
DAY 02: KATHMANDU SIGHTSEEING
Come down to the Hotel restaurant for breakfast. Your tour guide will be introduced. He will guide you through the Heritage Sites of Kathmandu. An easy, relaxing day in a comfortable ride with a local guide will uncover totally different perspective of kathmandu.
Sightseeing Points – Pasupatinath Temple, Boudhanath Stupa & Swayambhunath Stupa (Monkey Temple) and Kathmandu Durbar Square.
DAY 03: BHAKTAPUR TOUR & NAGARKOT (overnight)
After breakfast, we will drive to Bhaktapur, which is 17 km (45 mints) from Kathmandu. Bhaktapur is known as 'The Living Museum' as it still retains its medieval fragrance. We will have lunch in Bhaktapur and then drive to Nagarkot (18 km). Nagarkot is a hill station overlooking Himalayan peaks at a distance and lush valleys on the either side.
Overnight in Nagarkot hill station. Enjoy countryside and Himalayan View.
DAY 04: EASY HIKING / PATAN TOUR
Sunrise over the Himalayas from Nagarkot is what drives thousands of tourist to Nagarkot. Even though beautiful snowcapped peaks could be seen from bed itself, many tourists prefer to walk or drive to the tower. A hot breakfast will be waiting for you back in Hotel. For the day you can either hike to Changunarayan (2 - 4 hrs) or drive to Patan (Lalitpur), Patan Industrial Area and Tibetan Refugee Camp for more sightseeing.
Day 05: DEPARTURE from KATHMANDU AIRPORT
Our tour officer will come with a transportation to drive to the airport for final departure.
---
Kathmandu tour options
Dhulikhel and NamoBuddha
a day in the monastery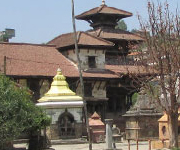 Dhulikhel in the norther rim of Kathmandu is a natural refugee with view of eastern Himalayas. A day hike to Namo Buddha gives deeper insight of Nepalese countryside lifestyle. The monastery at 1,700 m Namo Buddha hilltop offers accommodation and meals with monks. Customize Kathmandu tour with this exclusive experience of monastic life and the hiking.
Kathmandu valley trek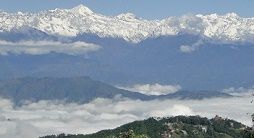 Kathmandu valley trek is a 3 days trek in Shivapuri national park. The tail follows the forested northern valley rim above 2,000 m and offers Himalayan view of Langtang, Ganesh Himal and Jugal Himal ranges.