Bhaktapur and Panauti tour with overnight stay in Namobuddha makes a nice nature and cultural heritage tour around Kathmandu. Unlike Nagarkot, Namobuddha is less commercial and greener with more spiritual vibration. All Bhaktapur, Panauti and Namobuddha are in the eastern suburb of Kathmandu valley. Bhaktapur and Panauti still retain the more laid-back medieval Newari town known as a living museum. Some 42 km from Kathmandu, Namobuddha at 1750 m has the third important Stupa of Nepal. The hilltop is looking at the beautiful Himalayan panorama. The Stupa with relics of one of the previous lives of Buddha and the Thrangu Tashi Yangtse Monastery with 250 monks studying and praying, makes the place filled with high spiritual energy.
Necessary permits
Private vehicle for the round trip
Guided tour with all entrance fees.
Accommodation at Monastery guest house with dinner and breakfast with monks.
ITINERARY
Day 1: Bhaktapur and Panauti tour and overnight in Namobuddha
Our guide and driver will pick you up from your hotel in Kathmandu at around 9:30 am. Bhaktapur is about 16 km north of Kathmandu. Spread over the 7 sq km area, the old town is jagged with pagodas, pavilions, sunken water spouts and a palace debunked in fine art and crafts. We will walk through its alleyways to the four major squares to see the Bhaktapur known as the living museum.
From Bhaktapur, Namobuddha is about 29 km southeast, perched on a beautiful mountain top. The drive is scenic with views of lush valleys, charming towns and farmlands. Snow peaks appear in the northern backdrop.
Panauti is another beautiful Newari town visited by very few foreigners. So it is less commercial and laid-back to observe the local life. The cremation ground at the confluence of the Rosi, Punyemati and the mystic River Rudrawadi has a bunch of medieval temples and pavilions. A walk through the old town will give you deeper cultural insight. The neighborhood where the prince Mahasattva was born is still a center of attraction. Namobuddha is about 18 km from Panauti. There are basically two accommodations - Namobuddha resort or a monastery guest house.
Day 2: Himalayan view, pray with monks, walking and drive back to Kathmandu
Namobuddha is about 18 km from Panauti. There are basically two accommodations - Namobuddha resort or a monastery guest house.
Namobuddha at 1,700 m is overlooking layers of mountains with Himalayas in the background. Staying overling, will give us more opportunities to enjoy the Himalayan scenery and explore around. You can pray and eat with monks and see the pilgrims circumambulating around the stupa or offering hundreds of lights to pay tribute to the most compassionate deed of Buddha in one of his previous lives.
Later drive back to Kathmandu.
Bhaktapur and Panauti Tour
Bhaktapur and Panauti TourBhaktapur and Panauti are most intact Newari towns with medieval architecture complexes with locals still living their medieval life. These towns are jampacked with Newari buildings, pagodas, house of gods, pavilions and sunken waterspouts exhibiting rich art and crafts. Walking though these towns gives one a feel of walking back into the time with highly sophisticated and more intact cultural and spiritual practices from medieval Indian subcontinent.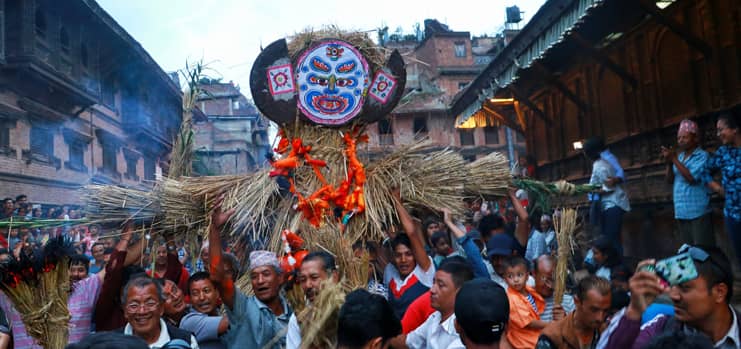 Eat and pray with monks in Namobuddha monastery
Namobuddha monastery or Thrangu Tashi Yangtse Monastery at the sacred site of Namobuddha houses over 250 monks. The monastery complex includes a monastic college, a school for young monks, and a Tibtan medical clinic. There are also guest houses run by monks for the visiting monks. It is possible to stay in the monastery guest house and eat and pray with the monks.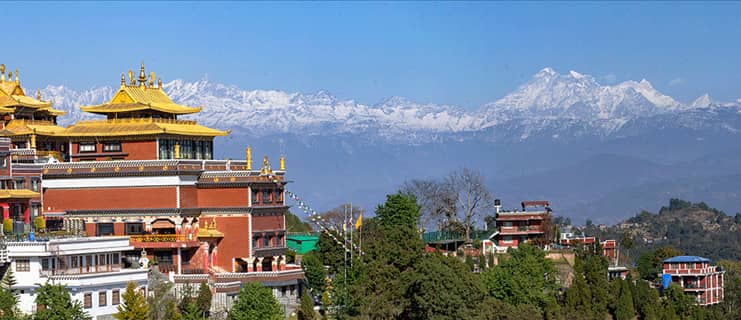 Hiking around Namobuddha
Short, easy hike to Namobuddha
Instead of driving all the way, you can also plan a short and easy hike of about 3 - 4 hours to Namobuddha. The trail climbs gradually from the Kavre Bhanjyang at the northern base of the Namobuddha hill. The trail passes through forest and villages with terrace farms and comes to viewpoints to look at the lush sweeping valleys, layers of mountains with backdrop of the snow peaks. The total elevation gain is only about 200 m / 640 ft throughout the total distance of 7.5 km walk. There are also options of luxury hotels and resorts at Namobuddha. A moderate altitude, availability of warm and comfortable stay and warm and sunny days makes it perfect for winter hiking in Nepal.
Namobuddha to Balthali hike
Balthali is another popular destination to travel around Kathmandu. Tucked on the southeastern hills of Kathmandu valley, the place is surrounded by lush vegetation. The view is dominated by far reaching terraced farmlands and valleys with snow peaks in the background. There are only a few resorts highly recommended by travelers. A walk from Namobuddha to Balthali will take you though beautiful Tamang and Newari villages along with their temples, stupas and cremation grounds. It is about 11.5 km and takes about 3 hours. This will give more insight into the countryside lifestyle of local ethnic groups and their culture.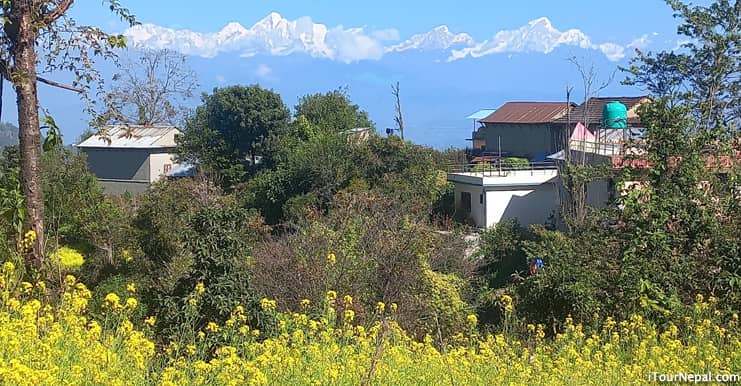 Namobuddha, an important Buddhist pilgrimage
Namobuddha is one of the must visit Buddhist pilgrimage sites. It is believed that Buddha in one of his previous lives, sacrificed himself at the site to feed starving Tigress and her cubs. As per the Jataka stories, Price Mahasattva with his two brothers from the nearby Panauti, was passing through the jungle of Namobuddha. He saw a nourishing mother Tiger and her cubs starving to death. Out of great compassion, Prince Mahasattva, offers his own flesh. The Namobuddha Stupa is believed to be built with his remaining bones.