Monsoon season in Nepal is also the summer. The monsoon rain starts in mid June and lasts till mid of September. The weather has mixed consequences for touring activities depending upon the activities and altitude. When the monsoon clouds come in, it remains cloudy most of the time even though it doesn't rain all the time. Some days will have persistent light rain and the other days may see torrential downpour for an hour or two. The increased temperature and humidity will be cooled by the rain. Himalayan peaks could be seen certain times a day from the view points above 3,000 m. There is also guaranteed Everest sightseeing flights leaving everyday from Kathmandu.
Nepal tour in Summer
This is definitely not the best time for many treks in the foothills of the Himalayas. But monsoon rain has less effect on a few trekking routes, Nepal tours and tours of Bhutan and Tibet. While the annual average rainfall of the country is 1600 mm, it is only 300 mm in the trans-Himalayan regions. In fact summer is the best time to travel to Tibet or Mustang and Dolpo of Nepal, as the monsoon rain has less effects in these trans-Himalayan regions. Similarly, a tour of Nepal and Bhutan that involves driving, heritage sightseeing and cultural immersion activities are less affected by the monsoon rain. Decreased prices, less crowd and the authentic cultural experience are the few benefits of travelling to Nepal during monsoon.
Travel after Corona this Summer
The second wave of Covid 19 was massive and deadlier for India and Nepal. India has become the third country with highest no of deaths and accounts for 16% of the global confirmed cases. Nepal closed itself down to prevent movement across the 1,770 km open border it shares with India. It reached the peak in the first week of May and new cases are declining steadily since then.Nepal is likely to take in tourists from the end of June 2021. Even though limited by rainy weather, there are few places one can visit during the summer 2021.
Recommended tour for monsoon
Nepal Travel tips for Monsoon
Prepare for the rain. Good quality, breathable rain gears are recommended.
Make your luggage / backpack waterproof and bring cover.
Footwear must be waterproof or easy dry.
Keep your itinerary flexible considering delays and cancellation of transportation and domestic flights.
Plan your trip with enough time between your trip and international flight.
Avoid driving on off roads as much as possible.
Normally it rains in the afternoon or evening. So it is better to start your activities early.
Plan a morning Himalayan sightseeing on the morning if it rains a night before.
---
Nepal in August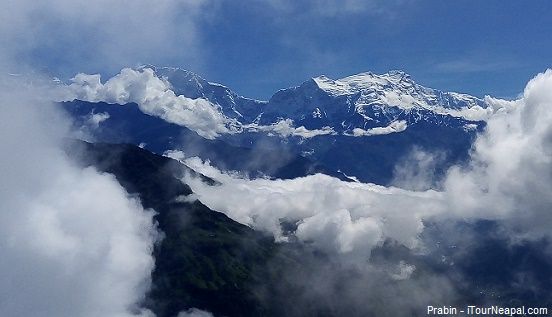 August is still a rainy month in Nepal. The rain is supposed to become relent by the end of the month. But the weather pattern has changed in last decade and the monsoon rain continuous till the mid September. By August, agricultural rush of planting rice ends and people are more relaxed to celebrate few of the many colorful festivals of Nepal. The festivals of Naag Panchami, Janai Purnima, Gai Jatra, Krishna Janmastami falls in August 2019. August is not an ideal month for Nepal tour and trek. However if this is the only time you can visit, there are few treks and cultural tours which are less effected by monsoon rain. August is summer and rainy season in Nepal. It remains mostly cloudy and rains in the afternoon or night. It is hot and humid in lower valleys or foothills of the Himalayas which will be cooled by rain. Trekking in Mustang region is highly recommended. This is also best time to visit Tibet or just take a cultural tour with day hikes.
Nepal Trips for August
August is still monsoon with heavy clouds and rain throughout the country. Even though there will be few tourists trekking to popular destinations, it is not ideal month for trekking. While it remains mostly cloudy, it rains only in the afternoon and night. Days are hot and humid. So if you have to come to Nepal in August, there are few trips relatively better to take than others. It is the best time to do Nepal and Tibet tour. Nepal tour with day hikes could be planned around Kathmandu and Pokhara. Here are the recommend trips for August.
August weather
Average weather around the major tourist sites of Nepal
| Place | Max Temp | Min Temp | Rainfall | Rain day |
| --- | --- | --- | --- | --- |
| Kathmandu | 28.7℃ | 20℃ | 330.8 mm | 22 |
| Pokhara | 30.2℃ | 22℃ | 866 mm | 15 |
| Chitwan | 32℃ | 23℃ | 533 mm | 12 |
| Namche | 16℃ | 8℃ | 243 mm | 22 |
| Jomsom | 16℃ | 6℃ | 122 mm | 20 |
---
Nepal in September
The monsoon rains starts to subside by the beginning of September. The air starts to cool down with lesser clouds in the sky. It rains once in a few days only by mid September. Tourists start to fly in Kathmandu and go on treks and tours by the second week of September. The average temperature will be between 25 – 12 degree centigrade in September. Because of vertically rising landscape, climate varies from places to places. The lower valleys and tropical jungle will still be humid throughout September. Mountains remains cooler and you may need warm cloths depending upon the altitude.
September travel tips
Carry light breathable rain gears. You can mostly wear shorts during the day. Loose full sleeves cotton outfits will be helpful against mosquitoes for the evening. Down jackets are not needed for the trekking. Light jackets and warm clothes in layers are recommended.
Recommended Nepal trip in September
The average rainfall is more in western Nepal than in east. Also the flooding and landslide make the remote trek unpredictable until October. It is still the best time to visit Tibet. Nepal tour with visit to scenic hill towns like Nagarkot and Bandipur guarantees pleasant temperature and Himalayan views with cultural encounters. Here are some of the Nepal trip recommendations for September.
For more detailed weather, travel tips and trip recommendation for September visit - Nepal Tour in September