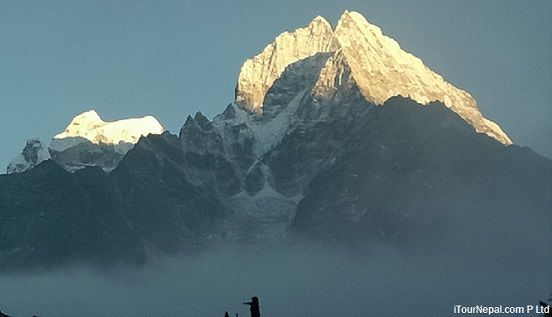 Nepal tour in October
While September will still have mixed weather, October ensures clear blue sky, warm and sunny days with comfortable temperature. The lush green hills replenished by monsoon rain bring freshness in the air. Terraces glistening with rice bring happiness and also indicate the festival time after restless monsoon. Flooding settles and the trails are cleared. From the thinning clouds crystal clear snow peaks soar high up in the sky. With moderate temperature, crisp skies, bright days and festivity, October is the most popular touring season among the tourists visiting Nepal.
October weather in Nepal
Average weather around the major tourist area of Nepal
| Place | Max Temp | Min Temp | Rainfall | Rain day |
| --- | --- | --- | --- | --- |
| Kathmandu | 26.8℃ | 13.4℃ | 51.2 mm | 4 |
| Pokhara | 27.5℃ | 16.7℃ | 140 mm | 3 |
| Chitwan | 30℃ | 19℃ | 105 mm | 2 |
| Namche | 12℃ | 2℃ | 78 mm | 5 |
| Jomsom | 11℃ | -3℃ | 39 mm | 4 |
Nepal Tour for October
The tourism activities in Nepal begin by mid September and reaches to its apex by the beginning of October. Because of altitude variation, weather and temperature varies from place to place. But October has moderate temperature throughout the country making it the best time for treks and tours. The best weather also attracts large numbers of tourists at the same time, making services scarce and expensive. But the comfortable weather and the crystal clear view of October is appealing.
The best Himalayan tour to take in October 2019 is 21 days Nepal Tibet Bhutan Tour. This is the best way to see all of the three countries that spans the loftiest peaks of the Himalayas. The tour starts and ends in Kathmandu, Nepal and visits the most popular tour destinations in the Himalayas along with drive to Everest north base camp.
To escape the crowd and best use the pleasant weather of October, here are the recommend Nepal tour for October.
Nepal Trek in October
By mid October, monsoon rain subsides and the main tour season for Nepal begins. All trekking trails are open after the monsoon flooding and landslide. It is best time to go on any treks in Nepal.
To avoid the crowd of popular routes, we recommend some
new trails with more cultural insight
.
Nepal Travel tips for October
Book your tour, trek or other logistics well in advacne as it is peak tourist season.
Choose less popular tour and trek destinations to avoid crowd.
Prepare with sleeping bag if you are going on a popular treks.
There will be mass exodus of locals because of festival making it difficult to travel.
Keep your itinerary flexible considering delays and cancellation of transportation and domestic flights.
Main days of the festival will have restaurants and shops closed.