Visit Nepal for New Year 2023 and Christmas holiday
With on-arrival visa and no PCR required, Nepal is top destination to travel during Christmas and New Year holiday.
December & January are winter in Nepal, but it is perfect for short treks, cultural tours, hikes and jungle safari tours. 
Nepal is one of the most festive places in South Asia to visit during the New Year and Christmas holiday. December and January is the best time to visit Nepal for cultural tours, short treks, wildlife and jungle safari tours. With moderate temperature, clear sky and sunny days, the Himalayas are clear and the air is much fresher. Tourist hubs like Thamel and Lakeside of Pokhara hosts live music, Gala dinner and street festivals. Be in the most surreal place with luxury to spoil you and watch the most beautiful sunrise over the Himalayas on the new day of the year 2023. Go on a short trek or just take soft adventure activities like jungle safari, paragliding, bungee jumping or a day hike.
December - January Nepal Tour Review
I spent 8 days in Kathmandu and Bhutan in January 2020. I organised my trip through itournepal. Rabi was so helpful and responsive during the planning stage. I was so excited to get there and to get going. My trip was beyond incredible - Rabi had listened and organised a trip that took in incredible sites but gave me plenty of time to wander and look for the authentic experiences you have by slowing down and interacting with people. Sarjan, my guide in Kathmandu was sensational. He was incredibly knowledgable and interesting. He was flexible which meant that we could change the itinerary and timing to ensure that I was able to linger longer at places. In Bhutan my guide Drukpa and driver Ram were the best. Drukpa again was very knowledgable and Ram such a good driver. They helped make the trek to Tigers Nest enjoyable - I am terrified of heights!! We had such a great time on our 4 day road trip - if you're lucky Ram will even sing for you as you drive through the stunning Bhutanese countryside. I will definitely be returning to Nepal and will definitely use Rabi and his team again. If you want to discover the real Nepal use a local tour company, use itournepal. - Georgie Mary - Hong Kong
---
Tour for Christmas & New year 2023
Pokhara with Helicopter Tour of Kori Danda
23 Dec - 3 January | मुल्य रु ३५,००० ३2,8००
प्रति व्यक्तिमा निजी गाडीमा घुमाउनुका साथै ब्रेकफास्ट सहित दुई रत होटेल तथा एक घण्टाको कोरी डाँडा हेलिकप्टर टुर गराइने छ।
वा पोखरा भ्रमणका लागि गाडी मात्र चहिएमा 9841665409
---
December and January are perfect times for the 8 days Nepal tour visiting Kathmandu Chitwan and Pokhara. December and January days are warm and sunny with average minimum temperature 2°C at night. This is the most popular tour of Nepal with culture and heritage sightseeing of Kathmandu, jungle safari at Chitwan national park and Himalayan view from Pokhara. This is the best Nepal tour recommended for your Christmas and New year 2023 holiday. Everything is open during the period and Tourist hubs of Kathmandu and Pokhara put on buntings, live music, food festivals and have Christmas dinner. 6 - 7 days Nepal tour could be customized visiting Kathmandu, Chitwan and Pokhara.
3 star hotels - Hotel Holy Himalaya - Kathmandu, Hotel White Pearl - Pokhara, Hotel Parkland - Chitwan
4 star hotels - Hotel Mulberry - Kathmandu, Temple Tree Resort - Pokhara, Sarang wildlife Resort - Chitwan
Luxury hotels - Hyatt Regency - Kathmandu, Fishtail Lodge - Pokhara, Barahi Jungle Resort - Chitwan
Day 1: Arrive Kathmandu, pick up and transfer to hotel.
Day 2: Kathmandu sightseeing.
Day 3: Drive to Chitwan National Park - 5 hrs
Day 4: Jungle safari activities. Option of elephant safari, canoe ride, jungle walk and jeep safari.
Day 5: Drive 5 hrs to Pokhara
Day 6: Pokhara tour
Day 7: Fly back to Kathmandu. Tour Bhaktapur and Patan.
Day 8: Drive to the airport for final departure.
---
INCLUDES :
- Accommodation w/ breakfast & taxes
- Private car transportation
- Guided tour w/ all entrance fees.
- Pokhara - Kathmandu flight
- Chitwan jungle safari package w/ all meals, safari activities & park fees included.
Booking Inquiry | Detailed Itinerary
---
Ghorpani - Poon Hill trek - 2 days
30 Dec - 2 Jan | मुल्य रु 19,800 |
प्रति व्यक्तिमा निजी गाडी, तीन रात होटेल का साथै दुई दिनको सम्पूर्ण बेबस्था सहित घोडेपनी - पुन हिल पदयात्रा गर्नुहोस ।
वा घोडेपनी - पुन हिल पदयात्रा लागि जिज्ञासा भए 9841665409
---
With New Year Eve at Ghorepani

Watching the New Year sunrise from Poon Hill is the most popular trip in Nepal for new year. Poon Hill, 3,200 m offers one of the best view of the Himalaya including two 8,000 m peaks, Dhaulagiri I (8,167 m) and Annapurna I (8,091 m). Dhaulagiri and Annapurna are the 7th and the 10th highest mountains in the world. Since it is short trek in the Himalayan foothills, the trek could be done throughout December and January. In fact, the sunny days with moderate temperature makes the walking very comfortable and the crisp sky guarantees the Himalayan view. This is perfect trek to take for your Christmas and New year 2023 holiday.
Price :
USD 650
Duration :
7 days - 4 days Trek + 3 nights in Kathmandu and Pokhara
Max Altitude :
3,200 m
Accommodation : Teahouse trek
Difficulty : Moderate with continuous climb of about 1,700 m within two days.
Booking Inquiry | Detailed Itinerary

---
Lumbini - Kapilavastu Tour - 3 days
प्रति व्यक्तिमा निजी गाडीमा घुमाउनुका साथै ब्रेकफास्ट सहित दुई रत होटेल तथा लुम्बिनी, रमग्राम, तिलौराकोटको सम्पूर्ण तिर्थयात्रा गर्नुहोस।
वा लुम्बिनी भ्रमण सम्बन्धी कुन्नै जिज्ञासा भए 9841665409
---
December - February is best season !
Nepal is perfect place to seek your spiritual quests as everything here connects with nature, wisdom yoga and religious practices. Here Hinduism, Buddhism, Tantrism, shamanism and animism blends and coexists in harmony. Ayurveda (ancient herbal medicinal knowledge) is still practiced in day to day life, Vastushastra (architecture based on five elements and natural forces) layout the cities and buildings and Jyotish shastra foretells destiny of every child. This was land where Lord Buddha was born. One interpretation of Nepal meaning 'cave resorts' have been a land for several enlightened beings. While the political strife and invasions wiped out several spiritual practices in its neighboring countries, Nepal became safe heaven until recently. December and January is perfect time to go on a spiritual tour of Nepal. Use your 'Christmas and New year 2023 holiday' go on a spiritual tour of Nepal.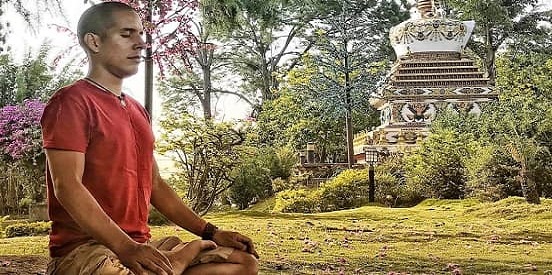 ---
Why Nepal tour for this Christmas and New year 2023 ?
You can easily get 10 days or more off for this Christmas and New Year. For those in Uk and Australia, this Christmas and New Year is the best time to go on a longer holiday. Christmas (25 Dec) and Boxing Day (26 Dec) fall on the weekend for which make-up day off is given on 27 and 28 December. Similarly New year 2023 also falls on Saturday for which a make-up holiday is given on Monday, 3 January. If one could get these three working days (29 - 31) off, they can have a 10 days holiday for upcoming Christmas and New Year. 10 days are good for many walking and driving tours of Nepal. Moreover Nepal is fully open with on-arrival visa and no quarantine required. 
One Week trips of Nepal
Now you can do major treks or see the must visit places of Nepal within a week's holiday. The extension of roads and airstiprs made inbound travel shorter making it possible to spend most of your week's holiday trekking or visiting the major destinations. Check our week's itineraries for Everest, Annapurna, Langtang trek and popular Nepal tours. Write to us to customize Nepal trek and tour during your Christmas and New Year 2023 holiday.