Nepal is one of the best family holiday destinations in the world for nature lover family. There are several activities and things family with kids can choose from. Show your family the Mt Everest or engage your kids learning about nature and wildlife spotting. Go on a short trek or camp in the pristine riverbank, there are ample opportunities to spent memorable family time together. 
Just don't end up being another tourist but build memories of your family time together.
Here are the 7 best activities to include in your family holiday in Nepal.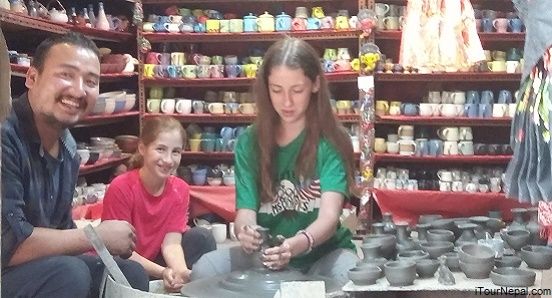 1 Special interest tour
Nepal has a rich living heritage of spirituality and culture of the medieval and ancient Indian subcontinent. But many of these don't grab the interest of children. But there are several special interest tour activities that make cultural and heritage sightseeing interesting for families with kids. Short drop-in pottery lessons, Nepali handmade paper craft, sculpture, farm visit and 'a day in a village life' are some of the exclusive activities to include in your family tour of Nepal.
Best Nepal Family Holiday Package
9 Day | USD 2,490 + for 4
Nepal Family Holiday
2 Hiking with picnic lunch
There are several day or two hikes around Kathmandu and Pokhara suitable for families with kids. Hiking is the best way to escape into nature and experience the countryside lifestyle of the Himalayas. Hiking could be customized from half a day to two days with grading of easy to moderate in difficulty.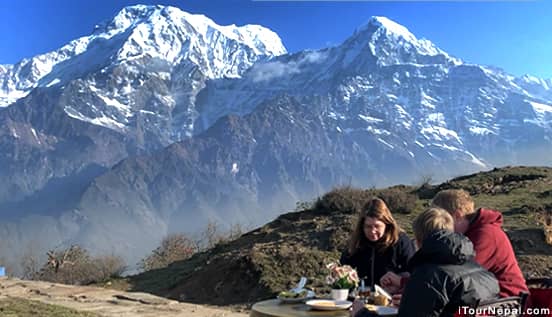 3 Wildlife and nature safari tour
The steep landscape of Nepal rising from 70 m to the top of Mt Everest and the trans-Himalaya make it the most ecologically diverse country. While there are 12 national parks, 1 wildlife reserve, 1 hunting reserve and 6 conservation areas; Chitwan and Bardia are the most popular parks with easy access for tourists. Guided wildlife and nature safari tours based on deluxe and luxury accommodation make one of the best family holidays in Nepal. There are ample opportunities for kids to engage, learn about plants, birds and other wildlife including the endangered Royal Bengal Tiger and Asian Single horned Rhinos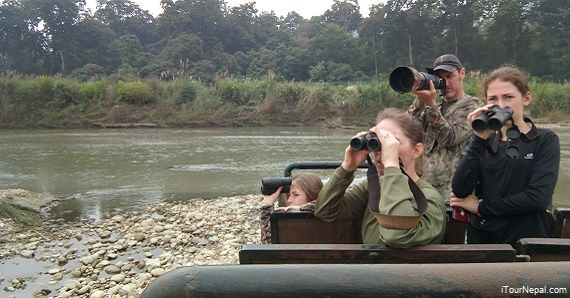 4 Rafting and riverside camping
One of the most popular things to do in Nepal is the white water rafting. Not all rafting are highly adventurous but it could also be fun and suitable for families with kids. Rafting in Seti and Trishuli could be customized for families with kids of any age. Besides, drifting in an inflatable rubber boat, the activity is also about playing in the pristine sandy bank and being out in nature. Play camping games, beach volleyball, make castle or watch stars and spend quality time together. Deluxe tents or resort rooms are available as accommodation options.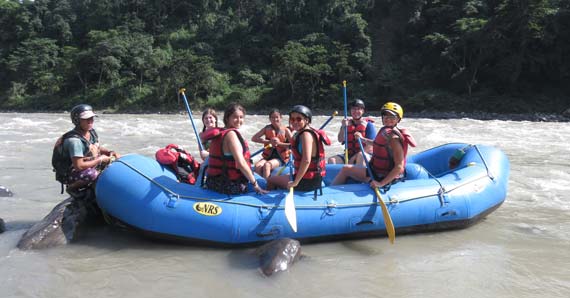 5 Family trek
Some parents go on a trek even with their infants with porters carrying all the necessary supplies. But there are only a few treks we recommend for the family with kids. Short Everest cultural trek could be done with luxury or deluxe lodges. The availability of comfortable accommodation and the up-close view of Himalayas including Mt Everest makes this trek the best for families.
Similarly the Ghorepani Trek is another trek we recommend for families with kids. This short trek is the most popular trek in Annapurna and the trek is not so remote. Availability of decent lodges and resorts with en-suite bathrooms make the trek even more convenient.
6Heli-Trek
One difficulty in trekking with kids is that they get bored quickly and it is difficult to keep up for many days. In such, many families also prefer Heli-trek. With the helicopter, you can escape the long drive to the trail head and also skip days' trekking in the foothills. Spent few nights exploring the deeper valleys of the Himalayas or climb to the view points before heading back or flying out.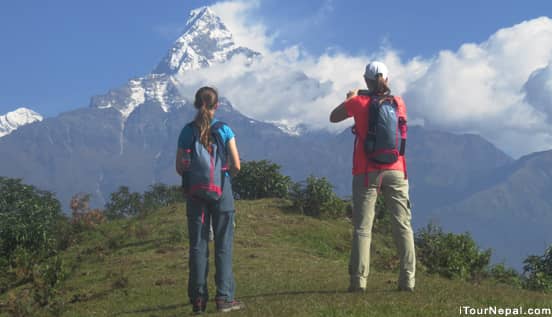 7 Everest Heli Tour
Mt Everest is in a bucket list of most of the travelers. But if you don't have two weeks time to trek to the basecamp, Everest Heli Tour is the best way to step and experience the view Everest base camp both from air and ground. Then have a breakfast at 'Everest view hotel' with the world's highest mountains in the backdrop before flying back to Kathmandu. This 3 hours helicopter trip of Everest is one of the popular activities among families vising Nepal.
---
Best Heli Trek for family
The 2 night 3 day, Mardi Himal Heli trek is the best helicopter trek for family with kids.