At least 2,000 years old Pashupatinath temple complex with cremation ground and meditations caves.
In the lap of the Himalayas, Nepal stood aloof to the political turmoil its neighbours went through until very recently. While several spiritual practices originated in the mainland Indian subcontinent, they survived as a living heritage only in the hidden valleys of Nepal. Guided by basic principles of nonviolence and harmony, several practices coexisted for over two millennia without conflict. The reminiscence of the coexistence is well reflected by the monuments of Kathmandu valley.
Almost all mountains of the Nepalese Himalayas were either an embodiment or abode of gods. The very reason made it a famous pilgrimage and retreat center of all time.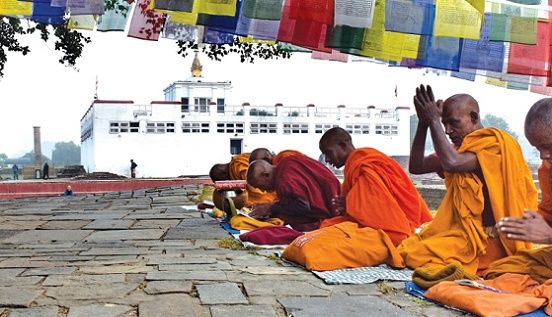 Mayadevi temple in Lumbini is the exact birthplace of Buddha. Lumbini is developed in an area of 1 x 3 square miles.
Spiritual and wellness tour of Nepal
Home of Buddha and Buddhism
"A pious person should visit the four holy places and look upon with feelings of reverence."
Lumbini, the birthplace of Buddha, is one of the 4 UNESCO Heritage sites in Nepal. The exact birthplace of Buddha has been developed under a master plan in the area of 2 X 6 km with ample gardens, ponds and monasteries to create the spiritual ambiance. There are also several archaeological discoveries around Lumbini; like Tilaurakot palace where Buddha was raised as prince Siddhartha until he was 29, Ramgram Stupa (only unopened Buddha relic stupa out of the first 8), Kudan monastery where Buddha gave 4 sermons and the birthplaces of Kanakmuni Buddha and Krakuchanda Buddha.
Similarly, hidden in the citadel of mountains, Nepal was a safe haven for Buddhism while its neighbors went through arsion and invasions. There are several meditation caves and monasteries which continuously practiced and preached Buddhism until the date. Yangleso cave and Maratika cave of Guru Rinpoche are the most popular pilgrimage sites for Buddhists from around the world.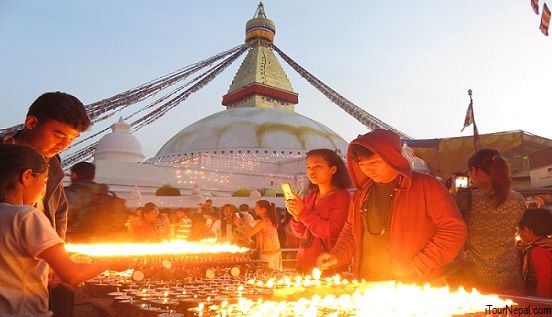 Pilgrims offering butter lamps on the full moon day at Boudhanath Stupa.
Living spiritual heritage
In Kathmandu every next house is a temple and every next day is a festival.
The mountainous country of Nepal has been the safe haven for several spiritual practices of the region. While its neighbors went through several political unrest and occupations, Nepal remained independent until the date. The rich Vedic, Buddhist and Tantric practices remained intact in the valleys of Nepal. Kathmandu for example has over 350 medieval Buddhist monasteries which used to be a place of spiritual refuge for monks from India and Tibet. Communities from both India and Tibet fleed at different times in history, lived and practiced together in harmony. Kathmandu is a great place to witness the living spiritual cultures of the Indian subcontinent in harmony.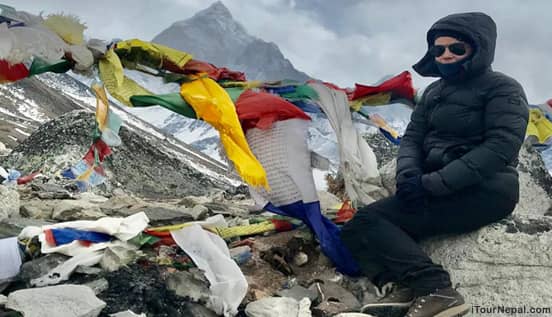 Tourists offer prayers to Mt Everest, worshiped by locals as one of the mother goddess 'Chomolungma'.
Holy Mountains
If you went to live in the Himalayas and everyone was lovely there, I'm sure it would be fairly easy to be a spiritual master.
Nepal is the place where spirituality is felt everywhere and in everything. Nature is respected and worshipped as either god and goddesses or their abode. Traditionally people respected mountains, rivers and jungles. All mountains of Nepal are either the embodiment of god and goddesses or their home Mountains are worshiped in local monasteries and temples. There were many incidents where locals opposed expedition teams fearing the consequences. Even today the expedition teams do a ceremony in a local monastery before heading to the mountains. Annapurna is the goddess of cereals (food), Mt Everest is one of the mother goddesses known as Chomolungma.
Moreover Himalayan valleys fo Nepal are also protected as Beyuls which were blessed and hidden by Padmashambhava to be revealed in time of conflict. They are places where physical and spiritual worlds overlap, and effectiveness of Tantric practices is supposed to increase with multiple perceptions and dimensions.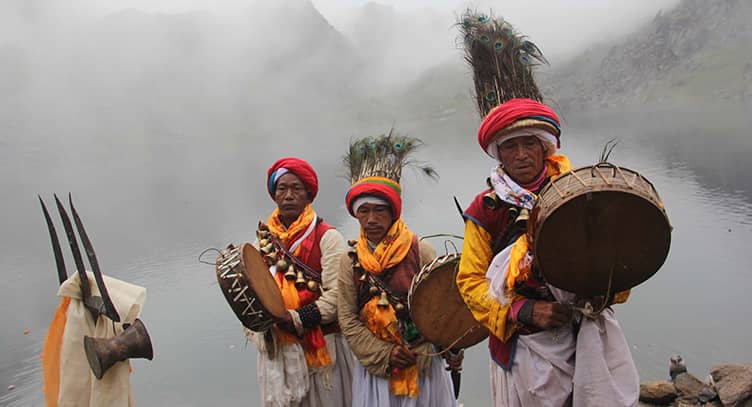 Shamans make a pilgrimage to Gosaikunda Lake during Gosaikunda Mela (festival) in August.
Pilgrimages older than history
For a long time, the Himalayan valleys were mythical for many and were accessible only for those in spiritual quest with great devotion. The hidden valleys of Nepal were lived and protected by Shiddas (who have attended perfection). Many pilgrimage sites are prehistoric and are worshipped by all religious groups. These were the places where god or spiritual masters did miracles making them high in spiritual energy. Muktinath, Gosaikunda Lake, Devghat are some of the pilgrimages from the prehistoric time.
Life with ancient wisdom
Even though the society is modernizing, the life cycle rituals of people are still depended on ancient wisdom of
Astrology, Ayurveda and Vastu Shastra
. Astrology explores the positions of planets, stars and constellations to predict its effects and precautions from birth to the death of a person. A name is given to a child according to the birth chart as suggested by the astrology. The Astrology investigate the influence of the celestial bodies on the local people's life. Similarly arrange marriage requires a astrologically compatible spouse for happy and stable family.
Ayurveda
on the other hand focuses on balancing the body, mind, and spirit through natural remedies and lifestyle practices.
Astrology and Ayurveda
helps to align ourselves with the natural rhythms of the universe and experience improved physical vitality, mental clarity, and emotional balance.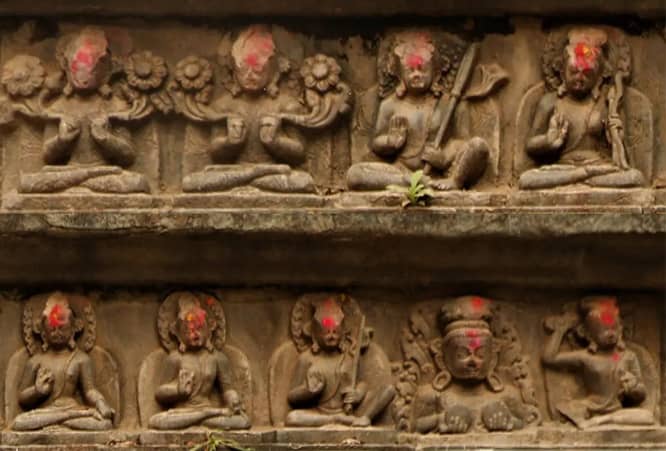 Nava Graha idols in Bhaktapur, idols of nine heavenly bodies those influence human life .
But we don't have control over the astrological effects of celestial bodies on us. This is where
Vastu Shastra
is incorporated in local life which helps by positively modify the effects. Vastu Shastra optimizes the favorable geographical impact and energy fields of natural powers and minimize the negative or harmful effects.
The medieval town of Kathmandu valley still have neighborhoods with astrologers and ayurvedic doctors with knowledge passed down from many generations. Pavilions, sunken water spouts, buildings and temples were designed according to Vastu Shstra. Seeing ourselves as part of pervasive universe (universal soul) and living our life in harmony with nature is spirituality.
2 days heritage tour of Kathmandu valley with an expert guide exhibits the use of Astrology, Ayurveda and Vastu Shastra in day to day life of the people.
Talk with an Expert
If you are considering to do a spiritual tour but don't know what to focus on, write our expert for consultancy. Go on a pilgrimage tour / trek of Muktinath or Gosaikunda or just arrange a meeting with shaman, Bonpo or Buddhist master. Visit astrologer, or learn about Ayurveda and Yoga. Stay in a accommodation with a good vibe of Vastu architecture. There are learning and experiencg the spirituality at every moment.