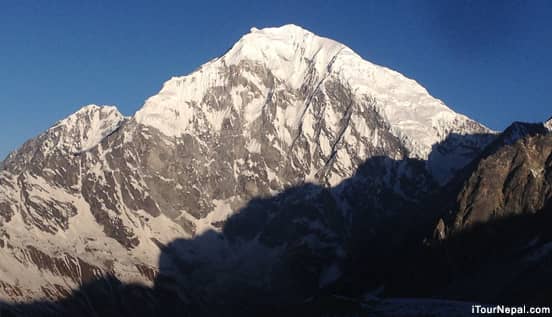 The trek is suitable for senior citizens and families with kids. Avid trekkers can climb Yala peak or Cherko Ri above 5,000 m within a week's time.
Langtang valley is the closest trekking route from Kathmandu. The region is less travelled and sustains authentic Tibetan Buddhist Sherpa culture just next to the Tibetan border. However, the drive to the trailhead is tedious and the first few days of walking is tiring with ups and downs on the rugged trail.
The 4 days Langtang Heli trek allows visitors to avoid tedious drive and the walking in the foothills. The helicopter flies right into the scenic part of the valley from where the walking is easier. Within just 4 days from Kathmandu, one can enjoy the Himalayan view from Kyanjin Gompa, climb Kyanjin Ri (4,773 m / 15,655 ft) or Cherko Ri (almost 5,000 m). With a couple of extra days, avid trekkers can also climb the Yala peak 5730 m.
Langtang Heli Trek | Trek Itinerary
Necessary trekking permits.
4 days trekking package with all meals and teahouse accommodation.
Trekking with a guide and porter.
3 nights accommodation in Kathmandu with breakfast and taxes included.
All ground transportation by private vehicle.
Guided sightseeing around Kathmandu with all entrance fees included.
: 6 nights 7 days from Kathmandu to Kathmandu
Attractions : Less touristic trek suitable for seniors and family with kids. A week long trek with climbing to 5000 m for avid trkkers.
Feb - May | Sept - Dec
: Easy to Moderate gradual climb in the altitude above 3,000 m. Everyday walking is about 4 hrs.
: Helicopter | private vehicle
: Teahouse | Hotel in Kathmandu
Langtang Helicopter Trek Itinerary
DAY 1: Arrive Kathmandu, Nepal
Our represent will meet you outside the Kathmandu airport. Drive 35 km / ½ hrs to Dhulikhel. Dhulikhel is a hill station at 1,500 m in the eastern rim of Kathmandu valley. Stroll through the charming village to the sunset view point and back to the Hotel.

DAY 2: Acclimatization walk and Bhaktapur tour
Sunrise view over the eastern Himalayas from Dhulikhel is breathtaking. After breakfast, drive 2 hrs to Nagarkot hill station at 2,000 m and walk for about 5 hrs to Changunarayan. Changunarayan is the oldest existing Pagoda style Hindu temple dating back to 3rd century. The premises has beautiful stone sculptures from around 7th century. Drive back to Dhulikhel. Visit Bhaktapur on the way. Bhaktapur is known as living museum for it still retains age old Newari lifestyle intertwined with medieval architectures. Both Changunarayan and Bhaktapur are recognized as UNESCO as cultural heritage sites.
DAY 3: Fly in a Helicopter to Ghoratabala and walk to Langtang
Drive to the airport and take a Helicopter ride to the Langtang valley north of Kathmandu. The scenic flight takes about half an hour to land at Ghoratabala at 2,950 m. At this altitude, we are in alpine meadow surrounded by snow peaks. Walk 3 hrs to Langtang village at 3,330 m. Overnight in teahouse.
DAY 4: Trek to Kyanjin Gumpa (3730m)
Walk through the beautiful grassland following the Langtang River upstream to Kyanjin Gumpa. The valley opens wide and more of the snow peaks become visible including the Langtang Lirung (7,204 m). Overnight in comfortable teahouse.
DAY 5: Explore the Langtang valley. Cherko Ri (4,993 m) is option.
There are several side trips and climbs in the valley. Climb to the Kyanjin Ri (4,650 m) takes about 3 hrs. Walk to the end of the glaciated Langtang valley to Langshisha Karka with pack lunch. If you still feel fit, climb Cherko Ri (4,993 m) for the 360° view of Snow peaks.
DAY 6: Helicopter flight back to Kathmandu
Take a Helicopter flight back to Kathmandu and check in Hotel. Later visit Kathmandu Durbar square and Boudhanath.
DAY 7: Drive to the airport for final departure.

It is possible to climb Kyanji Ri in a Helicopter trek. The trek spent 2 days above 3,000 m for acclimatization and then fly out on the 3rd day after climbing to Cherko Ri in the morning.
Langtang is the nearest Himalayan region from the capital Kathmandu. But it is also possible to do short Everest treks using Helicopter. One can fly to Namche Bazaar and then explore Khumjung village and visit the Everest view hotel in 2 nghts 3 days Everest Helicopter Trek based on luxury lodges.