Your world travel won't be complete without seeing the Himalayas. If the worry of age, comfort and safety is holding you back, then you will be surprised with the tours and treks we offer for senior citizens. You can now travel to the remote Himalayan Shangri-la without strenuous multiday trek, staying in a luxury accommodation you deserve. So do not stop exploring and do something more than beach holidays in your golden age.
Nepal offers gentle adventures and active holidays for over fifties and senior citizens. Nepal tours and trek for seniors are leisurely paced personalized holidays based on senior friendly accommodation and transportation.
Nepal travel tips for senior travelers
Get as much information as you can about the trip. Ask about the weather and local festivals occurring during the time of your travel. Also be prepared for possible delays because of political and weather conditions.

Consult your doctor

about your fitness for the type of trip you are going on especially if you have coronary heart disease, hypertension, and chronic medical conditions. Ask your travel agent for the type of vaccinations you need for the trip. Carry enough supply of your regular medicines.
Organize travel insurance with pre-existing illness cover. Make sure your travel insurance works overseas and evacuation insurance is covered.
If you are coming for a trek, train yourself with regular walks, climbing stairs and hiking at least a month before the trip.
Allow an easy day or two to recover from jet lag. Ask for flexible itinerary with plenty of rest break.
Drink only the bottled water and eat in the recommended restaurants to avoid food poisoning.

Travel light

- Heavy bags or too many luggages will have difficulty in packing, unpacking and also lifting. So try to pack everything in a rolling suitcase and a medium size carry on. Carry on back pack will also make it easy to pack things you need during the day. If you are going on a trek, you can even buy cheap equipment in Kathmandu or Pokhara.
Accommodation in Nepal tour for seniors
Accommodation from international chain hotels to boutique comfort lodges is available throughout the popular Himalayan destinations. So tours and treks we offer have choice of accommodation from luxury hotels to boutique comfort lodges with clean en-suite bathroom and heated rooms as you go remote.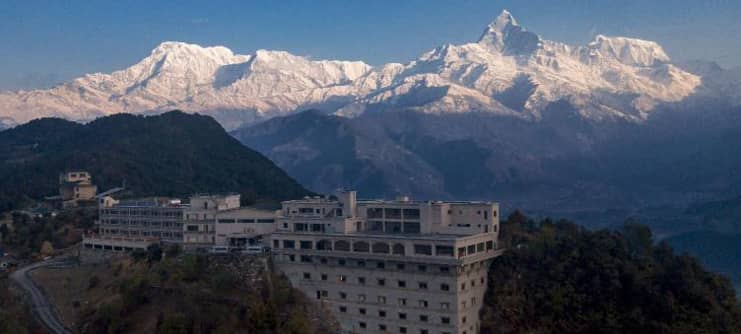 Hotel Annapurna View in Sarangkot Pokhara.
Transportation used in tours for seniors
We reduce travelling time and ensure you have more time enjoying the destinations. Now it is possible to fly to the remote Himalayan destinations with fixed wing aircrafts or charter helicopters. Some destinations are worth driving which we make safe, comfortable and enjoyable with vehicles in good conditions, experienced drivers and guide.
Active holiday in Nepal for seniors
Active holiday in Nepal includes short trek and hikes based on luxury accommodation you deserve. This also includes walking tour of medieval towns and leisure days to just chill out or get some of the wellness treatment from the Himalayas.
Comfort lodge trek for seniors
Comfortable lodges with clean en-suite bathroom, heated beds and warm dining are available along certain trekking trails. So for those Golden agers looking to venture beyond the city limits, now trekking based on boutique comfort lodges can be organized.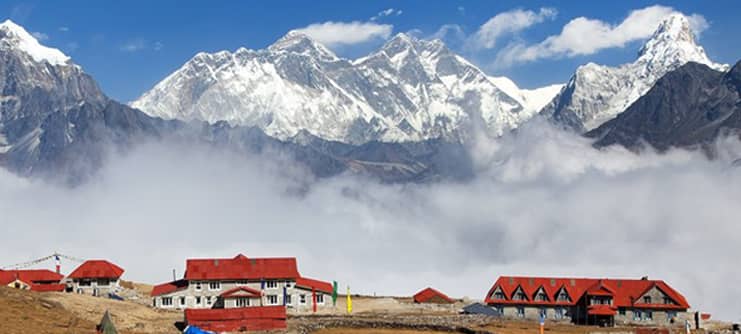 Luxury lodge at Kongde in Everest national park.
Nepal tour for Golden Agers
The Nepal tour is about the Himalayan sightseeing, culture, wildlife and nature. With the extension of road, airstrips and availability of luxury accommodation, we have successfully organized tours of remote Himalayan valleys for golden agers.
Here are some of the recommended Nepal tours for golden agers.
Gem of the Himalaya tour for golden agers
2,980 +
| 14 days | Customizeable
Explore the highlights of the two Himalayan countries in one go. This is the best Himalayan experience tour for all 'young-at heart' seniors.