The hustle and bustle of Autumn tourist season continues till the middle of November. However November is another best month for Nepal tour and trek. The comfortable temperature, clear sky and dry weather continue throughout November. Since the main autumn festival holidays for 2023 are in November, transportation and other services become more scarce. Normally the festival holiday rush makes the transportation and services shortage because of local movement. If you want to avoid the tourist crowd, start your Nepal tour in mid November.
Quick travel tips for November

Avoid travelling around November 20. (General election 2023)
Start trek / tour in second week of November to avoid crowd in classic trails.
November weather in Nepal
Average weather around the major tourist area of Nepal
| Place | Max Temp | Min Temp | Rainfall | Rain day |
| --- | --- | --- | --- | --- |
| Kathmandu | 23.6℃ | 7.8℃ | 8.3 mm | 1 |
| Pokhara | 24.1℃ | 11.9℃ | 18 mm | 1 |
| Chitwan | 27℃ | 12℃ | 10 mm | 0 |
| Namche | 9℃ | -3℃ | 9 mm | 2 |
| Jomsom | 8℃ | -9℃ | 14 mm | 2 |
Nepal tour for November 2023
The peak tourist season continues till mid November. So if you are travelling in early November, we recommend you to book your Nepal tour well in advance and avoid the crowded destinations as much as possible. Nepal tour could be customized by staying off the main tourist hubs in Chitwan, Pokhara and Kathmandu. Here are recommended Nepal tours for November.
Nature and wildlife tour in November
See a Tiger and One horn Rhino in the wild ! Royal Bengal Tiger is the most elusive wildlife but Bardia and Chitwan national parks are their popular habitats. November till March is the best time for nature and wildlife safari in Nepal. Leopards, Sloth bear, Indian Bison, Rock Python, Gharial and Magar crocodiles are a great supporting cast of the wildlife tour. November is also the best month for bird watching as migratory birds flying over the Himalayas take refuge in the tropical jungle of Nepal in addition to the resident species.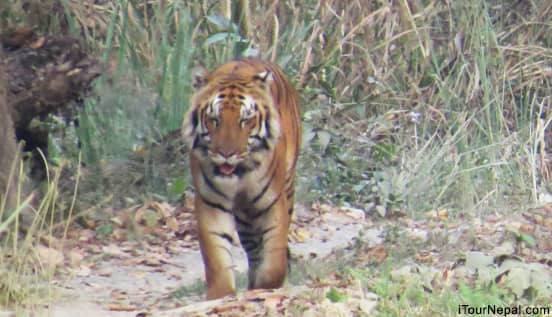 Nepal treks for November
The popular trekking trails of Annapurna and Everest will be overcrowded till the mid November. We recommend you to either book your trek well in advance or avoid the busy trails if you are travelling to Nepal in early November. Here are some of the Nepal treks recommended for early November.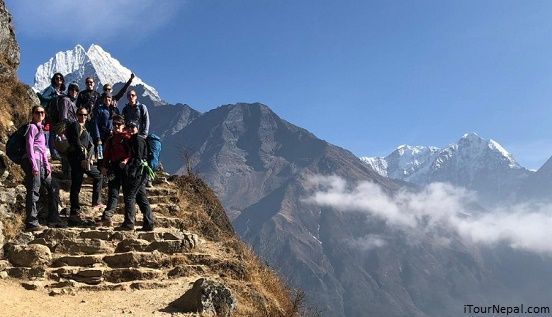 If you are trekking to Everest base camp or to Annapurna base camp and your time is flexible, start your trek only in the second week of November to avoid the trekker's crowd along the trail. Weather is best throughout the November for these treks. By the second week, most of the big groups and main crowd start to trek back from the base camp.
So the second week of November onward is the best time to start your trek to Annapurna Base camp or Everest base camp trek.
Nepal Tibet Bhutan tour in November
November is best month to travel to the Himalayas. The moderate temperature and crisp sky after the monsoon months lessen the air pollution and clears the haze with more guaranteed view of the Himalayas. This is also the month with autumn festivals.
Himalayan tour involves different climatic zone and elevation with which temperature and precipitation changes. However November has the best weather to travel Nepal Tibet and Bhutan. The best Himalayan tour for November.
Nepal Travel tips for November
Avoid travelling on November 20 to avoid the closure down for the General election 2023 of Nepal.
Book your tour, trek or other logistics well in advacne as it is peak tourist season.
Choose less popular tour and trek destinations to avoid crowd.
Prepare with sleeping bag if you are going on a popular treks.
There will be mass exodus of locals because of festival making it difficult to travel.
Keep your itinerary flexible considering delays and cancellation of transportation and domestic flights.
Main days of the festival will have restaurants and shops closed.