Mardi Himal Trek

- pristine trek in Annapurna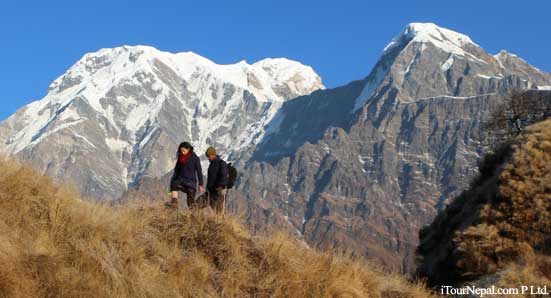 Mardi Himal trek was accessed only by limited trekking groups with tents and catering team for long time. The trek follows beaten trails of shepherds as it still provides summer grazing. The trek was officially opened in 2012 and is still pristine. There are limited teahouses with basic facilities. This is a short relatively easy and unspoiled trek not far from Pokhara. Yet it is highly diverse with cultural insight, beautiful forest walks and alpine landscape. As the trail mostly stays along the ridge, the altitude gain becomes more gradual.
Duration:
8 days from Pokhara to Pokhara
Difficulty:
Moderate to difficult : The walking distances are short and easy but you will gain altitude. Only day hike from High camp to Mardi Himal base camp makes it difficult with narrow path, steep climb, long day and altitude of 4,500 m
Season:
March to May and Oct - Dec
Attractions:
relatively easy, short and unspoiled trek in Annapurna
Could be custom made for 6 days or longer.
Join Mardi Himal Trek on 12, 20, 28 March | 5, 13, 21, 29 April 2018
$ 550 Only $ 490 for Jan - Feb & early bird discount for March - May
Trek Itinerary
DAY 1: DRIVE TO KANDE AND TREK TO DEURALI (2,232 m)
After breakfast, drive for about 40 mints to Kande on Pokhara Baglung highway. The trail climbs for about 1 ½ hrs to the ridge at 2,060 m. The clearing in the forest with lodge settlement is known as 'Australian camp'. The place is scenic with the panoramic view of Annapurna range and Pokhara valley. The trail further winds through the rhododendron forest to the mountain pass called 'Deurali'. Deurali is overlooking into the Modi Khola valley wedged between Annapurna South and Mardi Himal / Mt Fishtail.
DAY 2: TREK TO FOREST CAMP (2,600 m / 5 hrs)
After spending beautiful morning in the ridge top village of Deurali, we head off the main Annapurna trekking trail and follow the forested ridge to Forest camp. Since this is new trekking destination, there are no teahouses along the way and we need to carry pack lunch and sufficient water. The day's walk in the rhododendron forest is beautiful with gradual uphill.
DAY 3: TREK TO LOW CAMP (3 Hrs / 2,950 m)
The trail gradually climbs through the rhododendron forest following the ridge. Low camp has got couple of tea houses in the clearing of the forest. The view of Mt Fishtail and Mardi Himal appears much closer. You find yourself closer to clear blue sky with view of layers of Himalayan foothills and sweeping valley towards south. Note: You can trek 1 more hr to Badal Danda (Cloud Hill) above the tree line in consent of guide for better view. There is only one lodge in Badal Danda.
DAY 4: SHORT WALK TO HIGH CAMP (3 HRS / 3,550 m)
The trail further climbs along the ridge towards Mardi Himal and Mt Fishtail. From Badal Danda, we leave the tree line and arrive in shrubby alpine zone. Snowcapped peaks of Annapurna South, Huinchuli and Fishtail looms in a distance above deep valley on the either side. High camp is a small pasture after the climb with 3 lodges. Here you find yourself above the clouds and closer to snowcapped peaks.
DAY 5: EXPLORE MARDI HIMAL BASE CAMP (7 Hrs / 4,500 m)
The day trip is more difficult than other days with steep climb and longer walk. Trail becomes more vertiginous at some points with uneven and steep rocky steps. The first steep climb will take about 2 hrs to the ridge top which is marked as MBC (Mardi Himal Base Camp). However the real base camp will take about another 2 hrs along the ridge. The view is amazing all along the ridge. While Mardi Himal and Mt Fishtail appear right above us, view of Annapurna I, Gangapurna and Annapurna III also appears at a distance.
DAY 6: TREK BACK TO FOREST CAMP (4 hrs)
Even though the scenery is stationary, season and sunlight makes it different and interesting. Spend another morning watching the change that the sunrays bring. Walk down to forest camp after breakfast.
DAY 7: WALK DOWN TO LWANG GHALEL VILLAGE (4 Hrs / 1,500 m)
The trail climbs down steeply through rhododendron and Maple forest to the permanent settlements closer to valley basin. Lwang is a self sufficient Gurung village with rich culture and happy people. The village is the best place to watch Nepalese countryside lifestyle and enjoy the organic food. The village farmers also grow organic tea in 50 hectors of land. Farmers offer homestay accommodation. The waterfall in the outskirt of the village offers one of the most exciting canyoning adventures.
DAY 8: BACK TO POKHARA
down to the Mardi River basin and drive back to Pokhara. It will take about 1 ½ hrs to get to Pokhara in a 4WD. The first 1 hr is drive on the dirt road.
---
Other treks in Annapurna
Ghorepani / Pun Hill trek
is the most popular short trek in Annapurna region. Pun Hill at 3,190 m offers the best panaromic view of Dhaulagiri and Annapurna ranges. The trek could be done from 3 days to 7 days based on well established teahouses. It is also possible to combine this trek with Mardi Himal Trek or Annapurna base camp trek.
Read More >