Kathmandu Pokhara Tour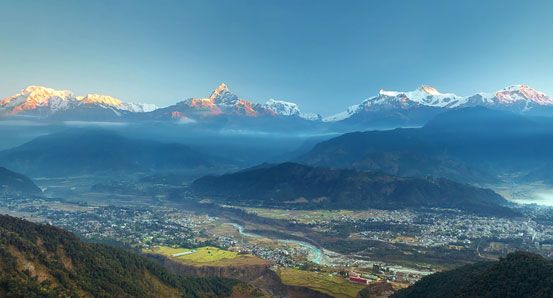 Customize private Nepal tours with local companies for exclusive cultural and Himalayan sightseeing activities beyond the regular tourist things.
Kathmandu and Pokhara are the most popular valleys in the southern slopes of the Himalayas. While Kathmandu is the cultural center of Nepal, Pokhara exhibits the best of Himalayan views with three beautiful lakes in its vicinity.
Kathmandu Pokhara tour
is the best Nepal tour for those with limited time. Short treks or day hikes from Kathmandu or Pokhara gives more insight of the countryside lifestyle of Nepal. The tour could be customized for 4 days or longer. There are several adventure sports like Paragliding, Bungee jump, Helicopter flight to base camps and Everest sightseeing flight to see Himalayas from both Kathmandu and Pokhara.
The
6 day Nepal tour package
includes sightseeing of UNESCO Heritage sites around Kathmandu and nature tour of Pokhara with sunrise view from Sarangkot and sunset from World peace pagoda.
Kathmandu Pokhara Tour Inquiry

Kathmandu Pokhara Tour highlights
Personalized tour customized to fit your interest and budget.
Old town walk and cultural tour of Kathmandu with an expert.
Sunrise and sunset view of Annapurna.
1 hr easy hike to World Peace pagoda
Free city map and familarization walk on the first day.
Option of day hike without extra cost.
Option of sunrise and sunset trip of Nagarkot hill station
: Nature & culture
: 5 night 6 day Nepal Tour
: Easy

3 star hotels - Hotel Apsara Boutique - Kathmandu, Hotel White Pearl - Pokhara
4 star hotels - Hotel Mulberry - Kathmandu, Temple Tree Resort - Pokhara
Luxury hotels - Hyatt Regency - Kathmandu, Fishtail Lodge - Pokhara
All accommodation w/ breakfast and taxes included.
All ground transportation by private vehicle.
kathmandu - Pokhara - Kathmandu flight
Guided sightseeing of Kathmandu and Pokhara w/ all entrance fees included.
Kathmandu Pokhara Tour Review
iTour Nepal is HIGHLY recommended ( Organized, professional, honest, and will cater to your needs)
This trip was wonderful from start to finish. I am a solo female traveler who was looking for a trustworthy and safe travel agent who can show me Nepal!
Rabi was able to organize my entire 5 night 6 day trip taking me to all the highlights of Nepal. We explored Kathmandu and it's many temples, stayed at excellent hotels, Flew to Pokhara and back, drove through Nakargot and many other cities along the way.
I can not thank Rabi and Pravin enough for their hospitality and organization through out this journey.
Many laughs, good food, and wonderful company.
Looking forward to my next trip and I highly recommend going through iTour Nepal for your next trip here!
Sana S - UAE

Tour Reviews
---
Kathmandu Pokhara Tour Itinerary
DAY 01: ARRIVE KATHMANDU, NEPAL
Our represent will receive you from the Kathmandu airport. Please look for your namecard. After formal meeting, you will drive to the Hotel. There is an option of familiarization walk in the evening that ends with an attractive dinner. (Walk through the old Kathmandu to tourist center of Thamel)
DAY 02: KATHMANDU SIGHTSEEING
Come to the hotel restaurant for breakfast. Your tour guide will be introduced. He will guide you through the Heritage Sites of Kathmandu. An easy, relaxing day in a comfortable ride with a local guide will uncover totally different perspective of Kathmandu.
Sightseeing Points – Pasupatinath Temple, Boudhanath Stupa, Swyambhunath Stupa (Monkey Temple) and Kathmandu Durbar Square.
More about Kathmandu>
DAY 03: FLY OR DRIVE TO POKHARA
After breakfast, we will drive to the airport (5 km) for a flight to Pokhara. 25 mints. flight to Pokhara is spectacular with Himalayan view all along its route. You can enjoy the ambiance of Pokhara in the natural settings with towering Himalayas in the back drop. Visit Devi's Fall and Tibetan Refugee Camp. Explore Phewa lakeside market. Phewa lake boating in the evening to catch the reflection of Himalayas on the Phewa Lake.
Himalayan Peak seen : Dhaulagiri (8,167 m / 7th highest); Annapurna range including Annapurna I (8,091 m / 10th highest) and Manaslu Range (8,163 m / 7th highest)
DAY 04: POKHARA TOUR
Pokhara is a natural capital of Nepal and a starting point of trekking in Annapurna. Pokhara exploration includes drive or hike to several view points for different perspectives of geographical enigmas. One can hike and mountain bike to several hillsides like Sarangkot, World Peace Stupa etc. Your exploration sites will be designed according to your preferences.
Pokhara sightseeing Points: International Mountain Museum, Sarangkot Sunrise View, Devi's Fall, Tibetan Refugee Camp, World Peace Pagoda. About Pokhara
DAY 05: FLY BACK TO KATHMANDU | BHAKTAPUR & PATAN TOUR
After breakfast, we will drive to the Pokhara Airport and fly back to Kathmandu. After checking in Hotel, drive to Bhaktapur. Bhaktapur is the living heritage of Newars, the aboriginal of Kathmandu. Patan in the south of Kathmandu is also know as 'city of fine art'. This is also believed as the oldest existing Buddhist city in the world.
DAY 06: DRIVE TO KATHMANDU AIRPORT FOR FINAL DEPARTURE
---
Join Nepal Tour
Write to us to join Nepal tour of treks if you are travelling alone. Share the cost of transportation and guided tour.
17, 30 September | 4, 10, 15, 22 October
Customize Kathmandu Pokhara Tour
Kathmandu Pokhara tour could be customized for
4 nights 5 days
or longer with hiking around Kathmandu and Pokhara. We can customize sightseeing or drive to Nagarkot hill station as soon as you arrive at Kathmandu airport. Visit the highlights of the Kathmandu UNESCO Heritage sites and walk along the lush mountain ridge closer to the Himalayas.
Customize Kathmandu Pokhara Tour
Kathmandu Pokhara and Chitwan 8 day
The 7 - 8 days tour of Kathmandu Pokhara and Chitwan is known as the golden triangle tour of Nepal. Drive one way through the lush green mountains to the tropical jungle and then to the lake city of Pokhara and fly the other way.
Tour package from USD 690

Kathmandu Chitwan Pokhara Tour >
---
Extra day in Kathmandu - Nagarkot tour
Spend a night in the Nagarkot hill station (2,100 m), 35 km northeast of Kathmandu if you have an extra day. Nagarkot is overlooking the central and eastern Himalayan ranges.
Extra day in Pokhara
A day hike from Pokhara
gives an opportunity to get the feel of trekking in Annapurna with up close view of the Annapurnas and a peek into village life.