Kathmandu Pokhara Tour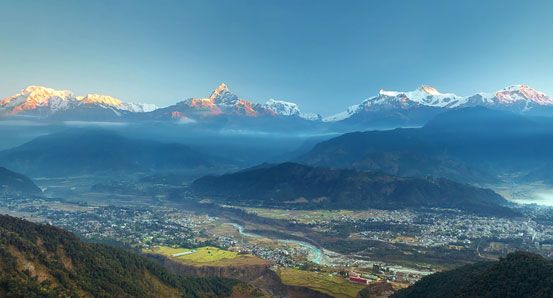 Customize private Nepal tour with local company for exclusive cultural and Himalayan sightseeing activities beyond the regular tourist things.
Kathmandu and Pokhara are the most popular valleys in the southern slopes of the Himalayas. While Kathmandu is cultural center of Nepal, Pokhara exhibits the best of Himalayan view with three beautiful lakes in its vicinity.
Kathmandu Pokhara tour
is the best Nepal tour for those with limited time. Short treks or day hikes from Kathmandu or Pokhara gives more insight of the countryside lifestyle of Nepal. The tour could be customized for 4 days or longer. There are several adventure sports like Paragliding, Bungee jump, Helicopter flight to base camps and Everest sightseeing flight to see Himalayas from both Kathmandu and Pokhara.
The
6 day Nepal tour package
includes sightseeing of UNESCO Heritage sites around Kathmandu and nature tour of Pokhara with sunrise view from Sarangkot and sunset from World peace pagoda.
Kathmandu Pokhara Tour Inquiry

6 day Kathmandu Pokhara Tour highlights
Personalized tour customized to fit your interest and budget.
Old town walk and cultural tour of Kathmandu with an expert.
Sunrise and sunset view of Annapurna.
1 hr easy hike to World Peace pagoda
Free city map and familarization walk on the first day.
Option of day hike without extra cost.
Option of sunrise and sunset trip of Nagarkot hill station
: Nature & culture
: 5 night 6 day Nepal Tour
: Easy

Kathmandu Pokhara Tour Review
We visited Nepal during the Ramadan holidays. We liked iTour Nepal (Rabi) since he was very responsive and always answered our queries clearly. Will definitely recommend with our friends and will come back to see the himalayas up close.
Aperez - Philippines

Tour Reviews >
---
Kathmandu Pokhara Tour 5 nights 6 days
DAY 01: ARRIVE KATHMANDU, NEPAL
Our represent will receive you from the Kathmandu airport. Please look for your namecard. After formal meeting, you will drive to the Hotel. There is an option of familiarization walk in the evening that ends with an attractive dinner. (Walk through the old Kathmandu to tourist center of Thamel)
DAY 02: KATHMANDU SIGHTSEEING
Come to the hotel restaurant for breakfast. Your tour guide will be introduced. He will guide you through the Heritage Sites of Kathmandu. An easy, relaxing day in a comfortable ride with a local guide will uncover totally different perspective of Kathmandu.
Sightseeing Points – Pasupatinath Temple, Boudhanath Stupa, Swyambhunath Stupa (Monkey Temple) and Kathmandu Durbar Square.
More about Kathmandu>
DAY 03: FLY OR DRIVE TO POKHARA
After breakfast, we will drive to the airport (5 km) for a flight to Pokhara. 25 mints. flight to Pokhara is spectacular with Himalayan view all along its route. You can enjoy the ambiance of Pokhara in the natural settings with towering Himalayas in the back drop. Visit Devi's Fall and Tibetan Refugee Camp. Explore Phewa lakeside market. Phewa lake boating in the evening to catch the reflection of Himalayas on the Phewa Lake.
Himalayan Peak seen : Dhaulagiri (8,167 m / 7th highest); Annapurna range including Annapurna I (8,091 m / 10th highest) and Manaslu Range (8,163 m / 7th highest)
DAY 04: POKHARA TOUR
Pokhara is a natural capital of Nepal and a starting point of trekking in Annapurna. Pokhara exploration includes drive or hike to several view points for different perspectives of geographical enigmas. One can hike and mountain bike to several hillsides like Sarangkot, World Peace Stupa etc. Your exploration sites will be designed according to your preferences.
Pokhara sightseeing Points: International Mountain Museum, Sarangkot Sunrise View, Devi's Fall, Tibetan Refugee Camp, World Peace Pagoda. About Pokhara
DAY 05: FLY BACK TO KATHMANDU | BHAKTAPUR & PATAN TOUR
After breakfast, we will drive to the Pokhara Airport and fly back to Kathmandu. After checking in Hotel, drive to Bhaktapur. Bhaktapur is the living heritage of Newars, the aboriginal of Kathmandu. Patan in the south of Kathmandu is also know as 'city of fine art'. This is also believed as the oldest existing Buddhist city in the world.
DAY 06: DRIVE TO KATHMANDU AIRPORT FOR FINAL DEPARTURE
---
Extra day in Kathmandu
Bhaktapur and Nagarkot Tour
After breakfast, we will drive to Bhaktapur, which is 17 km (45 mints) from Kathmandu. Bhaktapur is known as 'The Living Museum' as it still retains its medieval fragrance. We will have lunch in Bhaktapur and then drive to Nagarkot (18 km). Nagarkot is a hill station at 2,000 m, overlooking Himalayan peaks at a distance with lush valleys on the either side.
Overnight in Nagarkot hill station. Enjoy countryside and Himalayan View.
Extra day in Pokhara
There are several day hikes from Pokhara in the foothills of Annapurna. Easy road accesses make it possible to get the feel of trekking in Annapurna by visiting conservation area and its charming self sufficient villages.