Short trek in Nepal
With extension of dirt road and airstrips, it is now possible to customize short but scenic treks in Annapurna, Everest and Langtang escaping the foothills. Check out the best off the beaten path trek for 2023 or customize any trek with highlights within a few days to week. 
Foothills of the Nepalese Himalaya offer awe inspiring views. Go on a short trek for the true insight of Nepal. Easy and moderate treks could be planned with comfortable lodges to basic teahouses and homestay. Easy access and better lodges / hotels make it possible for everyone to go on the listed short treks in Nepal. Go beyond the limits of Kathmandu and Pokhara and see the real Nepal.
Short trek in Nepal
could be organized for as less as 3 days to one week. Well established teahouses, extension of dirt road and domestic flights have made it possible to do many popular treks in less than a week. Here we have listed the most popular short treks in Nepal. But there are many other possibilities of
customizing short treks
to fit your available time, fitness and budget.
Short trek in Nepal Review
I had a great experience with iTour Nepal. I contacted them the day before hoping to travel and Rabi responded to me immediately that it was no problem and he could make it work! He made sure to get everything in order very quickly and keep me in the loop, and even picked me up from my hostel and drove me to the bus station the next morning! I inquired about their sustainability practices and he sent me a detailed e-mail with their efforts for environmental and cultural sustainability. I was blown away by his dedication. I didn't have to worry about a thing during my tours with them. I joined a 4-day trek that had one other individual and that was a fantastic experience as well. Basanta and Nirmal (our guide and porter) were absolutely wonderful; I can easily say they made our trekking experience amazing! Unlike other porters that we saw along the trek, we always stuck together, and Basanta was always making sure we were having fun. He took care of our every need, from meals to beds to fun, and always ensured we were comfortable with the plan. He taught us so much about the mountains and Nepali culture along the trek as well. It was truly a pleasure to trek with them and I hope to do so again in the future! - Kaitlin - Canada
Customize a short trek in Nepal
---
Ghorepani - Poon Hill Trek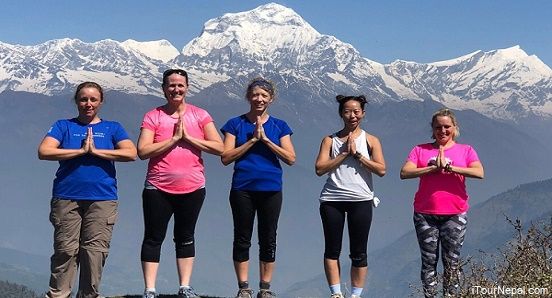 Ghorepani is a mountain pass in the foothills of Annapurna offering up-close view of Dhaulagiri and Annapurna. This is the most popular short trek from Pokhara. Rhododendron forest walk and the charming Gurung and Magar villages are the highlights of this moderately difficult trek. The trek could be customized for as less as 2 days from Pokhara.
Ghorepani trek >USD 320 350 till September 2023
---
Mardi Himal Trek Short & easy trek in Annapurna
This is a new trekking route in Annapurna region. The trek is not far from Pokhara but it is still unspoiled. The route stays along the ridge making the climb less undulating. Yet it is diverse with visits to pristine village homestay, forest walk and alpine landscape. Mardi Himal trek is relatively short and easy. One can try their limit and explore Mardi Himal base camp at 4,500 m making it more challenging or just enjoy the view point.
Mardi Himal Trek >
---
Short Everest Trek
This is a short cultural trek in the Everest Region. The trek passes through the sherpa villages to their biggest monastery - the Thyangboche Monastery. From the premises of Thyangboche monastery, one can see a beautiful sunset over Mt. Everest. En route we will also do a short hike of Khumjung village where there is Hillary school and the Yeti skull in the local monastery. The trek gives the best perspectives of Sherpa culture, lifestyle and Everest national park listed as UNESCO World heritage site.
Luxury Lodge Trek
Short Everest cultural trek could be organized based on deluxe and luxury lodge as well. There are a chain of luxury lodges as well as comfortable deluxe lodges with attached bathroom, electric blankets and 24 hrs hot shower. Write to us for a short Everest trek based on deluxe or luxury lodges.
---
Shivapuri Trek A short trek around Kathmandu
Shivapuri National park adjoins Kathmandu and provides a short and easy day hike and short trek. Shivapuri comprises the second tallest ridge around Kathmandu. Short trek and hiking along the ridge provides a view of Himalayan Peaks of Ganesh Himal, Langtang and Jugal Himal ranges. There are several routes for a day hike to 3 days trekking.
---
Langtang Trek Short trek from Kathmandu
Being situated north of Kathmandu near Tibetan border, langtang is the most easily accessible highland sanctuary in Nepal. Langtang is one of the most vivid yet unspoiled national parks in Nepal. While the old trade route follows Trishuli River up north to Kerung, Tibet, short and moderate trek follows Langtang River to Kyanjin gompa. The wild Langtang valley is hemmed by snow-capped peaks with the highest Langtang Lirung (7,246 m).
langtang trek >Best for Autumn 2023
---
Khopra Danda Trek Off the beaten path trek
Khopra danda and Khair lake trek is off the beaten path trek in Annapurna that allows trekkers to explore the highland above the classic Annapurna trail. These trails are less trekked and go above the treeline offering stunning views of snow peaks and deep valleys. Only open for a few years, the trek avoids the crowd of main trail and exhibits the authentic pastoral lifestyle of yak herders. The trek also allows avid trekkers to get to the altitude of 4,620 Khair Lake at the buttresses of Annapurna South.
---
Pikey Peak Trek Everest veiw and Sherpa culture
This short trek offers you the best view of Everest and other Himalayan peaks east of Kathmandu avoiding the crowded trail. Trekking to Pikey peak is an opportunity to explore the culturally rich and highly untouched mid-hills of Nepal. The trail passes through Rhododendron forests, Yak pastures and Sherpa Buddhist villages marked by prayer flags, Mani walls and Stupas. Capture the mystic view of farming terraces with authentic villages perched along the mountainside with the majestic Himalayan ranges stretching from one end to the other end of the country.