Jomsom Muktinath Trek
Best, short and easy trek for Monsoon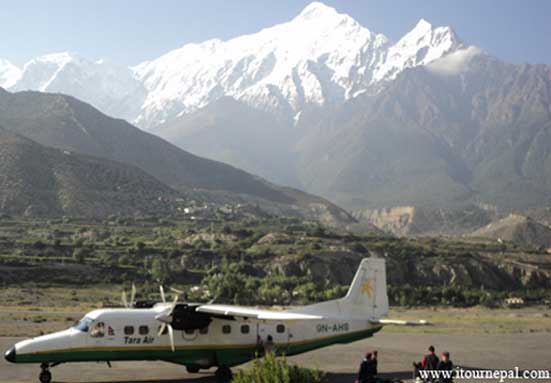 Jomsom Muktinath trek lies in the trans-Himalayan region of Annapurna. The trekking trail follows ancient salt trading and pilgrimage route to Jomsom and Muktinath. The trekking unveils Nepal's spectacular diversity of landscape, culture and ecology. The region of Jomsom Muktinath was part of Mustang Kingdom for long time in the history. Hence it possesses ruins of ancient forts, caves and monasteries of Tibetan Buddhism as well a pre-Buddhist Bon religion. The area gets very little rain making it the best palce to trek in Nepal during monsoon rain.
Jomsom Muktinath trek is fast changing because of road extension. However ACAP and locals have been trying to develop alternate walking route which is what we follow for trekking. This tour is now highly customizable with option of 4WD drive or flight and with side hikes. It is no more fun to trek the whole section like in the past. But the Himalayan scenery and culture have less changed. The trek is now combination of drive and day walkings to enjoy the culture of Mustang and the Himalayan scenery.
Highlights of Jomsom Muktinath Trek
Trans Himalayan region with culture and landscape like Tibet.
Best view of Mt. Dhaulagiri, Nilgiri and other snow peaks.
Spiritual tour with visits of Tibetan Buddhist and Bon monasteries.
Customizable easy to moderate walks with option of driving and flying.
Could be done in monsoon as the region is in the rain shadow of the Annapurna Himalayas.
Necessary trekking permits.
Pokhara - Jomsom - Pokhara flight/li>
Trekking with licensed and experienced guide.
Comfortable Lodge accommodation with three meals a day.
Delay and cancellation because of naturl phenomenon. In case of flight cancellation, we can also drive and follow the itinerary.
Any type of insurances. Rescue and evacuation will be done on your account.
Bottled drinks and beverages.
Tea breaks, snacks or anything purchased directly beside three meals included.
Client's Review
I arranged a short trek in the lower mustang with this agency. I chose them for the speed of responses to my emails and the ability to tailor their offer to my needs. I got a great price for impeccable, timely and quality services. From arrival to kathmandu airport and until the last day I appreciated the attention that the owners Rabi, Shiva and the Mingmar guide dedicated to me.
Fabio Celvini - Italy

Review ›
Jomsom Muktinath Trek Itinerary
Day 01 : Fly to Jomsom and trek to Kagbeni (2,850 m / 3 hrs)
The 18 mints flight is the best mountain flight as it passes through the world's deepest gorge wedged between Annapurna I (8,091 m) and Dhaulagiri I (8,167m). Jomsom is a small town on the base of Nilgiri Himal. We will mostly follow the river bed of Kali Gandaki to Kagbeni. Visit old Kagbeni with 500 years old monastery.
Day 02 : Trek to Muktinath (3,750 m / 5 hrs) | Explore the temple and monasteries
The trail climbs steeply above Kagbeni to the plateaus and then more gradually to another ancient town of Jharkot. From Jharkot, it is 45 mints climb to Muktinath. From the altitude of Muktinath, one will be overlooking at Dhaulagiri and Nilgiri Ranges.
Day 03 : Take a detour to Lubra and back to Jomsom
Lubra is the last Bon village (pre-Buddhist practice). The place is full of legend and history. Also the scenery is beautiful as we first traverse the pasture to come to the ridge closer to Dhaulagiri range. From the point where Panda Valley meets Kali Gandaki,we have to walk back half an hour to Ekli Bhatti.
Day 04 : Trek to Tukuche via Dhumba Lake and Tibetan village, visiting some beautiful monasteries along the way.
Dhaulagiri seen in the background of Larjung village.
Day 05 :Trek to Larjung village and explore the Ghhursanbo cave in the higher reaches of Larjung. Enjoy the great scenery and the waterfalls.
Day 06 :Trek or drive back to Jomsom.
Day 07 :Fly back to Pokhara.
---
Tour recommended for Monsoon