USD 1,880 Only
Best tour for Monsoon.
Janai Purnima - August 21
The festival of sacred thread
The full moon day festival is about reciting Bedic mantras and changing sacred thread of Hindus. Pilgrims crowd in shrines to receive welfare thread around their wrist. Pilgrims from far flung places visit Gosainkunda (sacred lake). They prey to lord Shiva by bathing in the sacred lake. Kumbheswar Mahadev temple at patan is also crowded with pilgrims where a pond is specially prepared for festival.
Gosaikunda Mela
Hindus and Shamans make pilgrimage to Gosaikunda Lake on the full moon day of 'Janai Purnima'. Gosaikunda Lake is spiritual place revered by Hindus, Buddhists and Shamans. Shamans in their traditional attire make procession to the Lake and perform the ritualistic dance with Dhyangro drum to call spirits. Hindus bath in the lake and change their sacred thread. Trek to Gosaikunda Lake this August to watch the rare pilgrimage of Shamans.
Gosaikunda trek
September is the beginning of tourist season in Nepal.
Travel tips for September
Monsoon months are best time to visit Tibet and trans-Himalayan regions of Neplal.
Gathemangal (Gantakarna) - July 19
Warding off negativity as a bell eared demon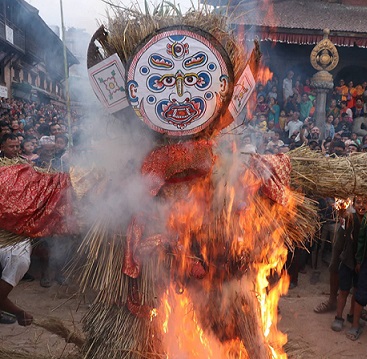 Gathemangal is a festival celebrated in summer month of July or August based on local lunar calendar. It is based on legend of demon Ghantakarna who troubled locals and was later drowned in a swamp by a frog. People commemorate the festival by creating a demon out of the straw in the town squares and later burn it. They also clean their houses, wear iron rings and nail three prong metal above their doors to ward of the evil. Special dish of 'Samye baji' is prepared as served in each home.
Teej - 9 Sept 2020
Women's red day, street dancing & singing
Teej is a Hundu married woman's day for her man. Married and unmarried women crowd Pashupatinath and other temples of lord Shiva. Women dressed in beautiful red saris with shining glass beads (Pote), singing and dancing is a common sight during this festival as women recall Parbati's devotion to her husband Shiva. It is believed that married women fast on this day for longivity of their husbands and will see the bond of love grow. Unmarried women fast on this day to have good looking husbands.
Married women visit their father's homes. All daughters and sisters receive gifts from their male kin, and an elaborate feast is prepared for them. It's a loud and cheerful celebration until late at night, when strict fasting begins. The blessings of Shiva and Parbati ensure tht family life will be joyous for all.
Ropain festival - 29 June 2020
The day of rice plantation
Ropain festival or Asar 15 signifies an important day in Nepalese life where 80 % people still peruse agriculture. Ropain means plantation and it is related with rice plantation. Rice is staple food of Nepal. The seedlings that is sowed with pre-monsoon rainfall, is transplanted in the paddies on the day. Working continuously in sun, rain and mud is strenuous especially when farmers have to catch up with the right rainfall. The time for farmer is to 'reap quintal by sowing kilo'. The 'Ropain festival' makes them forget their stress and share some jolly moment. The festival creates a fun filled aura with singing, dancing and splashing mud on each other. Special sweetened yogurt with rice is offered as delicacy of the day.
Indra Jatra - 22 - 29 August 2021
The largest street festival of Nepal celebrated with mystic mask dancing and pulling the chariot of living goddess 'Kumari'.
It is believed that may centuries ago, Indra's (King of Heaven) mother needed specially scented flowers (Parijat). Indra looked for them but couldn't find in heaven. Indra discovered parijat flowers in the Kathmandu valley and tried to steal them for his mother. He was caught and imprisoned by people in the valley. Indra's mother came seaching for him and the people were shocked to know what they had done. They released Indra and dedicated one of the most colorful festivals of Nepal to him to calm down his anger. This festival lasts for eight days with singing, mask dancing and jubilation. The chariot of Kumari, the Living Goddess along with chariots of Bhairab, and Shiva are shown to the public. Various masked dances like Pulu Kishi (elephant dance), Lakhe, Sawa Bhaku and Mahankali dances are performed at various places. Indra is thanked for the rains and assured once again that he is respected in the Kathmandu Valley.
Dashain 2021 - 12 - 17 October
Family union and feast
Dashain is the longest and most favorite festival of Nepal. Dashain falls in the bright lunar fortnight of October and ends on the full moon day. First nine days are celebrated with Tantric rituals worshiping nine different aspects of 'Durga' (mother goddess).
As the skies clear up after monsoon rain, children fly kites. Big swings are set on the grounds for children and grown ups alike. Animals like buffaloes, goats, ducks and chickens are sacrificed to the goddess Durga on Kal Ratri (the dark night) to celebrate her victory over evil. Following day, on Nawami, people clean their vehicles and sacrifice animals or eggs for safe journey throughout the year. The next day, on Dashami (Tika), people dress up well and visit elders to receive large red tikas of vermilion paste on their foreheads. In the following days of Dashain, families are friends unite, feasts are consumed, blessings are imparted and gifts are exchanged.
Customize your Nepal hoilday to participate in
colorful festivals of Nepal
Festival tour inquiry
Mani Rimdu 2021 12 - 14 November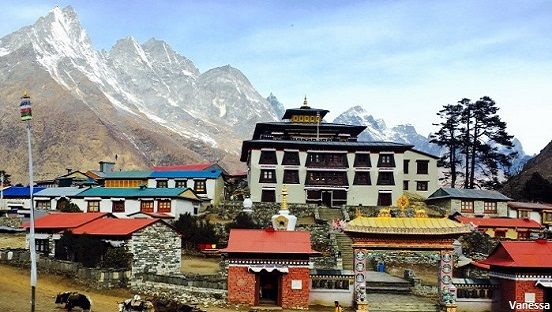 Mani Rimdu is the most important festival of Tengboche monastery in Everest national park. The monks go through various sacred ceremonies of empowering the participant monks for about 19 days. Last three days are celebrated with mask danicing and blessing by learned monks in public. Mani Rimdu is celebrated in commemoration of establishment of Buddhism in Tibet by Guru Rinpoche ( Padmasambhava ) some 1200 years back. The mask dancing exhibits conquest of demons creating obstacles and their conversion into Dharma protectors. The dances also express importan Buddhist teachings. This is concluded by a special blessing ceremony given by Tengboche Rinpoche to the public and the world renowned mask dances performed by the monks at Tengboche Monastery.
Join Tengboche trek for Mani Rimdu festival from 12 - 14 November. This is a short Everest trek to Tengboche monastery and spending time there participating the main events of the festival.
Events in mani Rimdu Festival :
Preparations including making the sand mandala and Tormas.
Drupchen ceremonies (auspicious ceremony for compassion, and wisdom)
Monks practice dancing without masks
Giving the blessing to the general public (Wong)
Famous Mask Dances performed by the monks in a special day long ceremony. Afterwards the Sherpa community sing and dance the whole night long.
Concluding fire puja ceremonies.
Rent safe car in Nepal during the Covid 19 pandemic.
Our cars have driver cabin; vehicles are disinfected after each use and seat covers are washed.
Tihar Festival 4 - 6 November 2020
Festival of Lights
Tihar is the most colorful festival of Nepal celebrated with lights, colors, flowers, singing and dancing for five days. Houses and temples are decorated with flowers and illuminated with oil lamps and lights. Colorful 'Mandalas' (sacred circular designs) are made in the courtyards and squares to welcome goddess Laxmi. Group of Youths and kids go from houses to houses singing special Tihar blessing songs.
Tihar is another colorful Nepali festival celebrated in autumn. The five days festival is dedicated to Yama, the god of death and Laxmi, the goddess of wealth. Tihar is known as festival of lights as houses and temples are lightened up with oil-wick lamps and candles. Old markets are bedecked with piles of colorful flowers, garlands and ritualistic objects. Fireworks lightens the sky in the evening.