USD 1,880 Only
Best tour for Monsoon.
Janai Purnima - August 21
The festival of sacred thread
The full moon day festival is about reciting Bedic mantras and changing sacred thread of Hindus. Pilgrims crowd in shrines to receive welfare thread around their wrist. Pilgrims from far flung places visit Gosainkunda (sacred lake). They prey to lord Shiva by bathing in the sacred lake. Kumbheswar Mahadev temple at patan is also crowded with pilgrims where a pond is specially prepared for festival.
Gosaikunda Mela
Hindus and Shamans make pilgrimage to Gosaikunda Lake on the full moon day of 'Janai Purnima'. Gosaikunda Lake is spiritual place revered by Hindus, Buddhists and Shamans. Shamans in their traditional attire make procession to the Lake and perform the ritualistic dance with Dhyangro drum to call spirits. Hindus bath in the lake and change their sacred thread. Trek to Gosaikunda Lake this August to watch the rare pilgrimage of Shamans.
Gosaikunda trek
September is the beginning of tourist season in Nepal.
Travel tips for September
Monsoon months are best time to visit Tibet and trans-Himalayan regions of Neplal.
Gathemangal (Gantakarna) - July 19
Warding off negativity as a bell eared demon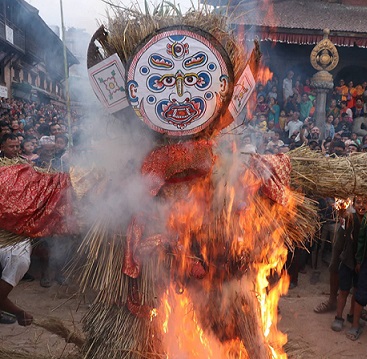 Gathemangal is a festival celebrated in summer month of July or August based on local lunar calendar. It is based on legend of demon Ghantakarna who troubled locals and was later drowned in a swamp by a frog. People commemorate the festival by creating a demon out of the straw in the town squares and later burn it. They also clean their houses, wear iron rings and nail three prong metal above their doors to ward of the evil. Special dish of 'Samye baji' is prepared as served in each home.
Teej - 9 Sept 2020
Women's red day, street dancing & singing
Teej is a Hundu married woman's day for her man. Married and unmarried women crowd Pashupatinath and other temples of lord Shiva. Women dressed in beautiful red saris with shining glass beads (Pote), singing and dancing is a common sight during this festival as women recall Parbati's devotion to her husband Shiva. It is believed that married women fast on this day for longivity of their husbands and will see the bond of love grow. Unmarried women fast on this day to have good looking husbands.
Married women visit their father's homes. All daughters and sisters receive gifts from their male kin, and an elaborate feast is prepared for them. It's a loud and cheerful celebration until late at night, when strict fasting begins. The blessings of Shiva and Parbati ensure tht family life will be joyous for all.
Ropain festival - 29 June 2020
The day of rice plantation
Ropain festival or Asar 15 signifies an important day in Nepalese life where 80 % people still peruse agriculture. Ropain means plantation and it is related with rice plantation. Rice is staple food of Nepal. The seedlings that is sowed with pre-monsoon rainfall, is transplanted in the paddies on the day. Working continuously in sun, rain and mud is strenuous especially when farmers have to catch up with the right rainfall. The time for farmer is to 'reap quintal by sowing kilo'. The 'Ropain festival' makes them forget their stress and share some jolly moment. The festival creates a fun filled aura with singing, dancing and splashing mud on each other. Special sweetened yogurt with rice is offered as delicacy of the day.
Tiji (Teechi) Festival 9 - 11 May 2021
The demon chasing festival of Upper Mustang
The Tiji (Teechi) festival is an annual event indigenious to Lo - Mangtang (Upper Mustang). The name is an abbreviation of the word "Tempa Chirim" which means the victory of Lord Buddha's incarnation "Dorjee Sonnu" over a demon called Man Tam Ru a vicious creature feeding on human beings and causing storms and droughts. The Tiji festival usually takes place during the last week on May and lasts for 3 days. Dances performed by the monks of Lo Manthang's "Choedhe" monastery during the celebration display.
a) The harassment of Ma Tam Ru Ta.
b) The birth of Dorjee Sonnu as the demon's son.
c) The attempt to return the demon to lord Buddha's realm.
Join Tiji Festival 2021
Join a trek or jeep tour of Mustang to praticipate in Teeji festival.
Mustang trek
Mustang Jeep Tour
---
Travel tips and Nepal tour recommendation for May. May is last month of Spring touring season in Nepal.
Holi Festival - 28 March 2021
The festival of colors
Celebrated in the joy of victory of good over evil, Holi has become the festival of color and love. The festival starts with Holika (demoness) bonfire on the eve berofe Holi. Next day, families, neighbors and friends celebrates by smering colors on each other and throwing water ballons. They share the delicious feast after active and exciting morning. Youngsters and children play whole day.
Holi occurs on the full moon day during the end of winter and beginning of spring. Hence the festival is gay moment for all sort of new beginnings. Hence the festival is socially important to breach enmity and prosper in friendship and new relationship.
Shivaratri - 11 March 2021
The night of Shiva
On Shivaratri festival, devotees observe fast and keep vigil all night. Shivaratri marks the night when Lord Shiva performed the 'Tandava' - the cosmic dance. It is also believed that on this day Lord Shiva was married to Parvati Ma.
The festival take place at all Shiva temples, but particularly at Pashupatinath, hundreds of Sadhus flock from all over Nepal and India. In Yoga and meditations, the day is auspicious for the planetary positions causing easy rise of his / her energy. Another excitement that attracted youngsters and teenagers was on this particular day it is allowed to smoke hashish or Marijuana for gurus and yogis, which is considered as one of the prized possession of lord Shiva. With this trend, Pashupatinath area attracts thousands of teenagers where these illicit drugs are sold and bought openly on this day.
Bisket Jatra 2021 April 9 - 16
Nepali New Year & Spring festival
The festival is centered on creation and the mating between the God Bhairav and Goddess Bhadrakali which produced the world and everything in it. The God Bhairav is the fierce form of Lord Shiva and Bhadrakali is the wrathful form of the Mother Goddess.
On the first day of the street festival a large 25 ft Yoshin-Pole is placed into a hole and raised vertically in the air. Then the Gods are removed from their temples and placed in large wooden chariots. The chariots are pulled through the crowded streets by the people of Bhaktapur. On the last day of the festival the Bhairav Chariot is parked in Gahi Tole. At midnight the smaller Bhadrakali Chariot is repeatedly rammed against the Bhairav Chariot in a not very subtle display of their explosive copulation. It is destructive and a little bit dangerous for those standing close. A giant game of tug-of-war is performed between the east and west side of the city. It is said the side of town which wins the tug-of-war will be the most prosperous for the following year.
Vesak day 2021 May 26
Buddha Jayanti or Buddha Purnima, the day of triple bliss
Buddha Purnima or Buddha Jayanti festival is celebrated on full moon day of Nepali month Vaisakha (April / May). The day also known as Vesak day, has triple significance as Buddha was born, attained enlightenment and Nirvana on the day. It is the most important festival for Nepalese Buddhists but is celebrated with great zeal by all citizens.
Monasteries will have special pujas (ceremonies), stupas and Buddhist shrines will be white washed and decorated throughout Nepal. Paintings and books on Buddha's teachings and scenes from Buddha's life is exhibited. Thousands of pilgrims throng in important Buddhist center like Lumbini, Boudhanath and Swyambhunath. Gifts, food and cash is distributed to aged, handicapped and sick in charity homes and Buddhists centers in a bid to bring happiness to the unfortunate ones. It is beautiful in the evening when these monuments illuminate with hundreds of butter lamps.