Summer festival of Nepal 2023
Due to the Lunisolar calendar, the dates of festivals change every year. This Nepali year (B.S 2080), the summer festivals are postponed towards early autumn.
Ropain festival - 30 June 2023
The day of rice plantation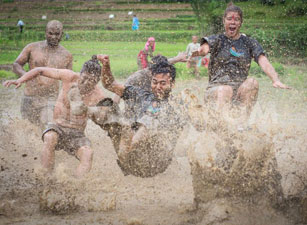 Ropain festival or Asar 15 signifies an important day in Nepalese life where 80 % people still peruse agriculture. Ropain means plantation and it is related with rice plantation. Rice is staple food of Nepal. The seedlings that is sowed with pre-monsoon rainfall, is transplanted in the paddies on the day. Working continuously in sun, rain and mud is strenuous especially when farmers have to catch up with the right rainfall. The time for farmer is to 'reap quintal by sowing kilo'. The 'Ropain festival' makes them forget their stress and share some jolly moment. The festival creates a fun filled aura with singing, dancing and splashing mud on each other. Special sweetened yogurt with rice is offered as delicacy of the day.
Gosaikunda trek
September is the beginning of tourist season in Nepal.
Travel tips for September
Monsoon months are best time to visit Tibet and trans-Himalayan regions of Neplal.
Gathemangal (Gantakarna) - July 15
Warding off negativity as a bell eared demon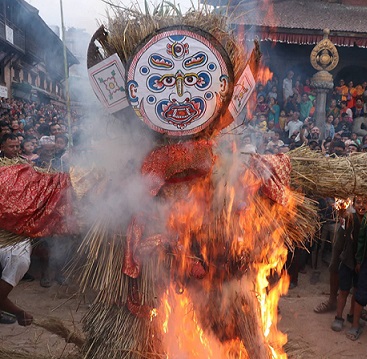 Gathemangal is a festival celebrated in summer month of July or August based on local lunar calendar. It is based on legend of demon Ghantakarna who troubled locals and was later drowned in a swamp by a frog. People commemorate the festival by creating a demon out of the straw in the town squares and later burn it. They also clean their houses, wear iron rings and nail three prong metal above their doors to ward of the evil. Special dish of 'Samye baji' is prepared as served in each home.
Teej - 19 August 2023
Women's red day, street dancing & singing
Teej is a Hundu married woman's day for her man. Married and unmarried women crowd Pashupatinath and other temples of lord Shiva. Women dressed in beautiful red saris with shining glass beads (Pote), singing and dancing is a common sight during this festival as women recall Parbati's devotion to her husband Shiva. It is believed that married women fast on this day for longivity of their husbands and will see the bond of love grow. Unmarried women fast on this day to have good looking husbands.
Married women visit their father's homes. All daughters and sisters receive gifts from their male kin, and an elaborate feast is prepared for them. It's a loud and cheerful celebration until late at night, when strict fasting begins. The blessings of Shiva and Parbati ensure tht family life will be joyous for all.
Janai Purnima - 30 August 2023
The festival of sacred thread
The full moon day festival is about reciting Bedic mantras and changing sacred thread of Hindus. Pilgrims crowd in shrines to receive welfare thread around their wrist. Pilgrims from far flung places visit Gosainkunda (sacred lake). They prey to lord Shiva by bathing in the sacred lake. Kumbheswar Mahadev temple at patan is also crowded with pilgrims where a pond is specially prepared for festival.
Join the procession of Shamans and pilgrims on the trek to Gosaikunda Lake (4,380 m).

Gosaikunda Mela
Hindus and Shamans make pilgrimage to Gosaikunda Lake on the full moon day of 'Janai Purnima'. Gosaikunda Lake is spiritual place revered by Hindus, Buddhists and Shamans. Shamans in their traditional attire make procession to the Lake and perform the ritualistic dance with Dhyangro drum to call spirits. Hindus bath in the lake and change their sacred thread. Trek to Gosaikunda Lake this August to watch the rare pilgrimage of Shamans.