April is the middle and the peak of the Spring tour season for Nepal. April has the best weather for all altitude and climate zones of Nepal. Warm and sunny days will continue with temperature ranging from 5 to 30 ℃ in the major touring and short trek destinations of Nepal (up to 2,200 m). The spring blossoms in Himalayan foothills continue till the mid April and will remain till the end at higher elevation. April is also the beginning of festive season. Diverse ethnic groups across the country celebrating the spring festivals make travel experience culturally rich.
Nepal is open for tourists and is the safest destination to travel in April 2021 during and after the Covid 19 pandemic.
Nepal will finish vaccinating health care provides and frontline workers, elders and those with critical underlying health conditions by end of February.
Spring break holiday
If you are looking for spring break holiday destinations, Nepal is one of the best in Asia. Trek in the Himalayas, adrift down the raft in the glacial rivers, drive around the tranquil hill stations or jaunt through dense jungle, Spring is the best time. We help you customize best Spring break holiday in Nepal for family or group of friends.
Travel tips for Nepal in April
Last week of March till the third week of April is peak season. Plan your Nepal tour accordingly to avoid the crowd.
Choose the destinations off the main tourist hubs. Tourist hubs like Kathmandu, Chitwan and Pokhara will be on high demand in April. Visit Bardia national park, Koshi Tappu and small hill station towns like Daman, Bandipur, Tansen, if you are travelling in April.
Avoid the classic trekking trails as much as possible. There are many off the beaten path treks like Khopra Ridge trek, Pikey peak trek, Three pass trek (Everest) and more.
Book your flight, accommodation and tour well in advance.
Prepare for mild rain or snow at higher altitude. There may also be thunderstorm and strong wind in the late afternoon. Start your day early to reach the destination before the weather comes in.
 
Nepal trips for April 2021
Nepal weather in April
Average weather around the major tourist area of Nepal
| Place | Max Temp | Min Temp | Rainfall | Rain day |
| --- | --- | --- | --- | --- |
| Kathmandu | 28.2℃ | 11.7℃ | 61 mm | 6 |
| Pokhara | 29.8℃ | 15.7℃ | 128 mm | 3 |
| Chitwan | 33℃ | 18℃ | 83 mm | 2 |
| Namche | 12℃ | 1℃ | 26 mm | 5 |
| Jomsom | 11℃ | -4℃ | 55 mm | 5 |
---
Kathmandu, Pokhara and Chitwan Tour
The golden triangle of Nepal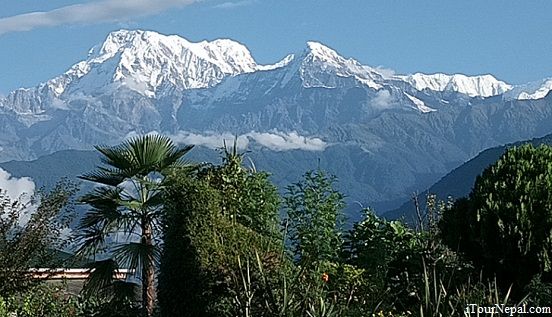 Kathmandu, Pokhara and Chitwan makes the golden triangle tour of Nepal. This week long tour covers the highlight of Nepal. These destinations are in middle hills with moderate winter temperature. Temperature ranges from 4 - 25 degree centigrade in april with sunny and warm days throughout the tour.
while Kathmandu is UNESCO Heritage site with medieval architecture, Pokhara is paradise for nature lovers. Pokhara is a lush valley with three lakes and the Himalayan frontier. Pokhara sightseeing could be combined with day hikes or short treks. Chitwan on the other hand is last vestiges of jungle that once spread from Himalayan foothills till the Ganges River. The 950 sq km jungle has succeed in preserving last no of Royal Bengal Tigers and Asian single horned Rhinos with the help of sustainable tourism.
---
Nepal Walking Holiday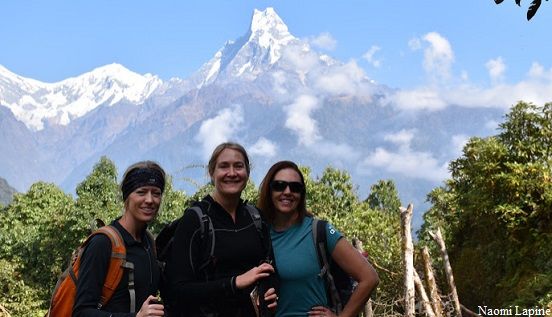 Nepal walking holiday or tour is easy walking tour with plenty of leisure time and comfortable stay customised to your level of fitness and interest. This is suitable for people with little or no trekking experience and senior citizens. Walking  tour uncovers authentic sights and experiences reserved only for locals. You can go off the beaten trail, meet and chat with people, enjoy the breathtaking scenery  and sense the great feeling of accomplishment at the end.
Comfortable stay at the end of the day in the resorts with the view of snow peaks  from your window is rejuvenating.
  The walking tour goes to the maximum altitude of 2100 m and is perfect trip for winter in Nepal. 
---
All Nepal Tour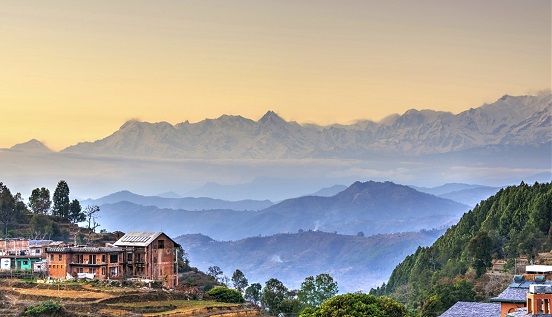 All Nepal is basically a driving tour or road trip visiting scenic hill town and other popular destinations along the way. Everyday drive comfortable distance and stay close to authentic villages or pristine landscape with Himalayan views. In addition to popular destinations 'All Nepal tour' includes visit of Lumbini, the birthplace of Buddha, Bandipur and other places. Driving in the highway of Nepal, you can get deeper insight of Nepal's diverse landscape and remote lifestyle. Stop to cross suspension bridges or walk to the nearby waterfall and river or look into the fields and villages. You have more chances of cultural immersion opportunities and interact with locals.
  Winter is actually when most of the people come on this type of tour. april is the best time as the temperature starts to rise and the layers of mountains appear more spectacular with fresh snow.
---
Short Annapurna trek
Ghorepani & Mohare danda trek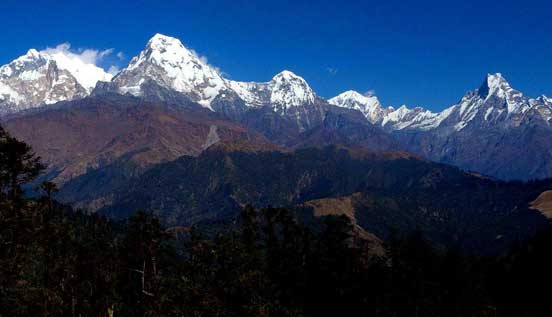 Being in easy access from the nearest town Pokhara and availability of teahouse accommodation throughout the year, short trek in Annapurna region could be organised throughout the winter. Especially april is best time to trek in the region. Once again, days are sunny and sky is clear. Mountain view appears even more beautiful because of fresh snow from winter. The higher reaches could be covered in layer of snow with temperature between -2 to 10 degree centigrade.
Ghorepani / Poon Hill is the most popular short trek destination in Annapurna region. There is also an alternate route through Mohare danda. The alternate route through Mohare danda is more pristine with authentic village and stay with family or community based lodges. 
Short trek in Annapurna in april could be planned from 4 days to 8 days.  
Deals & Offers for april 2021