April is the middle and the peak of the Spring tour season for Nepal. April has the best weather for all altitude and climate zones of Nepal. Warm and sunny days will continue with temperatures ranging from 5 to 30 ℃ in the major touring and short trek destinations of Nepal (up to 2,200 m). The spring blossoms in Himalayan foothills continue till the mid April and will remain till the end at higher elevation. April is also the beginning of festive season. Diverse ethnic groups across the country celebrating the spring festivals make travel experience culturally rich.
Nepal is now fully opened for trekkers with on-arrival visa and no quarantine requirements. The successful vaccination campaign and sparse population of the Himalayas make Nepal the safest to travel in April 2024.

Easter holiday 2024
If you are looking to travel during Easter holidays 2024, Nepal is one of the best destinations. Trek in the Himalayas, drift down the raft in the glacial rivers, drive around the tranquil hill stations or jaunt through dense jungle, Spring is the best time. We help you customize the best holiday in Nepal for family or a group of friends.
Travel tips for Nepal in April
Last week of March till the third week of April is peak season. Plan your Nepal tour accordingly to avoid the crowd.
Choose the destinations off the main tourist hubs. Tourist hubs like Kathmandu, Chitwan and Pokhara will be on high demand in April. Visit Bardia national park, Koshi Tappu and small hill station towns like Daman, Bandipur, Tansen, if you are travelling in April.
Avoid the classic trekking trails as much as possible. There are many off the beaten path treks like Khopra Ridge trek, Pikey peak trek, Three pass trek (Everest) and more.
Book your flight, accommodation and tour well in advance.
Prepare for mild rain or snow at higher altitude. There may also be thunderstorm and strong wind in the late afternoon. Start your day early to reach the destination before the weather comes in.
 
Nepal trips for April
Nepal weather in April
Average weather around the major tourist area of Nepal
| Place | Max Temp | Min Temp | Rainfall | Rain day |
| --- | --- | --- | --- | --- |
| Kathmandu | 28.2℃ | 11.7℃ | 61 mm | 6 |
| Pokhara | 29.8℃ | 15.7℃ | 128 mm | 3 |
| Chitwan | 33℃ | 18℃ | 83 mm | 2 |
| Namche | 12℃ | 1℃ | 26 mm | 5 |
| Jomsom | 11℃ | -4℃ | 55 mm | 5 |
Off the beaten path trek for April
An alternate route has been introduced in the popular trekking regions of Annapurna to avoid the newly dug dirt roads and the seasonal crowd. These routes visit more authentic villages and pristine off the beaten trails visited by very few westerners. Route vai Mohare danda - Muldai view point to Khopra danda is one of off the beaten path trek based on community lodge. 
Best place to visit during Eid al-Fitr holiday 2024.
Nepal is the best place to visit for the Eid al-Fitr holiday 2024. It is likely to be a 4 day holiday starting from 20 - 23 April. With some extra days leave, one can easily do a short trek or family holiday to see Mt Everest this April. Eid al-Fitr holiday falls during mid Spring which is the best time to travel to Nepal. For those living in Saudi Arabia, Turkey, Indonesia, Kuwait and the United Arab Emirates Nepal is just about 5 hrs flight away and round trip flight costs only about USD 400.
  We connect your international flight with domestic flight or driving to the trekking trail heads without wasting your valued time. It is possible to do rewarding alpine treks within a week's holiday.
April 2024 is best time to do popular treks
Tourism is picking up but it's not overcrowded like in pre-covid years. April 2024 is the best time to do the popular treks of Everest base camp and Annapurna base camp.
This is the shortest, most scenic and relatively less intense Base camp trek in Nepal with easy access from Pokhara. The trail passes through the charming Gurung villages and farming terraces, into the Rhododendron forest and finally emerges at the glacial valley surrounded by snow peaks at 360 degree. The trek could be customized from 7 days to 10 days.
---
The 12 days Everest base camp trek starts with spectacular flight to Lukla from Kathmandu. The trail then winds through the Tibetan Buddhist Sherpa villages to their summer grazing wedged between spectacular snow peaks. Everest base camp at 5,364 m is glacial moraine surrounded by Mt Poomari, Nuptse , Lingtring Himal and Lhotse.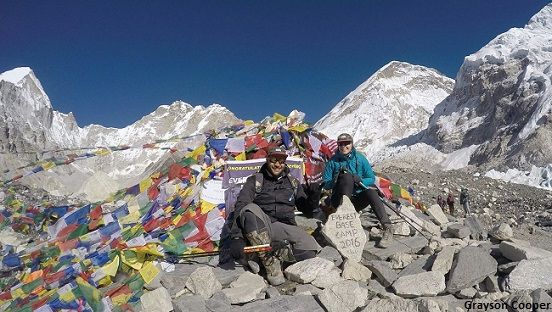 Best Nepal Tours for April 2024
April is the best time for all tours of Nepal from tropical plains to the hidden Himalayan valleys. Nepal tour involves driving and flying to the natural and historical destinations in the middle hills of Nepal and the southern plains. 
Nepal Walking Holiday
Gentle walking holiday w/ luxury stay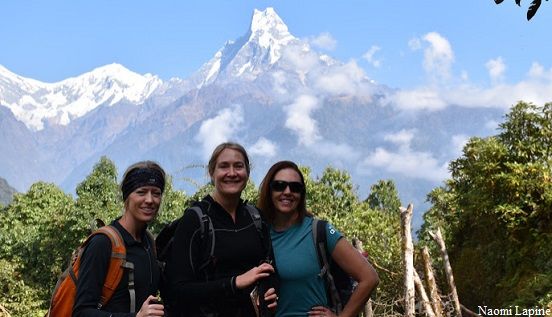 The Nepal walking Tour is a 10 days tour of Himalayan foothills with comfortable stay. You can stay in luxury resorts away from the city and explore the countryside on a gentle walking itinerary. This tour is suitable for families with kids, seniors and those looking for an active holiday but not a serious trekking in the Himalayas.
---
Kathmandu Pokhara Chitwan Tour
The golden triangle of Nepal
Kathmandu, Pokhara and Chitwan make the golden triangle tour of Nepal. This week long tour covers the highlight of Nepal. These destinations are in middle hills with comfortable weather throughout the year. Temperature ranges from 4 - 25 ℃ in April with sunny and warm days throughout the tour.
---
All Nepal Tour
12 day Nepal road trip
All Nepal TourDrive around Nepal's scenic hill stations to Pokhara and Lumbini, the birthplace of Buddha. Cruise through the jungle of Chitwan and back to the medieval Kathmandu. All Nepal tour is 12 days Nepal tour which allows you to see local life, nature and culture from the Himalayan foothills to the plains of Terai.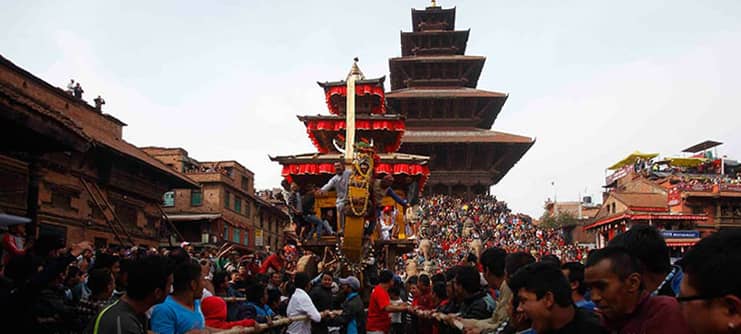 Nepal Festival in April
With the blossoms and new sprouts everywhere, Nepal celebrates its New Year  2079 on April 14. Even though Nepalese new year is celebrated within families, the town of Bhaktapur will have one of the most thrilling street festivals of Bisket Jatra. A chariot with huge wooden wheels is pulled around the cobblestone streets of the medieval town. Mpre bizarre is the tug of war between eastern and western part of the town to pull it towards their directions. The chariots of male and female deities are rammed on the lassed day symbolizing the mating and creation which is what Spring is about.